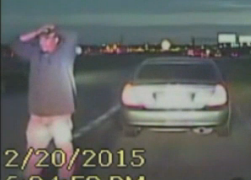 The images haunt me. The sounds reverberate in my ears. The video plays over and over in my head.
While investigating a false burglar alarm, Grapevine Police Officer Robert Clark came across Rubén García sitting in his parked car. Perhaps due to some combination of his undocumented immigration status, intoxication and standard fear of the police, García fled. Officer Clark chased García for a few minutes. When García finally pulled over, he got out of the car and put his hands on his head. Screaming and shouting obscenities, Clark proved that he was terrified of this drunken man. Escalating the situation with every second, Clark kept screaming and threatening as García stumbled toward him asking to be arrested with his hands on his head. When García stumbled too close, Clark shot him twice. After he was determined to be unarmed, Rubén García received treatment and later died after being transported to the hospital.
The victims of police brutality are no longer just unarmed…they are stumbling and reaching for help and we kill them anyway.
Does anyone care that a Mexican father was senselessly murdered in Grapevine?
I can't sleep over it.
We have got to work to get this killer cop off the streets.
For those who still don't seem to get it, wait until Officer Robert Clark murders someone you love and then it might be a little clearer.
Amen.
The Video : http://www.nbcdfw.com/news/local/Grand-Jury-No-Bills-Grapevine-Officer-in-Shooting-Death-of-Unarmed-Man-304124521.html