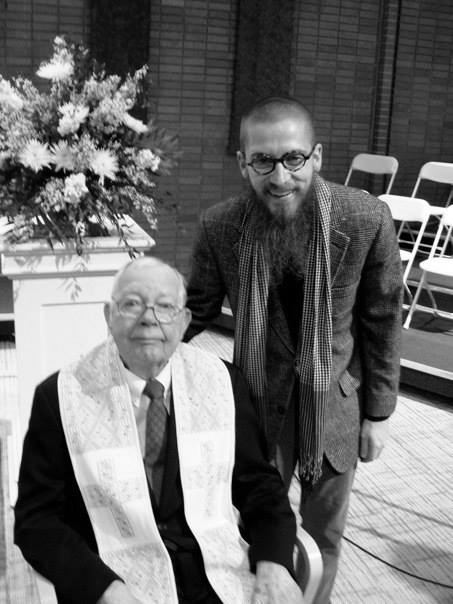 There in the darkness a courageous Baptist Pastor sat furiously transcribing a letter. The words the Baptist Pastor wrote were a response to a letter from a Methodist Bishop and other clergy asking the minister to be patient in the face of injustice. The words the Baptist Pastor wrote still ring loudly in my ears, "But the judgment of God is on the church as never before. If today's church does not recapture the sacrificial spirit of the early church, it will lose its authenticity, forfeit the loyalty of millions, and be dismissed as an irrelevant social club with no meaning for our time." The minister was Dr. Martin Luther King, Jr. and his office was a jail cell in Birmingham. Baptists have always had a unique ecclesiastical place from which flows the freedom to speak and write prophetically about issues of social justice. It is from a unique place of being a progressive Baptist Pastor that I write to my Methodist colleagues this morning.
I believe that the judgment of God and the world is upon us. We have the opportunity to do right by all people of diverse sexual orientations and genders. Unfortunately, most are afraid to act for fear that they will lose their credentials or standing in their churches. Such fear is not unfounded. Everyday all over the country clergy are being prosecuted for acts of defiance. There was a time when acts of defiance were what made us followers of Jesus. Now, it seems that our standing before God is often equal to the comfort that the church has with us. Dr. King spoke of a coming irrelevant social club and most of us realize we are already there. The church has largely chosen to remain silent on many of the most pressing social issues of our time and we have forfeited our voice to the upkeep of institutions. Occasionally though, someone stands up and ignites the imagination of us all.
Three weeks ago, I witnessed Rev. Bill McElvaney courageously presiding over the wedding of Jack Evans and George Harris in direct violation of the United Methodist Church's Book of Discipline. I spent time earlier this week with Rev. McElvaney and I have met no kinder or more generous of a pastor. In both instances, I felt the presence of God in a mighty way. Now, I bear witness to numerous clergy being forced to violate their consciences to go along with a process of complaint that is unjust and a system that is broken. How can any institution of the living God consistently push people to violate their consciences in such a manner?
We can't wait any longer for you to defy and force reformation in these troubled institutions. Continued delays affect all of us. The soul of the church is being forfeited in nuance and negotiations. The church is better known now for delaying and denying justice than it is for fighting for it.
How long will we sit silent behind the doors of institutions while working through our processes as people bang loudly for justice?
The church has already grown increasingly irrelevant in our society. Our only hope of recapturing any semblance of relevancy is to conjure up the prophetic sacrificial spirit of the early church.
We can't wait.
The time is now.
Shall we stand together?
Amen.