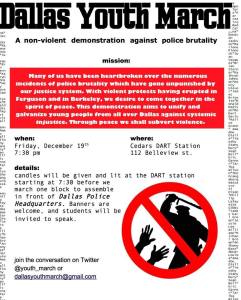 I apologize for my absence this evening. During these very hours, I am graduating with my doctorate in theology tonight from Texas Christian University. I welcome your prayers as I discern how I can continue to make a difference in our world. When my friend Aleah Dillard told me about this event and asked me to send a few words, I thought about a few questions…
Is resurrection possible? Can dead bones come back to life? Is death the final word? These are important questions for anyone that is gathered in the pursuit of justice. In death, the powerful believe that Michael Brown, Eric Garner, John Crawford, Tamir Rice and many others slain by overzealous police are silenced. Tonight, I write to tell you that death has no power when people unite in the cause of justice and breathe life into the slain. Is resurrection possible? Yes, you are the resurrection. Can dead bones come back to life? Yes, you are the breathe of life. Is death the final word? No, you are the final word. Tonight and every night, you must continue to speak out against police brutality. In you words and actions, you resurrect the slain and call us forward to a brighter tomorrow.
In our present time, I believe the church has lost much moral courage. I hear a tremendous amount of silence coming from the creaky old spaces of worship around town. Where are the pastors and clergy at the marches and actions? I don't believe that such people and spaces are necessary to facilitate change anymore. I am follower of a God who stands with those who stand for justice. You are standing for justice. You are the people of God. You are the church. Tonight, you are performing a highly spiritual and sacramental practice…you are raising the dead with your voices. Be the church tonight…lead us all to a place of justice.
There will be many who say that you are too young to do the work that you are doing. Tell them that they are too old for their opinion to matter anymore. These are your streets. This is your church. Protect it from anyone who would do violence to it. Never stop demanding justice. Never stop lifting your voices. Never stop raising the dead. You are our hope of resurrection.
Amen.