Amy Welborn has a good series of reflections on the proposed renovations to Notre Dame Cathedral in Paris: Part 1, Part 2, Part 3.  If I were to summarize my understanding of her thesis: The updates aren't as egregious as people claim, but they're a little too neat, and Catholicism just isn't.
I'd like to offer a couple thoughts, and I think that random Catholic spectators weighing in on this type of thing is valuable, not because we have any say in what France does or doesn't do to Notre Dame, but because it is good practice thinking about how we understand our own parishes.
The first thing I want to say is that even before literal Disney put Notre Dame (Paris) on the map, the place was already a circus.  You went in and did a tourist-circuit, and it was very difficult to just wander and seek the Lord.  When I took my kids on the epic vacation in 2017, we didn't even bother attempting to go inside. The lines were insane. We admired the exterior from multiple vantages, got pretty good crepes nearby, and then walked up Rue St. Jacques and the children listened to me rant about just how ancient the street we were standing on was.  Done.  Move on.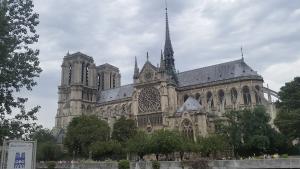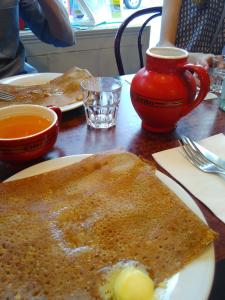 So while Amy Welborn makes some good points, I also have sympathy for an effort, if not entirely to my taste, to recognize that the cathedral is so utterly swamped by the sheer volume of visitors that maybe you have to ask: How do we evangelize this freight train of tourists?
My brief sampling suggest that all across France Catholics are making a sincere effort to reach out to visitors and invite them to discover the faith in an organic, contemplative manner.
In Troyes, I met the super nice church lady at the welcome table at St. John the Baptist church on the market square, who was manning an information table where you could get brochures in multiple languages, and then be left to wander freely.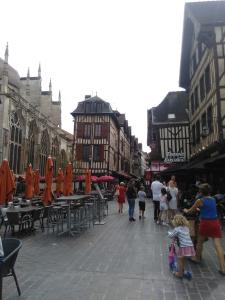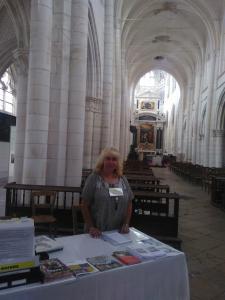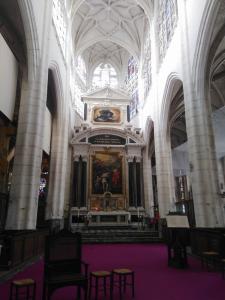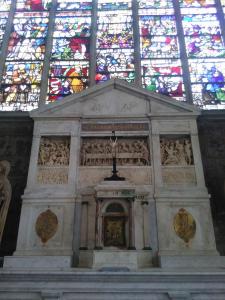 Throughout Alsace, there was an active movement to welcome visitors into the churches, with specific initiatives varying from ethereal concerts after Mass at the Cathedral in Strasbourg to gentle invitations to prayer like this one at a parish church in Uffholtz: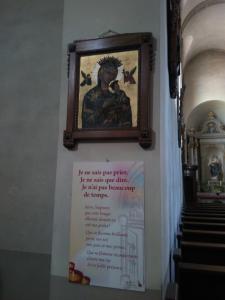 The text reads:
I don't know how to pray.

I don't know what to say.

I don't have a lot of time.

So, Lord, may this candle lit before you be my prayer!

May its radiant flame carry to you my joys and my suffering.

May its comforting flame illuminate my life with your faithful presence.
I could tell you of church after church after church that was making efforts like this.  So many opportunities to encounter the Catholic faith through art, through prayer, through sacred history, all of it intentional but all of it organic and rooted in the local parish.
One of those moments that totally owned me was encountering this carving of the Last Supper at the church of St. Léger in Munster (yes, where the cheese is from).
Photos above: Carving of the Last Supper from multiple angles.
And of course for the ultimate in unscripted Catholic serendipity just up the hill from Notre Dame in Paris, you want the relics of St. Genevieve, housed at St. Etienne du Mont.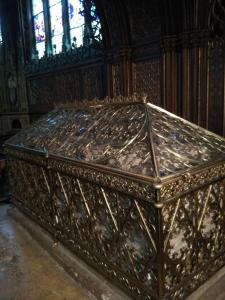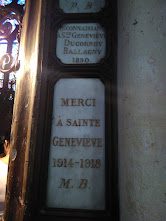 So it isn't all St. Disney.  There is so much good happening in France, and in the US, and everywhere faithful Catholics are just trying to do the thing.
In conclusion, I direct you to John Herreid's on-point tour of the Muppets of Catholic Online Discourse.  Reverence! Reverence!
FYI, you should be able to get an enlarged view of any of the photos by clicking on them. All of them are copyright Jen Fitz 2017.  If anyone would like me to travel to your fantabulously beautiful country and document your home-grown efforts at evangelization, I'm not strictly speaking opposed to the idea.