I confess I have a deep, rich imagination that I like to wander in often, getting lost among the tall, sturdy ideals that grow there. There in that inner land, all is as it should be, and justice has her way. The radical redemption of Jesus is a thing, and so is the revolutionary welcome. In there — that place in my head — there are no children in cages, there are no black men shot down in the street, and there are no women groped by their pastors.
In just a few days, the brain-child of former Evangelical demi-God Bill Hybels will kick-off with its usual fan-fare. The Global Leadership Summit has for years brought some of the best and the brightest leaders to its stage, and I admit I have found the event to be transformational for me most of the years I attended. In the world of capital E-Evangelicalism, where everything is about excellence for God and transformational leadership and giving our all for the Almighty, this shin-dig is like Christmas and Easter all rolled up into one. I only half-jest, because I have been in the seats enough times to tell you it's awe inspiring and hard to resist. It's good stuff, if that's your kind of thing.
But a certain pallor hangs over the smoke machines and the speakers this year — there among the stadium seating are the shattered pieces of truth finally spoken aloud, the crumbled bits of a sick and dysfunctional system in the process of collapsing in on itself. Demi-God Bill Hybels has yet another set of accusations against him — and these are even more disturbing than his previous exploits into the world of sexually abusing the women on his staff.
And yet, the Global Leadership Summit wants to proceed as if nothing has happened. No doubt, they'll say a quick little something or other — hell, if they follow in the footsteps of previous Evangelicals, they'll give Hybels an Oscar-worthy honorarium and his face on the big screen will get a standing ovation.
But if the Global Leadership Summit really wanted to lead us down a new, uncharted road, they'd do something different. Instead of trying to protect the system, instead of trying to maneuver all those crumbled pieces back into something resembling the status quo, they'd purposefully disrupt the system. They'd screw with that sucker. If they really want to show me honest, bold, Jesus kind of leadership, they'd throw that old narrative out and they would do something radically redemptive.
Of course, first they have to #NoticeTheSystem. And that might be hard, what with their fingers in their ears and their eyes closed and them yelling "LA LA LA LA LA!" really loud over everyone who's trying to point it out to them and all.
Anyway, here's how it goes in the reeds of idealism that wave in the sunshine of my imagination:
First, all the fancy-schmancy speakers — folks like John Maxwell and Simon Sinek — wouldn't have to do the right thing and call the WCA to tell them they're not going to speak. They won't have to — because the WCA will have already called them. They would have already called them and said, "Not today, guys. Today, we're making room to listen."
Then, at the actual summit, instead of the usual flow charts and bullet points on how to lead difficult conversations, instead, we'll have one.
We'll have a really, really difficult conversation. The kind that will make you squirm.
Because we'll listen to the women. For once in our ever-loving lives, we will listen. to. the women.
We'll let women leaders come up on the stage, and we'll let them tell their stories about what it takes to survive and thrive in this man's world.
And there damn well better be women of color on that stage. Lots of them. Women who can share with us their experiences of dealing with race AND gender AND your gropey, touch-feely hands and your sense of entitlement all at the same damn time.
And then you'll sit there for a tiny little bit, and you will listen to the wisdom of these women tell you how leadership is done. They'll tell you how to collaborate. They'll tell you how you can lift each other up and hey — you don't lose a thing when you do that, because we all thrive when that happens. You can finally hear all the good stuff you've been silencing all this time around board room tables and in back offices and in client meetings. You can see how a woman can shine in leadership, and that just because she does it differently than you doesn't mean it's not worthy.
Because you guys. It's so worthy.
And it's so time.
In my ideal imagination, the men in the audience sit there and listen. They listen hard. They acknowledge that they have participated in a system — even if they are just now noticing it. They have participated in a system through their actions — their words, their deeds, their prolonged hugs and their "only joking" comments. They have participated in a system through their silence — every time they saw behavior they didn't confront, every time they minimized and refused to believe the stories the women were telling them. They have participated in the system every time they participated in collusion and cover up — spreading vicious lies about the women so much that they actually came to believe them as truth.
As these men — and yes, even the women who participate in these same systems (I'm looking at you, Heather Larson) — these men will discover that they are in mourning. They will realize that the system has stripped away the humanity of all of us — the women they oppressed and marginalized and abused, and a little piece of their own souls are gone, too.
And then, an altar call like no other altar call will happen. Then, those men and women who finally #NoticeTheSystem will stream down the aisle to ask for forgiveness, and of course, since this is my ideal imagination, it will happen. Forgiveness will flow like a healing stream; restoration will build beautiful new things from dusty, broken bricks.
And the world will see the testimony of believers, and they will know us by our love. And our equality. And our justice. And no woman will ever have to decide between loving her church, or feeling safe and whole ever, ever again.
But we'll probably just end up with the same old Global Leadership Summit again.
#NoticeTheSystem
#DisruptTheSystem
---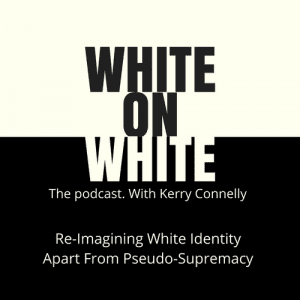 The White on White podcast re-imagines white identity apart from pseudo-supremacy. We're having the hard conversations, yo.
Plus, you can join me, co-host Aisha, and a bunch of other amazing folks who are doing the hard work of unpacking our own racism over in the White on White private Facebook Group. Join us!