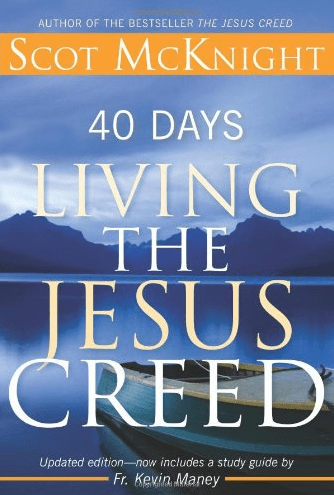 More than ten years ago I wrote The Jesus Creed: Loving God, Loving Others. Then along followed 40 Days Living the Jesus Creed, which extended the Jesus Creed into other portions of the New Testament, then came a DVD and then The Jesus Creed for Students and then Sharing God's Love.
The idea of the Jesus Creed — Jesus joining the daily Shema to the love your neighbor text in Lev 19 — shifted my life from only writing for academic audiences to writing more accessible books for the church. Over these ten years Paraclete Press, surely one of America's most diligent and church-focused publishers, has supported books and DVDs that put the Jesus Creed into formats accessible for all ages in the church.
Ten years later and I still get excited about the opportunities to teach the Jesus Creed, and Saturday I taught at
St Johns Lutheran
in Bloomington IL. I am grateful to
Christine McNeal
for the invitation, attention to details and for making Saturday a wonderful day of fellowship.
St Johns is reading 40 Days Living the Jesus Creed for Lent, and one of my great blessings is the number of churches that continue to use 40 Days for Lenten reading.
Three sessions: the Jesus Creed in the context of how we understand the spiritual life, the centrality and meaning of love, and the "womb" of the Jesus Creed — the social context of Joseph and Mary and Jesus — and then a challenge for each of us to love our enemies, whoever they might be.
I mention Freeport, our hometown, in this book and no fewer than a dozen folks approached me to say they had some connection with Freeport. Plus, plenty of professors from ISU were in attendance, ramping up some of the questions they had for me.
I don't know that any denomination does better with pitching in than the Lutherans… there were so many folks working at different tasks to make this event what it was and it all came off so smoothly. Thanks St Johns! Thanks Christine!