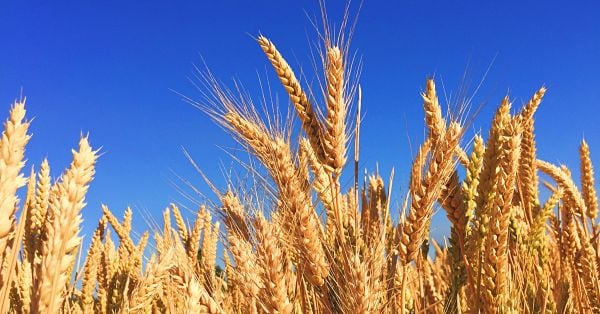 Clayton Kershaw whipped the Cubs, but he did it for the Lord's glory!
I knew there was a reason I filed away that late-summer Los Angeles Times story about Ellen Kershaw, the wife of Los Angeles Dodgers superstar Clayton Kershaw. Watching him pitch in the first game of the World Series last night reminded me to pull this feature out of my GetReligion guilt folder.

This story contained a giant religion ghost that I just couldn't believe the Times team ignored, especially in light of the newspaper's coverage of Clayton Kershaw in the past. (See also this previous post by our own Bobby Ross, Jr.)

The headline on this story: "Ellen Kershaw, family life keep Dodgers' ace grounded during trials of season."

This is a story about family life, of course, but it also focuses on this couple's motivation to work with orphans and other needy children in Africa, America and other locations. There is a rather obvious subject looming over all of this – which is Ellen and Clayton Kershaw's many public statements about the importance of their Christian faith.

How does one dodge this topic in a passage such as this, toward the end of this long story?

Clayton made his big league debut in 2008, and the couple married in 2010. Not long after, Clayton joined Ellen on a trip to Zambia, in East Africa, where she had previously traveled to work with orphans.

"It was always on her heart," Clayton said, adding, "It wasn't on my radar and I knew when I married her that it was going to involve me, so we went over there the first time three weeks after we got married. And it does. It changes you."

Charity work, Ellen said, is the foundation of their marriage. "I would say even though it began with my passion, Clayton was the ringleader of putting something into action," she said.

The couple founded Kershaw's Challenge six years ago to improve the quality of life and provide opportunities to vulnerable, underprivileged children. It has since expanded to the Dominican Republic, Dallas and Los Angeles. The Kershaws donate money, and donors make pledges, for every batter Clayton strikes out. … The charity gave away $1.3 million in 2016, according to the Kershaw's Challenge website.

Now, how would the Kershaws explain how this charity work (others would call it "missions" work) relates to their lives? Would Ellen Kershaw say that the charity work, in and of itself, is the foundation of their marriage or that this work is linked to something bigger?

Click a computer mouse twice, in order to visit to the Kershaw's Challenge website, and its easy to find statements such as this:

Join us! Commit to doing something this season. … When we live for something greater than ourselves, the Lord gets the glory and amazing things can happen.

Or, a reporter could take the rather obvious step of reading the project's "about" page, which makes an even clearer statement of its purpose:

Kershaw's Challenge is a Christ-centered, others-focused organization. We exist to encourage people to use whatever God-given passion or talent they have to make a difference and give back to people in need. We want to empower people to use their spheres of influence to positively impact communities and to expand God's Kingdom.
It's a Sunday morning at the Abyssinian Baptist Church, a famous African-American church in Harlem. The organist plays as hundreds of worshipers stream into the pews. The Rev. Dr. Calvin O. Butts III steps to the pulpit.

"Now may we stand for our call to worship," says Butts, as he begins a powerful three-hour service filed with music, dancing, prayers, and preaching. "How good and pleasant it is when all of God's children get together."

Then, about an hour into the service, Butts does something he's never done before. "I would like to introduce the Precision Medicine Initiative," he says, referring to a huge new project sponsored by National Institutes of Health. It's now called All of Us.

"It is a landmark longitudinal research effort that aims to engage 1 million participants of all ethnicities to improve our ability to prevent and treat disease based on individual differences in lifestyle, environment and genetic make-up," Butts says.

Why is this famous preacher at this famous African-American church talking about a big government medical study in the middle of Sunday service?

To understand that, I visit a clinic more than 30 blocks away at Columbia University. That's where I meet Anne and Steve Halliwell of Irvington, N.Y. They just volunteered for the study. …

So the question remains: Will the help of the Abyssinian Baptist Church — and others — be enough to overcome these deep suspicions and other obstacles that prevent minorities from participating in medical research?
HONOLULU (AP) — Their engine was crippled, their mast was damaged and things went downhill from there for two women who set out to sail the 2,700 miles from Hawaii to Tahiti.

As their 50-foot sailboat drifted helplessly in the middle of the Pacific for months, their water purifier conked out, sharks started ramming their vessel, their food ran low and their distress calls and signal flares went unanswered day after day.

Some nights they went to sleep wondering if they would live to see the sun rise.

Then their fortunes changed Tuesday: Five and a half months after Jennifer Appel and Tasha Fuiava embarked on a journey that might normally take about three weeks, a Taiwanese fishing vessel spotted their boat 900 miles off Japan and thousands of miles in the wrong direction from Tahiti.

The Navy sent the USS Ashland to their rescue.

"I had tears in my eyes," said Appel, the Sea Nymph's 48-year-old captain, who blew kisses to her rescuers as they pulled alongside.

She and Fuiava quickly clambered aboard, followed by their dogs Zeus and Valentine, who were hoisted up.

"It was actually quite mind-blowing and incredibly humbling," she told reporters during a conference call from the ship. [HT: PNA]
ROME (AP) — An Italian librarian who says her English setter is her family has won the right from her employer to use family sick leave to care for her ailing pet instead of having to use vacation days.

Italian animal advocacy group LAV says it helped persuade public La Sapienza University to let her use two days' family sick leave to care for 12-year-old Cucciola. LAV president Gianluca Felicetti says in a statement anyone who obtains a veterinarian's certificate should enjoy the same benefit, citing Cucciola's case as precedent.

The woman said Cucciola is recovering well from surgery for a breast tumor and a larynx problem. The woman, who is single and has no family help for Cucciola, declined to be identified. She adopted Cucciola, found abandoned in a Rome park.
Fossilized teeth of hominins, dating back … well, 9.7 million years:
According to researchers, our current understanding is that hominins, our extinct human ancestors, left Africa about 120,000 years ago. The discovered remains are significantly older.

"We have comparable finds only in East Africa…but they are only 2, 3, 4 or 5 million years old, and Eppelsheim is almost 10," said Matz. "So the question is: What has happened? We don't know where this great ape came from. We do not have comparable finds from southern Europe."

Although the scientist made the discovery in September 2016, they were so confused by what they'd found they waited until this month to release a report about it.

As of now, it is not known where the teeth fit in humankind's family tree. However, Lutz and his team of researchers are only just beginning to fully examine their unique find.

"It's a complete mystery where this individual came from, and why nobody's ever found a tooth like this somewhere before," Lutz said in an interview with ResearchGate, where the report was published.
A piece by Roger Scruton for those who want to know what it means to be a Conservative.
Here's something that may sound like a contradiction in terms: low-fat pigs.

But that's exactly what Chinese scientists have created using new genetic engineering techniques.

In a paper published Monday in the Proceedings of the National Academy of Sciences, the scientists report that they have created 12 healthy pigs with about 24 percent less body fat than normal pigs.

The scientists created low-fat pigs in the hopes of providing pig farmers with animals that would be less expensive to raise and would suffer less in cold weather.

"This is a big issue for the pig industry," says Jianguo Zhao of the Institute of Zoology at the Chinese Academy of Sciences in Beijing, who led the research. "It's pretty exciting."
Just in case you're interested, consider this an ad:
Fed up with your tiny apartment? Looking to impress your friends? Got about $410 million to spare? Then the most expensive home ever to go on sale could be yours.

Yes, the Villa Les Cèdres, an 18,000-square-foot, 14-bedroom mega-mansion in the south of France is now on the market. It even has royal connections, having been owned in the early 20th century by King Leopold II of Belgium, who apparently thought his palaces at home weren't quite enough.

Part of the reason for its high price is its location in super-exclusive Saint-Jean-Cap-Ferrat, a resort town perched on a picturesque peninsula between Nice and Monaco. Also adding to the cachet is the fact that it is situated on 35 manicured acres in a community where pricey homes tend to be crowded onto small lots.
For years, Amazon has been testing the limits of online deliveries — expanding the number of things you can order at the click of a button (sometimes literally), pushing shipments to arrive faster, toying with delivery by drones.

Now the company is pushing at a new boundary — the front door.

Amazon Key, a new service announced Wednesday, would allow couriers to open the doors of customers who opt in, in order to leave packages inside a house or apartment.

The service is only available to Amazon Prime members. It requires a smart lock, which can be unlocked remotely, as well as the Amazon Cloud Cam — a new Amazon security camera, also announced on Wednesday. Amazon Key promises to turn on the camera (pointed at your door) every time the door is unlocked and show you a video of the full delivery.

"Each time a delivery driver requests access to a customer's home, Amazon verifies that the correct driver is at the right address, at the intended time, through an encrypted authentication process," Amazon says in a statement. "Once this process is successfully completed, Amazon Cloud Cam starts recording and the door is then unlocked. No access codes or keys are ever provided to delivery drivers."

The service will also allow you to unlock the door for friends or family. Eventually, Amazon says, it will have options for service providers (like cleaning services or dog sitters) to enter as well.
LEHIGH ACRES, Fla. (AP) — Authorities say a man tried to jump his car over a canal in a Florida neighborhood, but didn't make it.

WFTX reports that the car had be towed from the Lehigh Acres canal on Tuesday after it failed to clear the 20 feet (6 meters) between both sides.

Before attempting the jump, witnesses were quoted as telling the television station, the man drove to the edge of the canal and got out of the car to observe the distance.

Lee County deputies say the man wasn't injured, but the Toyota Corolla was totaled.

Investigators say they weren't sure why the man attempted the jump, noting he could have driven a few blocks to get to the other side.

No charges were reported, and the man wasn't identified.