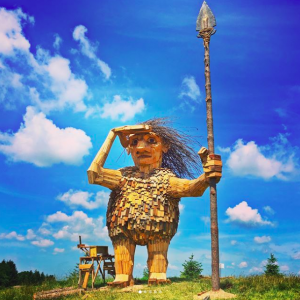 Thought I'd start this Meanderings with some good ol' southern living:
And you thought your devotion to your local Cracker Barrel or Waffle House is impressive? Meet Diana and Ron Watson, a couple who have been eating at the same Texas Roadhousethis link opens in a new tab in Wichita, Kansas six days a week since 2004. The chain, headquartered in Louisville, Kentucky is a nationwide eatery featuring steak and comfort food in a Western-inspired ambience.

After 15 years of dining under the neon lights, the duo knows what they like. As The Wichita Eaglethis link opens in a new tab reported Diana's go-to is the chopped steak with sautéed onions and mushrooms and a baked potato, no salt. Ron goes for the barbecue chicken breast or the pork chop, paired with mashed potatoes and brown gravy. They both order salads; a house salad — hold the tomatoes —and Ranch dressing for her, and an iceberg lettuce salad with Italian dressing for him.

"We don't get bored with it. And you can get everything off the menu. They'll fix it the way you want to. You don't have worry about something," says Diana in a video interview with The Wichita Eagle. "We love this place. We get good service, good food, good price, you can't beat it," Ron adds. Watch the full clip below.
Before moving forward, as I have said often, some of these links — some weeks most, other weeks none — come from folks sending me links. Kris is #1 in suggesting links, and #2 is JS… but JS has asked me not even to giving him the customary HT. That's fine, so every now and then I'll say this.
What about the students in the news about parents bribing schools and officials to admit students?
Applicants to Stanford sign a statement verifying that the information they are providing is accurate," Stanford

said in response to the scandal. "If it is found to be inaccurate, they can be dis-enrolled from the university or have their admission cancelled, as has regretfully happened in the past.""Although I do not comment on specific disciplinary actions taken with respect to an individual student, our longstanding policy is to rescind the admission of students who falsified their Yale College applications," Yale President Peter Salovey said in a letter to the Yale community Friday.

The University of California, Los Angeles said it could now take disciplinary action "up to and including cancellation of admission" if it "discovers that any prospective, admitted or enrolled student has misrepresented any aspect of his/her application, or that information about the applicant has been withheld."
Alan Jacobs, calling on all journalists:
I truly believe that the climate of hatred that Thomas Edsall documents in his recent column has arisen in part — and maybe in large part — because of journalists who spend too much time on Twitter and as a result become mouthpieces of the anger and hatred that dominates the lives of some of the worst among us. American journalists, by immersing themselves so regularly in that anger and hatred, have extended its reach. They are passing along the contagion; they need to start washing their hands.

So, journalists on Twitter, for the sake of accuracy in reporting, for the sake of your professional integrity, for the sake of our nation: Delete your account.

[Alan, I think many journalists don't want to tone down the hate.]
Yikes, gene editing, and good for BioLogos' Francis Collins!
CHICAGO (Reuters) – Top scientists and ethicists from seven countries on Wednesday called for a global moratorium on gene editing of human eggs, sperm or embryos that would result in genetically-altered babies after a rogue Chinese researcher last year announced the birth of the world's first gene-edited twins.

News of their birth prompted global condemnation of the work, raising the ethical specter of so-called designer babies in which embryos could be genetically modified to produce children with desirable traits.

The scientists and ethicists want to halt genetic alterations of "germline cells" – egg or sperm cells – that can then be inherited by others and "could have permanent and possibly harmful effects on the species."

…  Dr. Francis Collins, director of the U.S. National Institutes of Health, said in a letter to the journal that the "NIH strongly agrees" that a ban on the practice should go into immediate effect and stay in place until nations can commit to international rules to determine "whether and under what conditions such research should ever proceed."

"There is no doubt that genome editing technologies hold huge potential," Collins said, but added that there are too many scientific and ethical questions that need to be answered.
Before there was any gene editing...
The view of the early church was likewise that the status of a foetus and neonate are identical. Second-century Christian apologist Athenagoras, for example, wrote that "the same man cannot regard that which is in the womb as a living being and for that reason an object of God's concern and then murder it when it comes into light." For the writers of the early church, abortion and infanticide were equally repugnant because at each stage of development, the foetus or infant is more than just a potential for personhood and, in fact, already possesses intrinsic value as a unique and valuable member of humanity. The belief that God had created all people in his image meant that each infant, irrespective of his or her physical or intellectual capabilities, constituted a life that should be preserved and protected.
Wood smoke: nice smell, bad health.
Wood smoke may smell good, but it is not good for you.

The main threat comes from the cocktail of tiny particles and droplets that are about 2.5 microns in diameter (also called PM2.5). Due to their size, they easily work their way into our lungs, bloodstream, brain, and other organs, triggering asthma attacks, allergic responses, heart attacks, and stroke.

Chronic exposure to PM2.5 is linked to heart disease, lung cancer in non-smokers, chronic obstructive pulmonary disease, Type II diabetes, and dementia.

Wood smoke affects everyone, but children are especially vulnerable, in part, because their respiratory systems are under development. Pregnant women exposed to wood smoke may have children with smaller lungs, impaired immune systems, decreased thyroid function, and changes to brain structure that may contribute to difficulties with self control. Children who are hospitalized for lower respiratory tract infections are more likely to have a wood stove in the house, although other factors may also play a role.

The elderly are also at risk. A recent study of people living in British Columbia, in Kamloops, Prince George, Courtenay, and the Comox Valley, showed that wood stove pollution significantly increased the rate of heart attacks in people over 65.

And that nice smell? It comes from benzene, a carcinogen (cancer-causing substance), and acrolein.

With the dozens of toxic and carcinogenic chemicals in wood smoke, it's inconsistent for governments to ban smoking and vaping in public places while ignoring the smoke from wood stoves and fireplaces.
Sad story out of Southern Seminary.
Good for Dick's Sporting Goods:
Dick's Sporting Goods announced Tuesday it will stop selling firearms at more than 100 of its stores.

CEO Ed Stack said it will remove guns and other hunting gear from 125 locations across the U.S. Each of those stores reported "underperforming" sales in those categories, according to the Wall Street Journal. The locations have not been announced.

The hunting products will be swapped for licensed athletic gear and sporting goods, particularly soccer as football-related sales decline.

The Pennsylvania-based outdoor and sporting goods chain removed guns and hunting items from 10 stores last year as part of a trial. Dick's had previously removed assault-style weapons at some locations and raised the minimum purchase age for firearms weeks after the February 2018 deadly mass shooting at a high school in Parkland, Florida killed 17 people.
After decades of earnest public-information campaigns, Americans are finally recycling. Airports, malls, schools, and office buildings across the country have bins for plastic bottles and aluminum cans and newspapers. In some cities, you can be fined if inspectors discover that you haven't recycled appropriately.

But now much of that carefully sorted recycling is ending up in the trash.

For decades, we were sending the bulk of our recycling to China—tons and tons of it, sent over on ships to be made into goods such as shoes and bags and new plastic products. But last year, the country restricted imports of certain recyclables, including mixed paper—magazines, office paper, junk mail—and most plastics. Waste-management companies across the country are telling towns, cities, and counties that there is no longer a market for their recycling. These municipalities have two choices: pay much higher rates to get rid of recycling, or throw it all away.

Most are choosing the latter. "We are doing our best to be environmentally responsible, but we can't afford it," said Judie Milner, the city manager of Franklin, New Hampshire. Since 2010, Franklin has offered curbside recycling and encouraged residents to put paper, metal, and plastic in their green bins. When the program launched, Franklin could break even on recycling by selling it for $6 a ton. Now, Milner told me, the transfer station is charging the town $125 a ton to recycle, or $68 a ton to incinerate. One-fifth of Franklin's residents live below the poverty line, and the city government didn't want to ask them to pay more to recycle, so all those carefully sorted bottles and cans are being burned. Milner hates knowing that Franklin is releasing toxins into the environment, but there's not much she can do. "Plastic is just not one of the things we have a market for," she said.
AUSTIN, Texas – Connor Wilton moved here for the music scene. The 24-year-old singer-guitarist "knew zero people in Austin" and felt pretty lonely at first.

One of the nation's buzziest places, the Texas capital ranks at the top of many "best" lists. But Wilton wasn't feeling it. He lived near the University of Texas at Austin but wasn't a student; walking through "the social megaplex that's UT-Austin" was intimidating, he said, with its almost 52,000 students all seemingly having fun.

"You definitely feel like you're on the outside," Wilton said. "It's hard to penetrate that bubble."

Austin's thriving economy, rich with tech, startups and entrepreneurs, attracts millions of visitors each year – and some of those visitors move here. Apple is planning a $1 billion expansion that will make Austin the company's largest hub outside of California. The median age here is 32.7.

But Austin also ranks among the nation's loneliest cities.

Nearly half of the 20,000 adults surveyed nationwide by the global health service company Cigna last year reported sometimes or always feeling alone or left out. Generation Z (ages 18-22) and millennials (ages 23-37) rated themselves highest on feelings associated with loneliness.

Loneliness, with its well-documented ill effects on health, has been called an epidemic and a public health threat, especially among the elderly. But analysts are now learning that the always connected social media mavens in the country's younger generations are also dealing with it.

University of Delaware professor Dawn Fallik is writing a book on the subject.

"Younger people are genuinely surprised to ever feel lonely and are really overwhelmed by it," she said.
Matthew Levering, one of my favorite theologians, interviewed:
Camosy: Could you broadly characterize the health of Catholic theology in the United States in our current moment? What, in your view, is the state of the field?

Levering: There are so many theologians doing interesting and valuable things. I am particularly grateful for theological work that begins with divine revelation, with the salvific and powerful word of God. It seems almost incredible: Can God – the mysterious infinite source of being, the source of this extraordinary and almost unfathomable cosmos of ours, with its deeply beautiful but also deeply troubling (despite God's infinite goodness) elements – really have spoken through the intensively and openly historically and culturally embedded words, stories, and prayers of Scripture, and even more, can God really have chosen a people, given it a law, guided it through kings and prophets, until in the 'fullness' of time (whatever that might mean) God became incarnate as one of us, preached and modeled the path of true life and love, healed people as a mark of his power, suffered for us on a Roman cross, rose from the dead, and sent his Spirit to inaugurate a kingdom of love in which his people would follow his path of tribulation in self-sacrificial love until the consummation of all things, and what would such a consummation possibly be like?

More than this – could it be that the saving truth given us in and through the inspired Scriptures which awaken us to the realities of faith, to the triune God and the path of deification for which God created us and the whole cosmos with us, has also been handed on and understood more deeply under the Spirit's guidance in and through an all-too-fallible, all-too-bumbling Church, which constantly bears the embarrassing marks of accommodation to the cultures and mores of the cultures through which it passes?

Could the Church in its historical particularity – which surely is all too 'uncatholic' when compared with the pluralism that marks the 'universality' of the world, yet whose catholicity opens up to the fullness of all vocations of love – really is the bearer of the truth of all reality, namely, the bearer of (the body of, the bride of) the Christ who has come to challenge our sinfulness and to redeem us with a judgment, mercy, and love that means that even now our lives are hid with him at the right hand of the Father, and that we await the everlasting radiance and transparency of all things to the luminous and unfathomable communion of the divine Persons who are one God?

To the extent that our field is actually engaged with this wondrous mystery of marital intimacy with God through Christ and his Spirit – probing this mystery, seeking to live it and to speak about how it might be lived, seeking to understand and communicate it without neutering it by submission to the fads and Zeitgeist of the era (while picking up upon the real contributions of the era!) – then our field truly has something to say to people who, created for interpersonal communion and marked by the constant threats of deep suffering, sinful alienation, and annihilating death, are seeking the living God and seeking a Redeemer. And I think that our field is doing a good deal of such work, though much more is needed.