Northern Seminary
Lisle, IL
Dr. Nijay Gupta to Join Professor Scot McKnight in Northern Seminary's New Testament Department
President Bill Shiell, along with Dean Ingrid Faro and Professor Scot McKnight, are excited to announce the addition of Dr. Nijay K. Gupta to the New Testament department.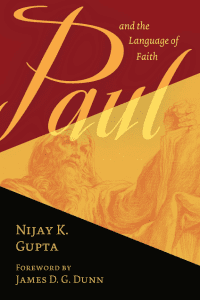 Dr. Gupta has been teaching for more than a decade and is a leading scholar in the field of New Testament studies and a prolific author of many books and articles, including the recent important study Paul and the Language of Faith. He recently co-edited with Scot McKnight the volume The State of New Testament Studies and has a handful of books appearing in 2020. He is a graduate of Miami of Ohio University, Gordon Conwell Theological Seminary, and the University of Durham.
"Dr. Gupta brings valuable expertise in biblical training, innovative course design, and congregational enrichment. I'm so impressed with his enthusiasm for students, passion for churches, and incredible work ethic," said Dr. Bill Shiell, President of Northern Seminary.
Dr. Scot McKnight said, "Among the young scholars of this generation, among those noted for commitment to the church, to scholarship in the service of the church, to classroom teaching, as well as to pastoral care for students, none stands taller than Nijay Gupta and we at Northern are very excited about his decision to join our Faculty. Our students will soon find Dr. Gupta an exciting and challenging professor."
Dr. Gupta will teach New Testament courses and with Scot McKnight will work closely with the Masters and Doctoral cohorts in New Testament. "With students now living in 44 states and 10 countries, Northern Seminary is taking another pioneering step to deliver seminary directly to church leaders and congregations across North America and around the world," said Dr. Shiell. "Nijay's appointment will be a first of its kind for Northern. Dr. Gupta will be our first fully distance Faculty member, living in Portland and teaching students both via Northern's interactive live-streaming technology (Northern Live) and in intensive classes on our main campus when he's in Chicago."
Dear Faro commented, "We're thrilled to have Dr. Nijay Gupta join our Faculty. He's a prominent New Testament scholar, culturally astute, socially savvy, and a genuinely great human being and Christian."
Dr. Gupta is excited to join the Northern team and engage with Northern students. "I have admired Northern Seminary from afar, and I have appreciated Scot McKnight's scholarship for many years. It is truly a dream come true to join the Northern Seminary Faculty and engage with a vibrant learning community passionate about the gospel of Jesus Christ, the transformative Word of God, and the mission of the Church."
Students can study with Professors Gupta and McKnight from anywhere in the world through Northern's interactive live-streaming classes (Northern Live). Northern Seminary offers Masters and Doctor of Ministry programs in New Testament and is accepting students in both the DMin and MANT cohorts. Please contact admissions@seminary.edu