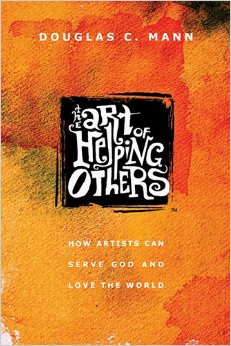 The Art of Helping Others by Douglas C. Mann
Douglas Mann has written a book which appeals to the artist in every one of us. The subtitle of the book ("How Artists Can Serve God and Love the World") defines the purpose of the book. Helping others is not science but an art form, according to Mann. He calls Christians to redefine success to a life of service based on the life of Jesus. While Jesus calls us to be fishers of men, many times (the author notes) we become fishers of Zen. His point is that instead of following Jesus by reaching out to people, as Christians we tend to reach inward. We get introspective and we don't invest our lives in other people. Mann then defines worship as the work of "creative inciters" – people who do more than just sing in church, they get involved in the world around them. Creative inciters are called to help free people around them by breaking down walls that separate us from them. He shares that Christians should be activists, encouragers and influencers in our world.
Written by an artist, this book uses the language of art, referencing a variety of music works, paintings, and stories of other creative people to encourage Christians to reach out to others. The fact that Mann comes from Ukraine makes the book especially poignant at the present time period. The book contains an appendix with a list of organizations a Christian can contact in order to practice the art of helping others.
As a pastor, I am not a musician by trade. However, I do understand the need to stretch my creative muscles in ministry. For people who use creativity in their work or service to God, Mann writes in a language they will understand.
Disclosure of Material Connection: I received this book free from the author and/or publisher through the Speakeasy blogging book review network. I was not required to write a positive review. The opinions I have expressed are my own. I am disclosing this in accordance with the Federal Trade Commission's 16 CFR,Part 255.