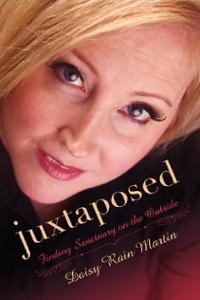 Juxtaposed: Finding Sanctuary on the Outside
Juxtaposed: Finding Sanctuary on the Outside by Daisy Rain Martin was a difficult yet encouraging read. As I read Juxtaposed by Daisy Rain Martin, I was soon reminded of the story of Job. Job goes through a series of suffering and wonders why God won't answer. In this book, change the setting to sexual abuse during childhood (with the proper reader disclaimer before you read the event), set in a church and you have Juxtaposed.
While the nature of suffering is different, the spiritual insights are very similar. Martin goes through series of stages in which she questions God, the church, her family, as well as the nature of her life.
Martin shares how she was raised in an abusive, ultra-conservative religious home. Her journey takes her to places where, like Job, she encounters people who help her understand her situation. The friends in college, Rob the minister, as well as the manage at Applebee's all give their advice. While she writes as if she dismisses their advice (like Job), Martin learns that God used these people in her life to help her.
Reading through the book, the comments she makes about her experience in church with her husband in chapter 5 (appropriately entitled "Pastor Honey, I'd Have Poisoned Your Banana Bread a Long Time Ago and Other Confessions from the First Church of the Bermuda Triangle") were very insightful. The book opened a window into how she remembers her past and how she viewed the church's response to her (even though they don't know her past) was very insightful.
While Martin gave a disclosure about her past sexual abuse event, the book should also come with disclosure about its use of language. Otherwise, this book is a good read. It is refreshingly real, funny, and in the end, helpful.
Disclosure of Material Connection: I received this book free from the author and/or publisher through the Speakeasy blogging book review network. I was not required to write a positive review. The opinions I have expressed are my own. I am disclosing this in accordance with the Federal Trade Commission's 16 CFR,Part 255.
Related articles