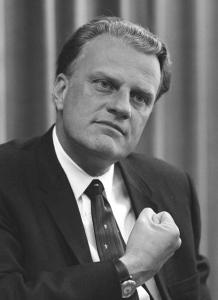 Dr. Billy Graham died today at the age of 99. (You can view his memorial site).He was an ordained Southern Baptist minister. Graham was an evangelist. He was well-admired by many people. During his lifetime, he influenced American Evangelicals and Evangelism. Below are five ways in which he influenced both movements.
1. He brought many organizations together to cooperate in evangelistic efforts
Graham launched several ministries. He was the first full-time staff worker for Youth for Christ. In addition, he launched Christianity Today, an evangelical magazine. His influence helped to develop the Evangelical Council for Financial Accountability.
2. He developed the mega-method of evangelism
Megachurches owe their existence to the mass evangelism pioneered by Graham. He used large stage venues like stadiums to conduct crusades (which he later called missions). In these crusades, Graham used a formula to help preach the gospel and reach thousands of people at a time. The formula was simple. First, the event would open with congregational singing, led by Cliff Barrows. Next, a guest would share a testimony. George Beverly Shea would sing a special song. Then Graham would step up and share the Gospel. This would end with an appeal to make a decision to follow Jesus Christ. Graham's efforts promoted the idea of "revivalism" and also influenced the later development of megachurches around the world.
3. He pioneered the use of new technologies
Graham wrote a newspaper column entitled "My Answer." The column provided answers to questions that people had about faith. Graham broadcasted his missions live on radio through "The Hour of Decision," as well as television. He started World Wide Pictures, a motion picture company. This company produced films that presented the Gospel message and promoted Christian values. Graham used the internet and social media to share the gospel. "My Hope with Billy Graham," was his last major outreach. It is still used today.
4. He influenced the power of American Evangelicalism in American politics
Graham was an advisor to ten presidents (from Harry Truman to Barack Obama.) His close proximity to presidents provided an avenue for future evangelical leaders. Graham denied being part of the "Moral Majority." Yet, he indirectly influenced its rise. The "Religious Right" of the 1980s would not have happened without Graham's personal influence with presidents. In essence, Graham opened the door to the White House for evangelical leaders.
5. He trained other people in personal evangelism
Graham believed in sharing the Gospel to make disciples. He also believed in teaching others how to share their faith too. During his crusade mission efforts, his organization trained men and women to be counselors to help people when they made decisions for Jesus Christ. (I was trained as a counselor during his 1995 crusade in San Antonio.)
Graham used international conventions to bring people together and train them in evangelism. These efforts included the following events: the 1966 Congress on World Evangelism in Berlin, and the 1974 International Congress on World Evangelization in Lausanne, Switzerland. His work continues through the efforts of the Billy Graham Evangelism Association.
You can donate to the Billy Graham Evangelism Association. You can also attend conferences and seminars at The Cove. You can also visit the Billy Graham Library.
#RememberBilly