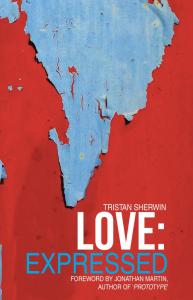 Love Expressed by Tristan Sherwin
The theme of Tristan Sherwin's book, Love Expressed, is love – specifically Christian love. Sherwin cites the Great Commandment as the basis for how the Christian should behave. In the introduction that sets the tone for the book, Sherwin compares Clark Kent to Jesus Christ. Clark Kent is a "critique of humanity" as Superman's alter-ego. In the same way, humanity is critiqued, not by God (who is compared to the abilities of Superman) but by Jesus Christ who is, in essence, God's alter-ego.
Sherwin then asks the question: "What's the most important thing that I can do with my humanity?" This is the question that sets up the rest of the book. Sherwin's answer is an expansion and application of Jesus' answer. Jesus said:
"He said to him, "Love the Lord your God with all your heart, with all your soul, and with all your mind. This is the greatest and most important command. The second is like it: Love your neighbor as yourself." (Matthew 22:37–39, CSB)
In other words, Jesus said that the most important thing I can do with my humanity is to express love.
Sherwin shares how that love can be expressed:
Love is expressed by obedience (John 14:15, John 14:21, John 14:23-24)
Love is expressed through learning (Proverbs 12:1, Leviticus 19:18, Luke 5:1-11, 1 Corinthians 8:1))
Love is expressed in mercy (Matthew 18:18-35)
Love is expressed in service (Luke 10:25-37, Leviticus 19:11-22, Matthew 25:31-46, 1 John 4:18)
Love is expressed through worship (1 Chronicles 16:8-12, 1 Corinthians 10:31)
Love is expressed through Sabbath (Mark 2:27, Psalm 46:10, Matthew 27:62-66)
Love is expressed through prayer (Matthew 6:9-13)
Love is expressed through humility (Luke 5:27-32)
Sherwin ends with an invitation to Jesus, into love's way, and a full expression of God's love for each and every person (1 John 4:10-12). His final prayer for the reader is a very relevant prayer for today:
"Holy Spirit, help me to really love people today"
Along the way in his book, Sherwin shares wonderful insights into the love of God. At times, he moves from personal testimony to insights from the Scriptures to illustrate his point that God's love is expressed in various ways. As a pastor, this book would be a great resource to develop a sermon series on how a Christian expresses God's love. I plan to use this book for a set of sermon starters in a series that I can preach.
Tristan Sherwin can be contacted via Facebook, Twitter, and his website.
Disclosure of Material Connection: I received this book free from the author and/or publisher through the Speakeasy blogging book review network. I was not required to write a positive review. The opinions I have expressed are my own. I am disclosing this in accordance with the Federal Trade Commission's 16 CFR,Part 255.
Other Posts:
Abba's Child by Brennan Manning
The UNKingdom of God by Mark Van Steenwyk
A More Christ-Like God by Bradley Jersak
Raindrops of Love For a Thirsty World by Eileen Workman