Nine Things I Think is an irregular feature whenever I have a list of things I want to talk about that aren't long enough for their own individual posts. Some may be expanded later, but most won't. There's no theme, just nine things I want to bring to your attention. Feel free to expand on any of these topics in the comments section.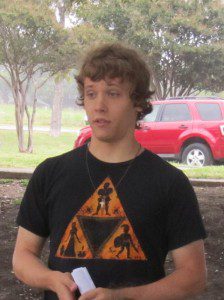 1) There's a new blog on the blogroll to the right: Under the Owl's Wing. Subtitled "just a boy whose intentions are good," it's the home of Conor O'Bryan Warren, a young Hellenistic polytheist. I'm adding it not because I know Conor and I like him (although I do and I do), but because I love the passion he displays for his gods, his tradition, and the community he desperately wants to build. He's not afraid to challenge anyone anywhere when something doesn't look right to him, but when he's wrong, he's not afraid to admit it. It's worth checking out even if you're not a Hellenist.
2) After eight years and 141 episodes, Tommy Elf's podcast From the Edge of the Circle is coming to an end on October 31. Almost all of the podcasts have been monologues, with Tommy giving his views as a mostly-solitary Pagan who loves Nature, hates politics, and thinks everyone should follow their own path.
But I think Tommy is addicted to podcasting. In November he's starting a new show called Upon A Pagan Path. It will abandon the monologue format in favor of guests and conversations, including one with a certain Druid blogger. Tommy's blog From Within the Circle has also been added to the blogroll.
3) I don't watch much TV and I haven't regularly watched a show on the broadcast networks since the end of Alias in 2006. But the previews for Sleepy Hollow grabbed me and I've been watching it. After the first episode, I said it was "Washington Irving meets Charmed meets Dark Shadows meets the Book of Revelation." That's still pretty much where I am with it. I like the premise and I'm enjoying the two leads (both the characters and the actors) but the writers are taking huge liberties with history, religion and magic. It's on break till after the World Series – I'll pick up again on November 4, but I don't know for how long.
I'm reading very good things about American Horror Story: Coven. Peg Aloi has a review of the series and Jason Mankey is doing mini-reviews of each episode. But I've been teaching a Pagan class on Wednesday nights and I haven't seen it yet. I'm hoping to catch up via on demand before too long.
And I'm going to give NBC's Dracula a shot starting tomorrow night, because it's Dracula.
4) There seem to be a lot of supernatural shows on right now and witches seem to be particularly popular. I suspect much of that reflects the general atmosphere of fear and pessimism in the mainstream culture – people are looking for a supernatural cause to our problems, and have a desire for supernatural skills to deal with them.
Some people only want fantasy and others won't be satisfied with anything less than fantasy-level magical abilities. But for those willing to explore the possibilities of real magic and willing to make a commitment to excellence, this is a wonderful opportunity to re-enchant the world.
5) Most new technology is marketed to the young, but Samsung's new wristwatch phone appears to be aimed squarely at my generation and above. I remember all the sci-fi references in their TV commercial except for Dick Tracy, who was before even my time.
It's a cool looking toy, but it only works if it's within 25 feet of a companion Samsung smartphone. I'll stick to the iPhone.
6) The Wild Hunt's Fall Funding Drive continues through November 25 – as of today they're at 89% of their goal. The Wild Hunt is the best source of Pagan news and news of interest to Pagans. We're never going to get the coverage we need from the mainstream media (neither are other religions), so we're going to have to support our own news outlets.
The Wild Hunt is the crown jewel of the Pagan internet and it's well worth your financial support. If you haven't already pledged (I have) please do so to whatever extent you can.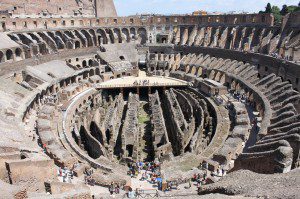 7) I love football, but the recent rash of "normal" injuries in the NFL plus the continuing research into the effects of concussions has me questioning its morality.
All athletes run the risk of injury – I still have a foot injury from training for marathons in 1999 and 2003. But the human body is simply not made for repeated high-speed collisions and no amount of padded armor can prevent the debilitating injuries that are a regular occurrence in football.
The game is too popular and it brings in too much money for anyone to seriously consider ending it. More than that, it's too popular among its players who know the risks and possibilities, even if they wrongly assume a severe injury will never happen to them. But at times, I can't help feeling like I'm sitting in a very different coliseum, wondering who will walk out alive and who won't.
8) The government shutdown that frustrated me and many others is over, but the current continuing resolution only extends until January 15 and the debt ceiling is only suspended till February 7. I understand that democracy is messy, but government-by-crisis isn't in anyone's best interests. Shutting down the government – much less defaulting on our financial obligations – should never be an option.
Strengthen your tribes and take care of each other, because the structures and infrastructure our parents put in place is crumbling, and those with the resources to maintain it are more interested in exploiting it for their own benefit.
9) I'll be in the pulpit at Pathways UU Church in Euless, Texas on November 17 at 10:00 AM. The service title is "The Art of Wild Wisdom" – it will be a look at ancient and modern Druidry with an emphasis on a reverence for Nature. If you're in the North Texas area, come by, say hello and meet the folks at Pathways.
That's what I'm thinking right now – what about you?