From the beginning, this was supposed to be "the Ireland trip."  Seven of our twelve days were spent there, and while there were a few things we wanted to see in England and Wales, we were there as much for logistical reasons as anything else – the only place in Britain or Ireland you can fly direct from DFW is London Heathrow.  Cynthia's primary reason for routing us through Wales was to take the ferry from Holyhead to Dublin, although she knew that as a Druid I'd want to spend some time on Anglesey.
Then some logistical issues in England caused us to replan before we left, and we ended up staying almost two full days in Wales.  That turned out to be a very good move – Anglesey was the highlight of my trip.
I'm probably embarrassing Kristoffer Hughes with my gushing about his hospitality, but I have to say it one more time – thank you, Kris.  Your physical assistance, your wealth of knowledge, and your friendship were amazing.  The work you and the rest of the Anglesey Druid Order are doing to re-establish Ynys Môn as a center of Druidry is both good and needed.  I will remember our visit for the rest of this life, and I will incorporate what I saw and heard and did in Wales into my own Druidry.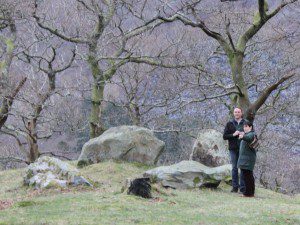 Our first night was not actually spent on Anglesey but in Llanberis, on the Welsh mainland.  Our first stop was the Royal Victoria Hotel, an old resort that serves a wide clientele including backpackers climbing nearby Mount Snowdon.  We didn't get to see much of Snowdon due to low clouds.  What we did get to see was Dolbadarn Castle, built around 1230 CE.
Less physically imposing but more spiritually impressive was a low stone circle overlooking the glacial lake Llyn Padarn.  We climbed the short, steep hill and approached the circle.  As with so many places in this area, it had a presence to it – I didn't have to be told this was a sacred site.  I poured an offering of water, gave thanks for the hospitality of the land and its representatives, and listened.  It was a pattern I repeated multiple times in Wales.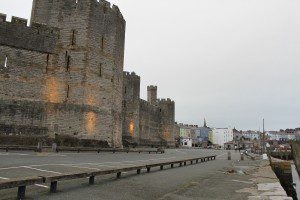 From there we went on to Caernarfon and the castle built in the 13th century by the English King Edward I, who after over 700 years is still not a popular figure among the Welsh people.  As Kris said "it was built to keep us out."
The next day was our visit to the island of Anglesey.  We began with St. Seriol's, an Anglican church dating from the 12th century and still in use today.  It includes St. Seriol's Well, a sacred well that was likely sacred long before the Christian era.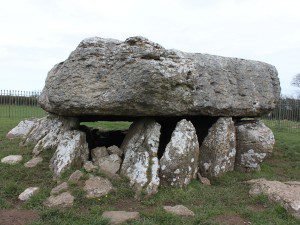 Lligwy is a collection of sites from different eras.  The tomb shown here is around 4000 years old.  There are also remains of a Roman-era village and the ruins of a medieval church.  This is where I first felt the "soft stones" – stones that felt permeable and inviting, like I could fall into them and sink directly into the Otherworld (whether I could then get back is another question!).
The highlight of the highlight was Bryn Celli Ddu.  The name means "the hill in the dark grove" – the Anglesey Druid Order uses it for some of their rituals and it's clear why they do.  Getting there required a long but pleasant walk along a hedgerow, over a bridge, and along another hedge – that would make an excellent procession.  Getting inside the mound required a tight squeeze, but it was big enough to comfortably accommodate all of us.  Kris brought Welsh cakes and we shared them with the ancestors – it was both a light lunch and a communion with the blessed dead.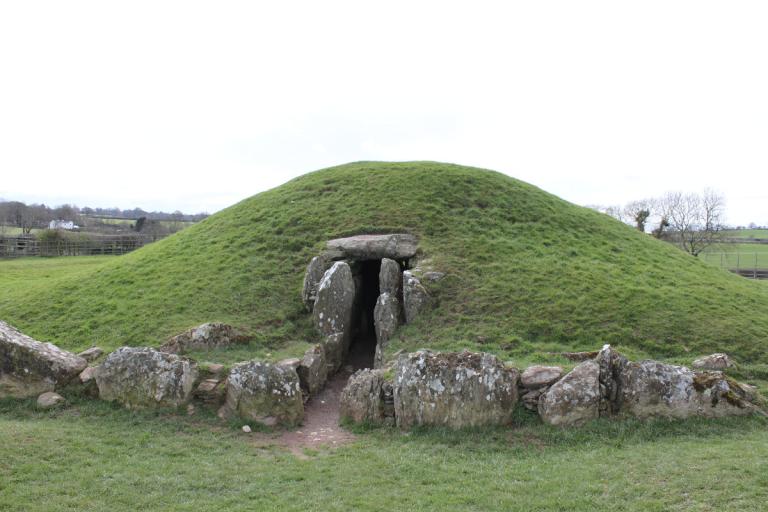 Of all the sites we visited, Bryn Celli Ddu was the most alive.  Some of that, no doubt, comes from the ritual work done by contemporary Druids.  But there's more – something was built up over the centuries it was used as a burial chamber, and I suspect (though I can't possibly be sure) this was a place of power long before humans began to use it.  There are no rules on photography and there are pictures of the interior on the internet, but something told me this was too sacred to shoot – the interior of Bryn Celli Ddu needs to be experienced, not captured.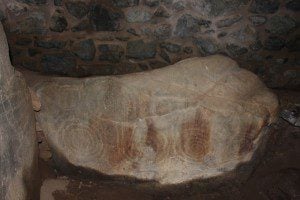 Our next stop was the most dramatic.  Barclodiad Y Gawres – "the Apronful of the Giantess" – is a tomb set high on a cliff overlooking the sea.  On the day we visited it was cold and wet with strong winds – the long walk up the cliff was very much a procession into the presence of the ancestors.  Kristoffer Hughes said the Anglesey Druid Order normally goes there only at Samhain.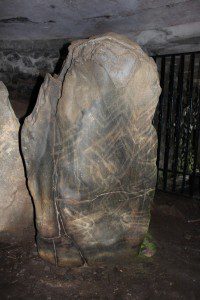 There is beautiful rock art in this tomb and the gate is kept locked to protect it.  But there are advantages to traveling with the local Druids (thanks again, Kris!) – we had a chance to go inside, make our offerings to the place and to the ancestors and experience the tomb.  Unlike at Bryn Celli Ddu, I felt no objections to taking pictures here.
Llyn Cerrig Bach is a small lake on the edge of a British Air Force base.  During World War II, the area was being dredged for fill to extend a runway for large Allied bombers.  In the process, a chain was recovered that turned out to be a 2000-year-old slave chain.  Further investigation turned up over 150 items that had been offered to the lake, some of which had been ritually broken.  We discussed the synchronicity of items that had been offered to a lake turning up at a time when the land and its people were under attack, and then we made our own offerings.  I had been pouring libations, but here something more solid seemed to be called for.  I offered two American coins.
Our final stop was at the Portal Stones, two standing stones that no one knows what they were used for.  Perhaps they were a physical portal, an entryway into a ritual area or a farm.  Perhaps they form a spiritual portal, although we walked through them from both directions and got nothing.  Perhaps they marked something on the landscape that's no longer there.  In any case, they're a fascinating relic.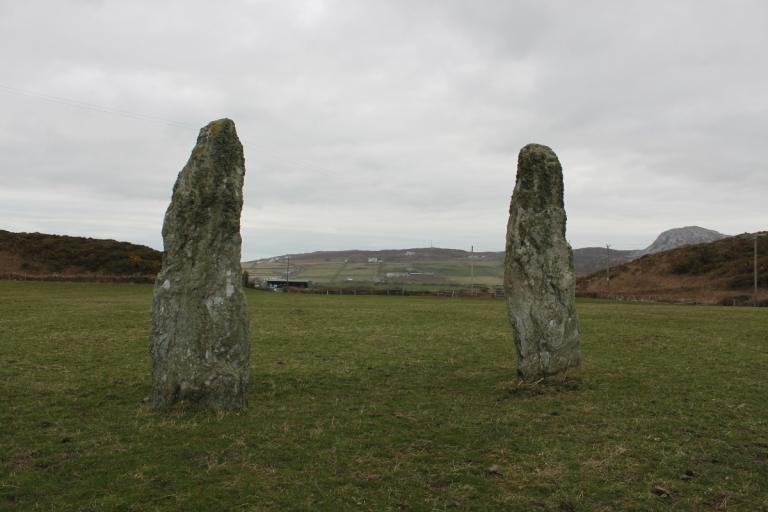 I had only planned one thing prior to arriving in Wales – I wanted to spend some time alone, communing with the spirits of Anglesey and with the spirits of my Druid predecessors.  I assumed there'd be a park or some similar natural place where I could do it – finding a stone circle in my back yard made it pretty clear where I was supposed to do this.  I expected to connect with the past and perhaps even have a vision of a past life (I've never had any indication I was present at the Roman massacre of 61 CE, but I have had visions of being a Druid at least twice before this life).
What I got was not what I expected.
Kristoffer Hughes said that when the Anglesey Druid Order was forming, there was concern that there simply aren't enough Druids and Pagans in the area to support an active group.  But he said the message they got from the land was that they didn't need an order of full time residents – they needed to bring people to Ynys Môn to study and learn and then go back and be Druids where ever they live.  Instead of running correspondence courses like OBOD, they bring 22 students to the island for a series of face to face meetings over the course of a year.
The message I got from Anglesey went something like this:
Now you've been here.  Now you've seen what can be done.  Will you go home and re-create it there?  Will you add these experiences to the Druidry you've already learned?  Will you carry the spirit of Ynys Môn back to America, back to Texas, back to McKinney and Denton?
It was a question, and an offer, and a challenge.
There can be only one answer:  yes.