National and international meetings are a regular occurrence in many religious traditions. They're a time for co-religionists to come together, conduct business, celebrate their common tradition, discuss issues facing it, and generally have a good time being who and what they are. The Covenant of Unitarian Universalist Pagans (CUUPS) held several such meetings in its early years, but after the last one in 2004 there always seemed to be a good reason why the next one should be held "next year" and not "this year."
That changed this past weekend. Almost 80 CUUPS members and friends from around the country traveled to Salem, Massachusetts for a long weekend of rituals, workshops, keynote addresses, and the kind of conversations we can't seem to have anywhere else. We were hosted by the First Church in Salem, a UU congregation first gathered in 1629 with a building that opened in 1836. One long weekend can't make up for a 12 year absence, but it was a good start.
I don't like to travel on the day a conference begins. With the exception of Pantheacon, I've been flying in or driving halfway the day before, which leaves me with a leisurely morning the day the conference starts. It costs a little more, but after I almost missed a workshop I was leading at the 2012 OBOD East Coast Gathering because of construction on the Pennsylvania Turnpike, I decided to spend the money and be less stressed.
Convo started Friday afternoon. I flew to Boston on Thursday, where the Anomalous Thracian picked up me and fellow guest speaker Byron Ballard and hosted us at his house / farm / temple in rural northeastern Massachusetts. It was a wonderful evening that lasted well into Friday morning and included exactly the kind of conversations you'd expect to have when a Druid, a Witch, and a Thracian priest gather around a fire with whiskey.
On Friday we made our way into Salem. Byron and I checked into Convo, found a place for lunch, then toured the Salem Witch Trials Memorial. This is the one place where all the touristy kitsch fades away and the reality of what happened in 1692 slams into you full force.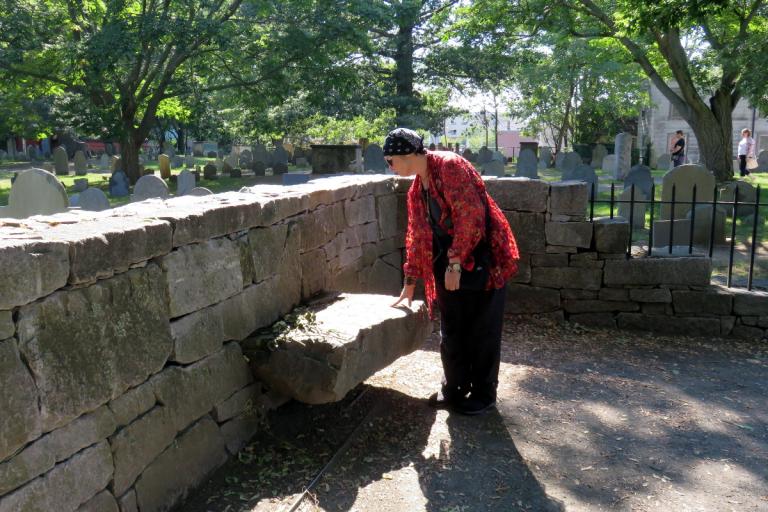 Convocation formally began on Friday evening with a brief opening ritual in the front yard of First Church. Then we moved down into the basement (the one cool spot over the rather warm weekend) for a panel discussion with the guest speakers. After that Convo lead organizer Jerrie Hildebrand gave a presentation on the history of Salem and its connection to modern witchcraft.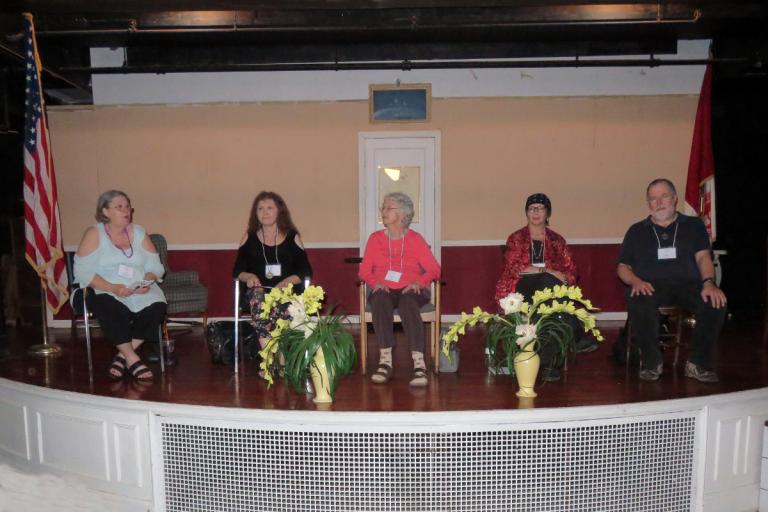 Saturday was a full day. There were three keynote presentations. Byron Ballard spoke on "Can You Blessed Be?" – a look at responding to life with blessings, even when things are difficult. Rev. Shirley Ranck (author of Cakes For the Queen of Heaven, the highly influential curriculum for women's spirituality from the 1980s) spoke on the lessons of the Chambered Nautilus. I spoke on the results of our 2014 Revisioning surveys.
There were numerous workshops. Most time slots had two or three offerings, so I couldn't get to all of them. I listened to Gypsy Ravish talk about her journey in Witchcraft. I listened to Byron Ballard talk about her favorite topic, Appalachian folk magic. I missed the late afternoon sessions: I got caught up in one-on-one conversations. And a little bit of solitude – I'm more introverted than those who casually know me often think, and I can't be social all day long.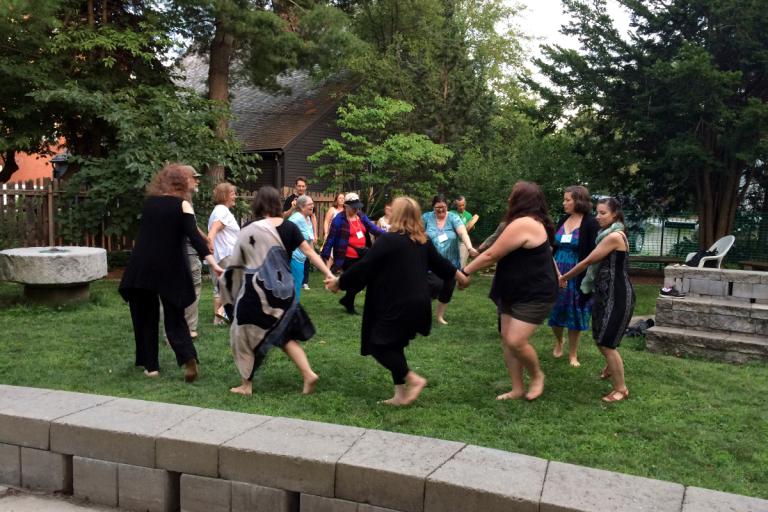 The Saturday evening ritual was a ritual meal. People contributed various ingredients, volunteers prepared the food, it was blessed with an elemental invocation, and we enjoyed more good conversation. At my table, the ancient site of Göbekli Tepe came up, which gave me an opportunity to recommend Star.Ships (seriously – if you have any interest in pre-history and the origins of civilization, you need to read it).
On Sunday morning, CUUPS presented the Sunday service for First Church – Rev. Ranck spoke on "Walking Together." Following the traditional UU coffee hour, there was a brief closing ritual and then we began heading to our homes all over the country.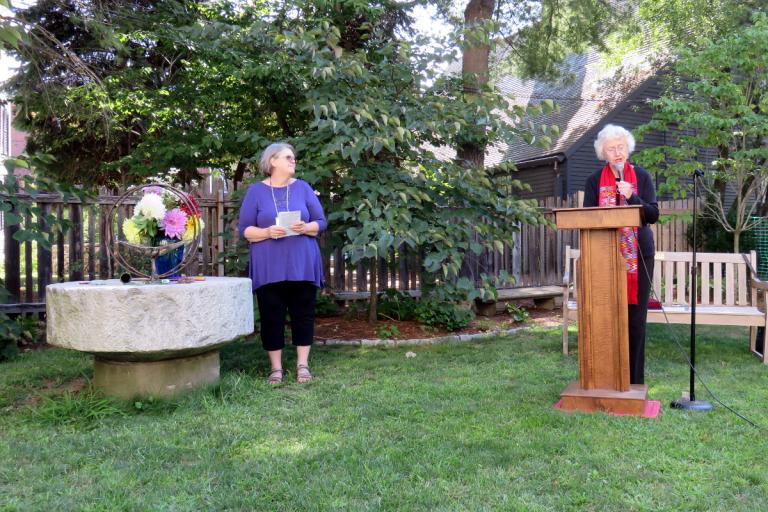 When I write these event-related posts I try to find a theme running through the gathering. Events often have a stated theme (Convo's theme was "Awakening Our Tribe") – sometimes they fit and many times they don't. It wasn't until I sat down to write this post that the de facto theme of Convo 2016 occurred to me: transition.
There were so many roots in this year's Convo. A previous Convo had been held in Salem in the 1990s. Cakes For the Queen of Heaven not only gave voice to women's spirituality, it helped prepare UUs to be accepting of Paganism when CUUPS asked to be chartered in 1987. Salem has a special connection to witchcraft, both for the infamous witch trials and executions and for being home to some of the most visible public witches and expressions of witchcraft in the United States in the second half of the 20th century. This Convo honored the ancestors of UU Paganism, some of whom are still living.
But in many of the workshop questions and informal conversations, the emphasis was on the future. How can we be more welcoming and hospitable? How can we serve our children and the young people who come to us? How can we be a safe space for exploring the spiritual and religious experiences most of us have but few of us are comfortable discussing?
In our joys and in our concerns, I heard people expressing what our Mission and Vision surveys told us: UU Paganism is both fully Pagan and fully UU. Our challenge is to embrace both currents of our tradition.
I trust it will not be 12 years before we have another CUUPS Convocation. I heard at least two groups express interest in hosting a Convo in 2017 or 2018. It's a lot of work, but it's a wonderful service for our tradition.
Many thanks to everyone who organized, volunteered, and participated in the 2016 CUUPS Convocation.