Summer Solstice is here and we're still in quarantine.
I know, everything is reopening now… sort of. Different states and different countries have different rules to match different situations. Here in Texas houses of worship are exempt from restrictions, but most churches are still operating virtually.
That's a good thing. The communal nature of religious services makes them highly risky for spreading COVID-19, and Pagan services are no exception. The infection curve is gradually declining in the United States, but it's flat to up in Texas – we got it later, so we're going to come out of it later.
In any case, Summer Solstice is here and there are no group rituals to celebrate one of the eight high days of modern Paganism.
In 2015 I wrote a solitary ritual for the Summer Solstice. It's simple and easy, but you have to get up early enough to greet the Sun at dawn. In 2018 I wrote 8 Things to do for Summer Solstice as a Solitary Pagan, which will give you some more ideas of things you can do to celebrate.
To help fill the void of group rituals, the Under the Ancient Oaks Online Summer Solstice Ritual will be next Saturday, June 20. The ritual will be presented as a YouTube Premiere at 8:00 PM CDT.
The Technical Stuff
This will not be a live stream. I led an online Beltane ritual on Facebook live. Spiritually, I thought it went well, and I got very good feedback on it. But the video quality wasn't particularly good. As I said in my weekly newsletter afterwards, I'm old enough to be amazed that I can stand in my living room and broadcast a ritual around the world using nothing but the equipment I already have for other purposes. And I'm also young enough to be annoyed that the audio and video quality aren't up to TV standards.
Webcams are back in stock now, but they offer only a marginal upgrade over PC webcams, and you still have to deal with connectivity issues. Fixing that requires far more than I can spend.
But I can use the equipment I have for making class videos to make something that, while not exactly professional grade, is substantially better than livestreaming. Plus about five times as many people watched the Beltane ritual after it was over as watched it live. All this makes for an easy decision. The ritual will be a YouTube Premiere at 8:00 PM CDT on Saturday, June 20. Here's the watch page – you can visit it now and set a reminder, if you like.
The Ritual Stuff
This ritual will honor the Sun and mark the longest day. On the Solstice the sun rises the farthest north on the eastern horizon, and sets the farthest north on the western horizon, as it will all year. Although the truly oppressive heat is yet to come, knowing the days will be getting shorter reminds us that the heat will eventually subside… and so will the pandemic, though we do not know when.
The Deity of the Occasion is the Morrigan. She has no connection to the Solstice in lore or in function, but I have oaths to Her, so when She said She wanted to be the focus of this ritual, of course I said yes. The Gods are whole persons and we cannot restrict Them to certain days on the calendar.
The Morrigan is a Goddess of battle, but She is also a Goddess of the aftermath of battle. After the fighting is done, the dead must be buried, the wounded must be cared for, the physical damage must be cleared, and the land must be made ready for new growth. The battles we fight today – especially the battle against disease and the battle against injustice – will not last forever. We cannot simply return to "normal" – we must build a better world.
I hope you'll join me in listening for Her call, and if you feel so moved, responding to it.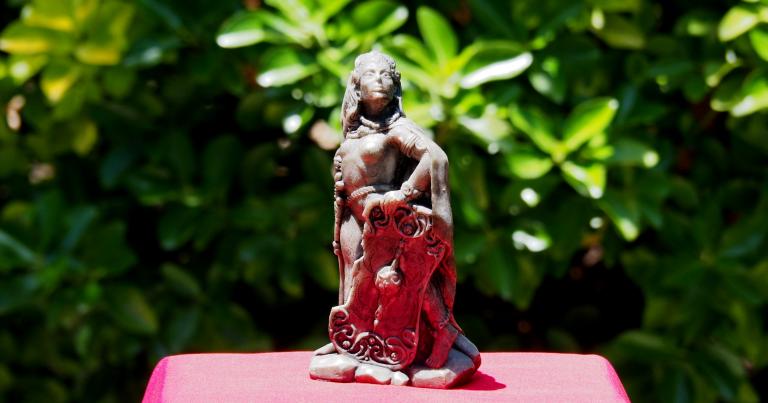 Participating Where You Are
You're welcome to simply follow along with me, but I encourage you to participate where you are. You'll need a candle and something to light it with, an offering bowl, and something for offerings. I'll be using wine, but I'm sure whatever you have will be acceptable.
There have been times when all I had available was clean water – it was always accepted. While different deities prefer different offerings, They mostly understand availability… and that some people can't be around alcohol. Just don't try to offer the cheap stuff and keep the good stuff for yourself.
There won't be anything that would require you to move around, so you don't need a lot of space.
When we're done with the main working, we'll share a drink among ourselves. I expect the ritual to run about 25 minutes.
See you on Saturday.
Under the Ancient Oaks Online Summer Solstice Ritual
Saturday, June 20
8:00 PM CDT
YouTube Premiere
---
Want to get my personal weekly newsletter every Friday? It covers things that don't fit into the blog format, mostly in my usual range: Paganism, polytheism, and magic. Current events and politics. What I'm working on that you'll see in the near to medium future – be the first to find out about things like this.
Sign up on my teaching site https://undertheancientoaks.com/
Enter your e-mail in the big green block and do the not-a-robot thing. You'll get a confirmation e-mail – respond to it and you're set.