The fifth online course from Under the Ancient Oaks is now open for registration. Introduction to Pagan Spiritual Practice – A Polytheist Approach begins on September 9 and will run for eleven weeks.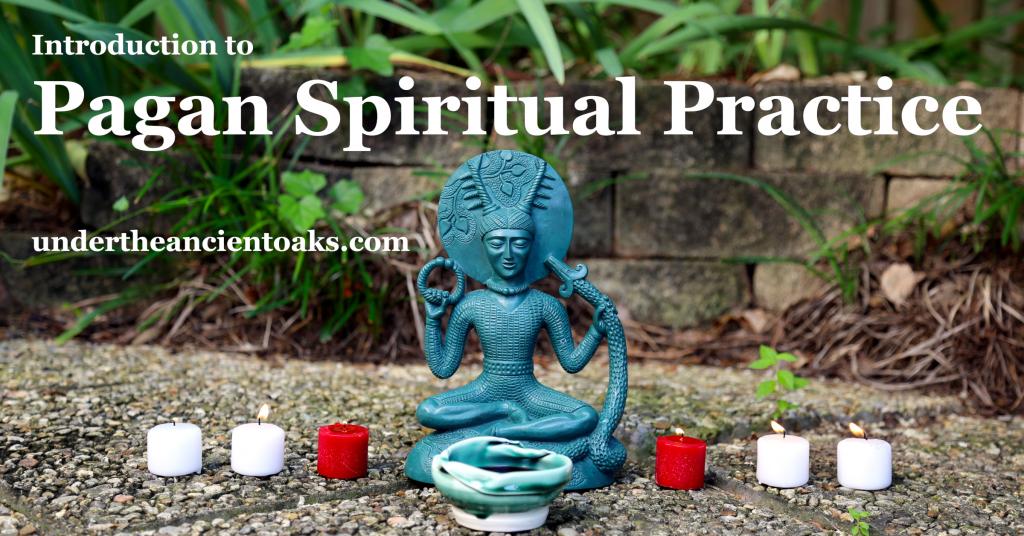 What is it that we do that makes us Pagans? For me, it begins with speaking to my Gods in prayer, listening to Them in meditation, and maintaining respectful relationships with Them through offerings.
And also, it's my relationships with the natural world: following the Sun and the Moon, gazing at the night sky, watching the birds and talking to the rabbits, and observing the changing seasons.
This class will cover the daily, weekly, monthly, and seasonal practices that form the foundation of my Pagan polytheist religion and spirituality. This is what I've been doing over the last 20 years or so that keeps me connected to my Gods, to Nature, and to the wider world. I'm honored to share it with you.
The Modules
0. Introduction (free)
1.  Polytheist Foundations
2.  Altars and Shrines
3.  Prayer
4.  Meditation
5.  Offerings
6.  Reading and Study
7.  Relationships With the Natural World
8.  Grounding and Energy Work
9.  Worship and Liturgy
10.  Building a Liturgical Calendar
11.  Commitment, Persistence, and Will
The Details
As with the previous classes, the Spiritual Practice class will be on-demand. Video classes will be released once a week – do them on your own schedule. Most of the modules will be shorter than previous classes: 20 to 30 minutes instead of 50 to 60 minutes. Rather than combining topics to keep the usual length, I think it's better to cover less material in each module. That lets you watch the video, put the material into practice, absorb it, and then get ready for the next topic.
Module 0 – the syllabus module – is available now. Module 1 will go up September 9, and a new module every week after that. The final module goes up November 18, which is a week before the U.S. Thanksgiving holiday.
There will be homework for this class – mainly doing the practices we cover, and keeping a journal about your experiences with them. I don't think it would be helpful for me to review your journal (how can I evaluate someone else's prayers?) so there will be no assignments to turn in this time.
Instead, this class will include a series of video Q&As. You send me your questions – I answer them on video and post it for all the participants.
Of course, if you have private questions, I'll answer them privately.
K.D. Echols has once again graciously agreed to provide written transcripts for those with hearing difficulties, and for those who like to read as well as listen.
This course will be a prerequisite for Intermediate Spiritual Practice early next year
Any of the current UTAO courses may be taken in any order. That's going to change after this class.
When I finished outlining what I do and therefore what I can teach about Pagan spiritual practice, there was a clear break between the introductory material and what I consider intermediate material. It makes sense to break it up into two classes, but that means everyone who takes the Intermediate course will need to complete the Introductory course first.
This will insure we have a common understanding of basic practices when we start Course 6 next year. It also means I won't have to include any reviews of foundational materials in the Intermediate Practice course.
Costs and Registration
Registration is open now. Send me an e-mail or use the contact form on the Under the Ancient Oaks website and tell me you want to sign up. I'll send you a PayPal invoice. Once you pay it, I'll register you for the class. Most times this will be done within 24 hours, but if you catch me while I'm occupied it may take longer.
The cost is the same as the first four courses: $50 for the entire course.
A limited number of scholarships are available for those experiencing financial difficulties. If you'd like to apply for a scholarship, just ask. I'll take applications until September 4, and I'll hold all applications until then. I'll notify everyone of their application status by September 6.
If you're in good financial shape, I hope you'll consider sponsoring a scholarship. Each sponsorship fully funds one scholarship student, and it also counts toward the paid registrations that determine how many scholarships I can fund.
Questions?
If you have any questions, contact me here or at any of the usual places.