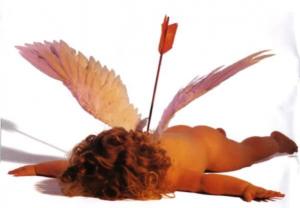 Single women (in the 27 to 40-year-old zone, mainly) have lately been asking me what generally boils down to this: "What do guys want? I'm a pretty, intelligent, good-hearted woman who has a lot to offer any man. But all the men I meet invariably end up having some sort of congenital aversion to commitment—to settling down, getting serious, getting married. Why is that? I'm a fun, sweet person. I make my own money. I have lots of rewarding relationships in my life; I know how to be in a good relationship. I'm a mature, grown-up person. And I'd like to get married someday. Doesn't everyone? Don't guys? Isn't that the whole point — finding that special someone, falling in love, getting married, settling down, having children, growing old together? Isn't the best of life? Then why is it that if a girl on a date so much as scratches an itch on her ring finger, the guy acts like she's sprayed him with mace? Who do these men think they're going to get involved with, if not one of the women they actually meet? What is it that men want? What in the world are they looking for? Do they even know?"
Good question, ladies! A little intense, maybe. But good. And certainly fair.
And for whatever it's worth, here's my answer to it:
Though we're talking here about a world of variables, one enduring truth is that men find unappealing in women the same thing women find unappealing in men: Neediness. No one is attracted to the emotionally needy. (No one worth being with, that is: there are always cretins out there looking for weaker people to prey upon.) Any woman frustrated by how often the men with whom she goes out seem to resist getting involved with her in a serious relationship needs to take seriously the possibility that she's clearly communicating to those men that she wants them to get involved with her in a serious relationship. And if that's what she's doing, she's blowing it. It's like screaming at a cat to come to you. The woman who is putting off vibes that she's looking for a committed relationship might as well hang a sign around her neck that says, 'Desperate! Please Help! At Least Compliment My Hair!'
No one is attracted to someone looking for anyone.
The bottom line is this: You can't live your life waiting for a man to make your life work. Feeling that a man will make your life whole is the one thing guaranteed to keep a good man from being attracted to you. Because inseparable from the message, "A man would complete me" is "I'm incomplete." And signaling "I'm incomplete" is signaling, "I'm a loser who doesn't like herself." And if you don't like yourself, why would anyone else?
Looking for Mr. Right can only mean that you think you're Miss Wrong.
I say forget Mr. Right. Just stop searching for him. Instead, start thinking of yourself as Miss Perfectly Fine By Herself, Thank You. Because in truth that's what you are. And if you're not, get perfectly fine with yourself. Make your own life.  Be whole — happy, productive, active, physically fit, interested in stuff. Do stuff.
Commit to yourself before worrying about anyone else committing to you. Live your life — and let Mr. Right come looking for you. And he will. Nothing attracts a man more than a woman who doesn't seem like she needs him or anyone else. True confidence is the greatest aphrodisiac.
Life is one big paradox. And one of its biggest is that the only way to find Mr. Right is to genuinely and truly stop looking for him.