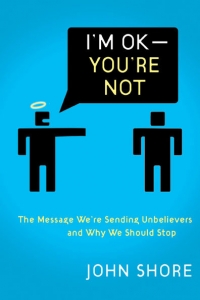 Here is the very quick version of the publishing saga of my book, I'm OK-You're Not: The Message We're Sending Nonbelievers and Why We Should Stop.
1. I have my conversion experience.
2. I get intensely interested in helping my non/anti-Christian friends understand how it is that just because I suddenly became a Christian doesn't mean I also suddenly became a homophobic, misogynistic, narrow-minded moron.
3. I write my Christian apologetic, Penguins, Pain and the Whole Shebang: Why I Do the Things I Do, by God (as told to John Shore). (For more on that drama, see this post.)
4. Penguins gets published by Seabury Books.
5. Next wanting to discuss the relationship between Christians and Non-Christians—particularly relative to the idea that in busily endeavoring to fulfill the Great Commission, we Christians almost necessarily break the Great Commandment—I write I'm OK-You're Not.
6. NavPress buys I'm OK-You're Not (in 2005).
7. The week before the manuscript for
I'm OK
is due, almost everyone in both the editorial
and
marketing departments of NavPress walks off their job. They simple, all at once, walk out.
8. I'm OK gets published by what's left of NavPress.
9. A three or four-person clique of professional hardcore fundamentalist Christians begins attacking I'm OK.
1o. Someone on the board of directors of The Navigators (which owns NavPress), comes through the offices of NavPress, spots a copy of I'm OK lying on a desk, picks it up, and looks it over.
11. That person is severely displeased to learn that the publishing arm of the traditionally very evangelistic Navigators has published a book all about why Christians should stop evangelizing.
12. NavPress informs me that they're going to pull all the copies of I'm OK back from book stores, remove all references to the book and me from their website, and literally burn all their remaining copies of I'm OK.
13. NavPress pulls all copies of I'm OK from bookstores, and removes me from their website.
14. I'm OK begins to sell anyway.
15. Foreign rights to I'm OK get sold.
16. Despite publicly disavowing me, NavPress continues to fulfill orders for I'm OK.
17. I purchase from NavPress all right to, and the remaining thousand or so copies left of, I'm OK, the final three boxes of which are right now in my garage.
18. In the past four days (as I write this) I sell, package, and ship to individuals who have ordered them thirty-five signed and inscribed copies of I'm OK – You're Not.
19. The book sells out, and is no more (save the Kindle version).