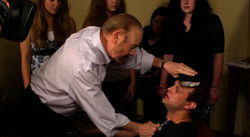 Sorry for the late notice, but this just came together. If you're in San Diego I can definitely recommend coming to the 7:30 showing tonight of HELLBOUND? at the AMC Mission Valley 20. Immediately following the show will be a Q&A with guests Rich McCullen, Colby Martin and myself. This is your last chance to see this movie in San Diego.
Rich, a leading light of the progressive Evangelical movement, is the founding and lead pastor of Missiongathering Christian Church of San Diego. Colby Martin (I can finally tell you!) is the young man about whom I wrote a year ago in the viral post Pastor Fired for LINKING to "Don't Ask, Don't Tell." Today Colby is Missiongathering's Pastor of Worship and Arts. Whoo. Hoo!
Come join us tonight for what should be a fantastic after-show discussion. And please share the heck out of this post: the more at an event like this the merrier. Thanks for your help! Hope to see you there!
Hell NO!, the reason I was supposed to be in HELLBOUND—is below.
Here's the movie's trailer: