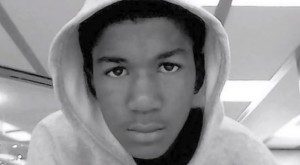 The constant stream of news this week about Trayvon Martin has re-ignited a national conversation about race–a conversation that has been, in my estimation, neither this public nor this intense since the controversy surrounding President Obama's former pastor, Jeremiah Wright, during the 2008 presidential campaign. The deep pain at the center of this conversation reveals a wound that we often try to hide, despite the fact that it will not go away. Our history of race-based slavery colors everything in America. President Obama was both honest and revealing, I think, when he said in a press conference last week, "If I had a son, he would look like Trayvon."
This reality is never far from our minds at St. Johns Baptist Church in Durham. An historically black congregation in the Walltown neighborhood, we are the parents, grandparents, friends and neighbors of young men like Trayvon Martin. When we have open suppers in the basement each Wednesday night, guys who look like Trayvon come in from the neighborhood and eat with us. We ask them how they're doing. We offer to help them with homework. The church ladies hug them and tell them they sure hope they'll stay for Bible study. They usually don't.
Still, we can't read the Bible without remembering the reality that these young black men face. We can't because three siblings in our church remember their brother who was shot dead by a police officer in South Carolina because the officer was worried that he was stealing his girlfriend. We can't forget because everyone here knows someone who has been stopped, detained, and harassed for no apparent reason other than the color of their skin. We can't forget because every year for black history month we watch movies like The Lynching of Emmett Till and Blood Done Sign My Name.
So when we came to the third chapter of Colossians this past Wednesday and read together the verse that says in the King James Version, "Bondservants, obey in all things your masters according to the flesh…," brother Phil asked if someone could read that verse again in a different translation. And when sister Betty read, "Slaves, obey your master," he said, "OK. That's what I thought it was saying. Now, Pastor, you gotta explain that one to me."
Our pastor is a wise man. He knows when to answer a question and when to invite a conversation. We spent the next hour talking about the memory of slavery, the abuse of Scripture by slaveholders, and Paul's radical vision of humble love overcoming injustice. Yes, we said, white folks twisted the Scriptures when they quoted them to prop up an unjust system. But Paul was no white man. Paul was a brother, writing from his prison cell, unjustly detained for following a Lord who was executed by state-sactioned violence. The subordination that Paul invites us to engage in is not an obedience that accepts oppression as inevitable. It's a loving submission that celebrates Christ's victory over evil through the way of the cross.
In the midst of our conversation Wednesday night, Sister Shirley stood up from her seat and faced the congregation. She recalled how, in the mid-90's, her 70 year old brother who had served in the U.S. Army and retired from the police department was brutally murdered in his home. She talked about the anger that welled up within her and the deep longing for justice that she felt in her gut. When they found the killer, she said she hoped he would get the death penalty. But he didn't.
He went to prison, and every year she got a letter from the parole board inviting her to give testimony as to whether he should be released or not. "I wrote that letter faithfully," she said. But then, she said, something changed. She was still angry, but she felt like the anger was hurting her more than anyone else. She turned to her Bible and heard the Lord speaking to her through the beginning of Romans 12: "Be not conformed to this world: but be ye transformed by the renewing of your mind…" She knew she had to forgive. She didn't write the letter.
At the end of that chapter that spoke to Sister Shirley, Paul writes, "Don't hit back; discover beauty in everyone. If you've got it in you, get along with everybody. Don't insist on getting even; that's not for you to do. "I'll do the judging," says God. "I'll take care of it." This peculiar way of love isn't easy when you live among the extended family of Trayvon Martin and Rodney King, Emmet Till and Troy Davis. We have seen too much injustice.
But we have also lived and worked among saints like Sister Shirley who show us again and again that another way is possible. As my thoughts turn to Holy Week, I'm grateful for the patient love of Jesus that carried the cross all the way to Calvary for a sinner like me. But I'm overwhelmed–I'm brought to tears and to my knees–as I think that Jesus didn't just do that once and for all way back then. Yes, Jesus paid it all, and all to him I owe. Of that I have no doubt. But Jesus is present to me in saints like Shirley who've been crucified with him so they can live his way in the world. Through saints like Shirley, Jesus is still saving me. Hallelujah, Amen.