As Leah and I walked the stations of the cross with our kids this morning, I was struck by the way the women in Jesus' life stuck with him til the end. The woman who wipes his face, the women who weep, and, finally, his mother who is there at the foot of the cross, watching her son die. As I meditated on what it must of meant for Mary to stay with Jesus, that sword that Simeon had foretold piercing her soul, I thought of another mother, Mamie Mobley, and what she taught America about suffering in Christ.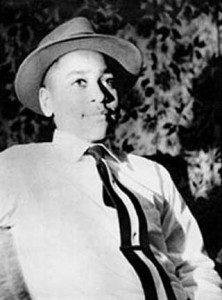 In his book, Will the Circle Be Unbroken, radio personality Studs Terkel published an interview with Mamie Mobley, the mother of Emmett Till, who was killed in Mississippi by two white men in 1955. Till's killers were acquitted by an all-white jury, and the case gained international attention, becoming a significant prelude to the civil rights movement. When Terkel interviewed Mobley in 2000, nearly 50 years later, she recalled what it was like for her to see her son's mutilated body.
"I had ordered Emmett's body brought back to Chicago," she said. "It was in three boxes … Each had the Mississippi seal and a padlock on it." Mobley told the authorities she wanted to verify that it was her son's body in the box and not dirt or cement. So she requested a hammer to break the locks. When they finally got through the boxes to the body bag, the undertaker unzipped the bag and Mobley saw her son's body, covered in lime. "They hosed him down. And, oh, my God, I knew what the odor was by then. It was not the lime, that was my son I was smelling."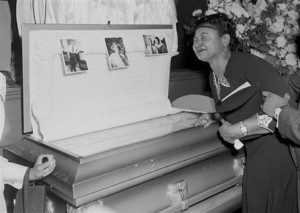 Mobley described the horrific experience of examining her son's mutilated body, beginning at his feet and naming each body part in a litany of horror. When she got to his head, she said, "There was no ear. It was gone. I was looking up the side of his face and I could see daylight on the other side. I said, 'Oh, my God!' The tears were falling, and I was brushing tears away because I had to see."
I've never read a more disturbing account of brutality than Mobley's remembrance of her son's mutilated body. The first time I ever read it, I wished that Terkel had not asked her to relive the nightmare. But then I got to the end. After recalling the whole incident, Mobely shared with Terkel what theological sense she'd made of the hell she had been through.
Later, I was reading the Scriptures. And it told how Jesus had been led from judgment hall to judgment hall all night long, how he had been beaten—and so much that no man would ever sustain the horror of his beating. That his face was just in ribbons. And I thought about it, and I said, "Lord, do you mean to tell me that Emmett's beating did not equal the one the one that was given to Jesus?" And I said, "My God, what Jesus must have suffered."

And then I thought about some of the pictures we see, where he has this neat little crown of thorns and you see a few rivulets of blood coming down, but his face is intact. And according to Scripture, that is not true. His visage was scared more than any other man's had ever been or will be.

And that's when I really was able to assess what Jesus had given for us, the love he had for us.

And I saw Emmett and his scars. Lord, I saw the stigmata of Jesus. The spirit spoke to me as plainly as I'm talking to you now. Jesus had come and died that we might have a right to eternal life or eternal Hell and damnation. Emmett had died that men might have freedom here on earth … If Jesus Christ died for our sins, Emmett Till bore our prejudices…
Whenever I sing, "Were you there when they crucified my Lord," I think about Mary and I think about Mamie Mobley. I can't fathom their suffering, but I'm glad they were there. Somehow, these mothers know in their gut the full extent of Jesus' love. When I stand with them and listen, even though it causes me to tremble, tremble, I can feel it too.
---