School is out here in Durham, which means it's time for summer camp to start in Walltown. The counselors have been in orientation all week. We'll be busy with Vacation Bible School at the St. Johns Baptist Church for the next four days, then the first week of summer wraps up with a block party on Friday night. This shift to our summer schedule always reminds me of a line from Robert Frost: "it takes all kinds of in and outdoor schooling / to become accustomed to my kind of fooling."
Summer is our season for outdoor schooling. We're going to take Frost literally in a few weeks and head down to Chatham County for the second annual Wild Goose Festival—a campout for collaboration at the intersection of art, justice, and spirituality. (Look forward to catching up with some of you there.) Closer to home, we have our little summer experiments in the neighborhood. Nora and I are trying to grow raspberries for the first time. (It's a small patch; we're harvesting about one a day right now.) JaiMichael is scheming with Vern to start a car washing business. He was motivated enough to practice on our van yesterday. I'm glad he's seeking a senior partner in this business venture.
A lot of what motivates us in our life here at Rutba House are things we learned "indoors"—a vision of the gospel life that we read in the Bible and in some of the great lives of the saints. Community is a place for us to experiment in the truth of these things—to put them into practice and reflect together on what we're learning. It's both in and outdoor schooling, I suppose. But it is also, I admit, a peculiar kind of fooling.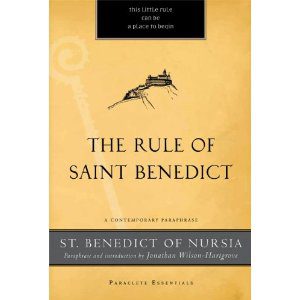 Over the past decade, this way of living has brought me again and again to reflect on a short text from the early church—a rule of life written for Christians who wanted to live the gospel life in community 1500 years ago. The story of The Rule of Saint Benedict is the story of how a small movement within Christianity changed the landscape of the world for everyone. This movement existed before the Rule was written, springing up in the Egyptian deserts during the fourth century. There women and men who longed to know true life in Christ devoted themselves to prayer, intentionally distancing themselves from a society that was in shambles—despite the fact that it was becoming "Christian" in name. Because these men and women devoted themselves to one thing only—to the love of God—these experimenters on the edges of Christendom were called monastics (from the Greek monos, meaning one).
By the end of the fifth century, when a middle-class, young Italian named Benedict left his home in Nursia to go to school in Rome, the Empire that had been centered there was in total disarray. The church whose faith had become the official religion of that Empire was in turmoil. It was in every way a time of transition. In short, it was a moment not unlike our own. Everyone knew that a new future was being born, but no one was sure just what it would look like.
In a moment of clarity, Benedict saw that the system of education that had been designed to prepare him for a world that was passing away could only lead to a dead end. While it could teach him what had worked in the past, the system did not have the resources to present a way forward. A different kind of school was needed. Benedict had a hunch that the Desert Mothers and Fathers were creating it. He went to a cave, built himself a prayer cell, and so matriculated in the "university" of the world-to-come.
We started School for Conversion out of a conviction that the challenges we face today demand an alternative form of theological education. With kids in the neighborhood, with folks inside of prisons, and with people in radical faith communities, we've been carving out spaces to imagine a new society in the shell of the old. Our experiments are small, but they've taught me something important: people are hungry—starving, even—for spaces to imagine the world-to-come. Even if they've never heard of him, folks today resonate with Benedict.
This is why I'm delighted to announce a new paraphrase of the Rule that I've written, trying to channel Benedict's wisdom into our current and not dissimilar context. After nearly a decade living at Rutba House and directing the School for Conversion, it's been a joy to sit with Benedict's ancient text and ask what it has to say to folks who want to follow the Jesus Way with their whole lives today. While trying to put the heart of Benedict's message in our vernacular, I've also made notes about how to read some of Benedict's more difficult instructions in the 21st century. Paraclete Press just published the paraphrase and notes along with a five session DVD that groups can use to discuss Benedict and his message for us today.
In ten weeks or so, summer will be behind us, and JaiMichael will be starting second grade at our local elementary school. We're not giving up on indoor schooling. We all need it. But we've seen enough of this world's broken systems to know that we need a school for the world-to-come. Thank God for Benedict's witness. May the same Spirit that guided him stir up new forms of faithfulness in the communities where we are today.
To celebrate the release of The Rule of Saint Benedict: A Contemporary Paraphrase, we're sharing a multimedia offering of Benedictine wisdom at The Everyday Awakening over the next couple of weeks. Hope you'll check it out and share it with others who might be interested in a school for the world-to-come.