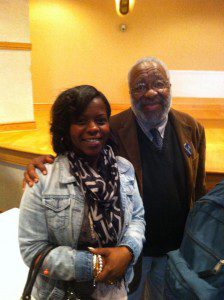 One of the great gifts of our 21st Century Freedom Ride this Advent was partnership with local youth empowerment organizations from Durham. SFC's neighborhood-based approach to building beloved community led us to start Walltown Aspiring Youth (the WAY), connecting people who care with kids who are often described as "disconnected." What we've learned from this work is that connection goes both ways–kids need better connections to resources, but our communities also need better connections to the next generation if we are to become the country we've not yet been. In our opening mass meeting at St. Johns Baptist Church, Rev. William Barber of the NC NAACP declared that "Walltown is Bethlehem tonight. The child you've counted out–the young man you've racially profiled–is your only hope." The Christmas story came to life as it was read onto the context of our lives here.
Two other great youth programs in Durham sent kids and staff to join us for the Freedom Ride–New Horizons, an alternative school based in restorative justice, and Yo:Durham, a mentoring and job readiness program in Durham. Brittany Dunn, an alumna of Yo:Durham, offered this reflection on her experience.
By Brittany Dunn
When I registered for the 21st-Century Freedom Ride I did not know what to expect. When I stepped onto the bus that would be taking me from my home in Durham, North Carolina to the Deep South, I instantly thought, What if it was 1961 and this was the original Freedom Ride? With that mindset, we departed Durham and arrived in Birmingham later that night.
Our retreat, entitled "America, You Must Be Born Again," began on Friday morning, and I went in with an open mind. Meeting and listening to Dr. Vincent Harding was the best part of my trip. For an 81-year-old man, he is still a powerful person. Dr. Harding touched on different subjects and topics concerning today's social problems and the old problems that we as Americans are still fighting. Dr. Harding told us that "no struggle is limited to one place." This statement was the key I needed to focus my mind on something specific. If my struggle with finding a job is not limited to me, then this means that someone else is having the same struggle as I am. Everybody has their own personal struggle whether it is shown or hidden; we all go through life and experience good and bad situations.
The Freedom Ride taught me that everyone has options. I learned that I do have the power to make a difference if I stand up for what I believe in and put in the time and effort to make change possible. Dr. Harding also made sure that each person had an opportunity to share their personal story.
I chose to participate in the Freedom Ride because I love Black history and I love my people. Visiting and learning about Birmingham through the Civil Rights Institute and the park where demonstrators were attacked by police made me feel a connection with the area and the people I was around.
Thanks to YO:Durham, I had an experience that has changed my mindset and taught me to give back to the community that has given so much to me. During the retreat I met amazing individuals who are pursuing change in their communities and also in their personal life. Thank you to Jonathan Wilson-Hartgrove and all who helped put the retreat together. I highly recommend this retreat to anyone who has the opportunity to join in next year!
Editorial Note: A Freedom Ride is not yet planned for next year, but we are getting the message that many people hope it will happen again!