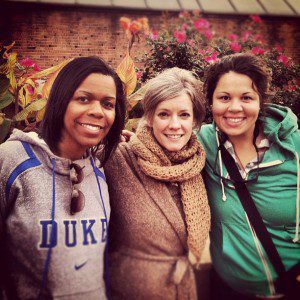 School for Conversion hosts experiential formation experiences in the God Movement because we believe in the constant call to be born again. As Vincent Harding reminded our 21st Century Freedom Ride, Dr. King's constant theme over the last months of his life was, "America, You Must Be Born Again." Our turning as a nation depends, of course, on the thousands of little turnings–the everyday awakenings that open each of us up to the possibility of a whole new world. I'm glad to share this testimony from one of our Freedom Riders, Alexis Carter.
By Alexis Carter
I have been battling starvation—mainly by choice, but partly because of a lack thereof.
I have been starving for inspiration and motivation, stuck in patterns of complacency. I have needed psychological transformation and someone to spoon feed me nourishment for my soul. I felt that healing would come through writing, a new project, or a change of scenery with an adventurous pursuit. Although these aspects made contributions to my improvement, the real change came in ways that I did not expect, in the form of The 21st Century Freedom Ride.
My process of healing and transformation began through hearing stories that awakened new ideas and stirred deep reflection within me. I listened to and engaged with some of the most inspiring individuals that I have ever encountered. I met people who have many reasons to be content in their comforts and can choose paths of least resistance, yet they choose to "get in the way" of injustice and horror. This experience has served as the most effective Advent observance in my life to date. I was deeply moved to meditate on the terror, frustration and hope of waiting for what is coming. Fellow disciples reminded me of the tension of the "already, not yet." We have much to rejoice about, yet so much work to be done–"work that is hard," as Dr. Vincent Harding told us, "but beautifully hard."
I was moved by those who out of their commitment to the cross took up a cause that has deeply affected the ways in which they view and live in the world. These individuals have been my feeding tube and their stories my anti-depressants.
Dr. Vincent Harding reminded us of the reassuring and beautiful truth that those who hunger and thirst for righteousness shall be filled (Matt. 5:6). Ah, that promise from the Mount is indeed fresh water springing forth that quenches my pessimistic parched-ness. I do not want to labor for the sake of taking up a cause that betters humanity. I want to declare the Kingdom of God in ways that have eternal results.
I have labored hard, lost many hours of sleep and loved causes that have satisfied my human longing to help others and make a name for myself. I am tired of temporal satisfaction and superficial victories. Thank you to my brothers and sisters who shared their testimonies of God's power and faithfulness and reminded me that our God is faithful, which has been manna to my soul.
Thank you to those whose lives bear witness to the fact that Christ within us is the hope of glory.
I pray to be faithful in doing likewise.