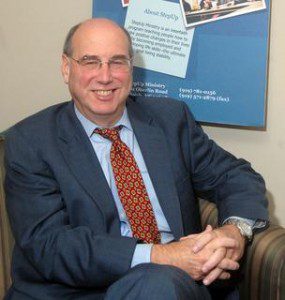 Dear Mr. Pope,
Though we do not know each other, I'm writing because of what I know we have in common. Because of your significant investments in the John Locke Foundation and the Civitas Institute, your political enemies have broadcast your personal history, professional interests, and political affiliations. With an internet connection, it's easy to learn a great deal about you. Just this week, your Civitas Institute published all available data on those of us involved in Moral Mondays. So now it's clear that you know something about me as well.
Given your support for our current General Assembly's policies and my opposition, there are no doubt many debates we could have. But I'm writing because I'm struck by how much we have in common.
I was born and raised in King, North Carolina, where your family's Maxway store was our five and dime. My momma was thrifty, by conviction and by necessity alike. But at Maxway, the customer was always right. When we made big purchases—a bicycle for Christmas or yard furniture in the summer—we sometimes drove to your Roses store in Winston-Salem. It was a more diverse place, for sure, but Roses was where I learned what the faces of North Carolinians look like—black, white and Latino. Your family has made a fortune from our business, Mr. Pope. Like any good businessman, you know who your customers are.
My parents weren't only thrifty. They were also, like many of your customers, faithful. They raised me on the King James Bible in our community's Southern Baptist Church. Now, I know you're Presbyterian, which tends to be a more upper class denomination in this state. I know ya'll read the Revised Standard Version in worship. But Billy Graham married a Presbyterian, so we've always known a little bit of ecumenism was alright here in North Carolina. You and I read the same Bible, Mr. Pope. We worship the same Jesus.
It is our common faith and shared history in this place that compel me to reach out to you. Because, though you may not be able to hear it now, I believe there is good news for you in Moral Mondays. I believe it because of what we have in common.
Sixteen years ago, when I was a young Republican from King, Rev. William Barber preached at an event in Raleigh. He was not as well known then, but something in his message struck my heart. I invited him to come and preach in King. He did, but he confessed that he did so with some fear. Because he knew the history of the Klan in King.
We both learned something important about the power of the gospel from that encounter. I was awakened to the way that sin divides us in a history of racism. And Rev. Barber was awakened to the possibility that even a white boy from King could be his brother. This encounter changed both of our lives. And, I believe, it led to us and many others being arrested in Raleigh for Moral Mondays.
I write to tell you this not because I believe that we can, in Christ, agree on every political issue. There is plenty of room in God's family for disagreement. I write because I know from experience that our salvation depends on learning to listen to Scripture and to one another. I'm writing to say that Rev. Barber has a word of good news for you, too.
Though, as your Civitas research indicates, Moral Monday arrestees have been overwhelmingly Democrat and Unafilitated, Rev. Barber's message has been clear from the start. We do not want to go back to Democratic leadership. We want to move forward together. North Carolina does not have a future if led only by white men and those who do their bidding. That's not who shops at Roses and that's not who shares life in our communities.
But I know from Sunday School that "red and yellow, black and white, all are precious in His sight." And I know from sixteen years of personal experience in this state that genuine friendship across our historic divisions of race can lead to a richer, fuller life than we had before.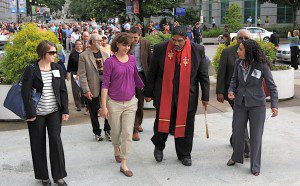 Mr. Pope, you do not have to be afraid. Moral Mondays are good news for you, too. There's room for you in the great congregation. No, you won't get to hold onto all of your assumptions about who poor people are and why they can't get ahead. But that's OK. Because Jesus said, "Judge not lest you be judged." It's a relief to be set free from our judgmentalism.
Neither will you be able to hold onto all of your money. But that's OK, too, because the Bible says that the "love of money is the root of all evil." You've invested millions in defense of a way of life that is not sustainable (and, therefore, can hardly be called conservative). "Where your treasure is," our Lord has said, "there your heart will be also." It's a gift to invest your money and yourself in the new future that God has for us.
But, please, take a moment to hear the good news: "the kingdom of God is likened unto a pearl of great price that, when the jeweler caught sight of it, he immediately went and sold all of his possessions so he could buy it." Once you've seen the great value of the beloved community God wants to give us, you no longer count the cost. This is the one thing that's worth the family's whole fortune. A life without fear. A community where you don't feel lonely anymore. A society where it's easier for all of us to do what we know is right.
Mr. Pope, you've seen what it looks like. It looks like the faces of the folks at Roses. It looks like the faces at Moral Monday. It looks like me and Rev. Barber, together. And it would look even better if you would join us.
Peace of our Lord,
Jonathan