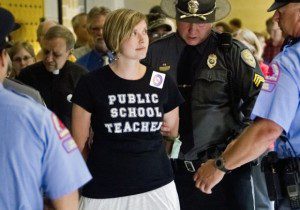 For the past seven weeks, a growing number of North Carolinians have gathered at our state's General Assembly to collectively petition an extreme legislature whose daily decisions are attacking the general welfare. We have called these gatherings "Moral Mondays," and an awakening of hope led by people of faith has been at the heart of them. Last week, our Moral Monday was led by hundreds of pastors, drawing attention from the New York Times. But pastors are not the only people whose faith is inspiring them to action. Yesterday, dozens of doctors, nurses, school teachers and environmental activists led the crowd of over 4,000 people. Holly Jordan, a Durham public school teacher, was among those arrested. This is the statement she made on the Halifax Mall before her arrest.
As a public school teacher in North Carolina—not an "outsider" that Governer McCrory alleges is at the helm of the Moral Monday protests, but an educator grounded in and devoted to the community of Durham—I am ardent to stand up for the future of my students. When I came out of college straight into teaching seven years ago, I believed that teaching English was going to be about, well, teaching English.  I thought that my task was to impart in my students a love of, or at least a less fervent dislike for, Shakespeare and To Kill a Mockingbird.
Within a few short weeks I learned how mistaken I was. Sure, there was still room for Boo and the Bard, but teaching was really about providing stability, respect, and compassion to teenagers desperate to learn in a system that was failing them. It was about talking to K about why he shouldn't drop out. It was about visiting J in the hospital after her miscarriage. It was about tutoring 15-year-old T so he could move past a fifth grade reading level.
Because this was what my students needed, this is what teaching became for me. It is what teaching means for thousands of teachers, counselors, teaching assistants, and other public school workers across the state, as we prepare our students for successful futures, not just academically, but in every way. We work long past our salaried hours to create instruction that challenges our students to grow as critical thinkers. We advise clubs where our students can express themselves. We coach sports to promote health and self-discipline. We counsel the crying, laugh with the happy, protect the bullied, and motivate the discouraged. We are honest with our students about their struggles and successes, and about our own. We do all this not for professional gain but because we firmly believe that these children are worth everything we can give them. We do it because what we teachers want is no different than what our students need.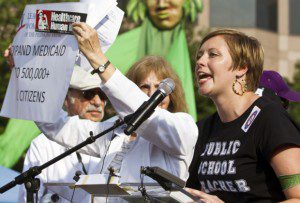 What the General Assembly wants, however, is in stark contrast to what the children of North Carolina need. In their pursuit to destroy public education via budgets that cut funding, school vouchers that favor private companies, and the elimination of master's degree pay, the legislature shows how little they care about the quality and longevity of those educating our kids. I am a seventh year teacher whose pay is frozen at the second year rung of the pay scale, in the state with the 4th worst teacher pay in the country. I have seen dozens of excellent teachers move on to other professions or other states so they could sustain themselves and their families. At my school, students regularly ask new teachers "will you be here next year?" because they are so used to our terrible turnover rates.
It's not just education legislation that is bent on destroying our most vulnerable communities through persistent instability. The General Assembly is curbing voting rights, letting unemployment benefits expire, and repealing the Racial Justice Act, all while giving tax breaks to corporate giants. My students aren't naïve. They know that their communities are being marginalized.
Last year, a student at our school was murdered. In the weeks that followed, my students and I cried out in anguish and anger and asked the toughest questions one could imagine: Why did this student end up where he was?  What could any of us have done?  How can we keep this from happening again?  Our teenagers know to ask these critical questions, but the leaders in Raleigh have failed to ask them: How do we make sure justice is served for all North Carolinians?  How do we transform struggling communities into havens of health and stability? My students create solutions, like organizing a march to the early voting polls and memorial for their classmate. Meanwhile, politicians ignore humanity and count capital.
Next school year, as I always have in the past, I will tell my students every day that they are important and loved. What I wish I could tell them is that the people in power agree—that our General Assembly believes in their futures just like I do. Unfortunately, it's unlikely I'll be able to do that. I will get to tell them, however, that thousands of North Carolinians testified to their worth during the Moral Mondays, and that a movement that believes in them is coming. This movement is not the work of "outside agitators," as the Governor believes, but the best and bravest that our state has to offer. It's a movement led by and fighting for the well-being of 9.7 million insiders—the people of North Carolina who desire a healthy, sustainable future in our state for generations to come.