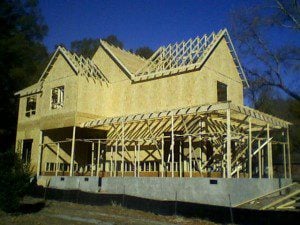 Four years ago, when I was getting up early in the morning to write a book about stability at our kitchen table, the cracks that run from the lentils of our doors through the plaster to our ceiling seemed a fitting metaphor: without a firm foundation, life fragments. Eventually, it falls apart. Not long after that, the foundation wall at the back of our house collapsed. Then a whole opened up in the bathroom ceiling. And part of the floor in the kitchen collapsed.
Living inside this metaphor, I found myself singing an old spiritual from church: "There's a leak in this old building / and I know I've got to move….." Only, all metaphor aside, we really did know we have to move. After ten years here on the Berkeley Street hill, we started praying we might get out before the place falls down. The only trouble was, we didn't have any where to go.
That is, nowhere among the roughly 700 households that make up Walltown. When we promised to live the rest of our lives in this place, we hoped we would outlast this old house. But we meant our vow to the neighborhood—to this place that has welcomed us and made us part of its story.
Only trouble is, the seven of us in this household fill up the five bedrooms we've been in here. And there's hardly another five bedroom place in the neighborhood. We started looking at places we might add on to. We talked to the city planning department and learned all about "set-backs" and permeable surface requirements. We got a real estate agent and started bidding on everything that went up for sale.
This is when we had the sad realization that we weren't going to be able to afford the house we need. Any three bedroom decent enough to move into pretty much broke the bank before we could think about an addition. It looked like we had developed ourselves right out of the community.
Except friends kept saying, "Wait a second, maybe this could help." An architect who visited us for a weekend several years ago said, "I'd love to draw up plans for a hospitality house." He did, and we loved it. Then Urban Hope, another ministry here in the neighborhood said, "We own this piece of land. We'd love for ya'll to build a house there." But we couldn't imagine how to afford it—even less, how to finance new construction even if we could make the mortgage work.
About this time, Jim Garman of
Garman Homes
came along. Jim is a lovely man who loves to build homes. "I could never do what ya'll do here," Jim said. "But I can build a house." And that is what Jim is doing.
I walked down to the lot this afternoon and took a picture as the crew was finishing framing. Just three months ago, we put in an offer for more than we'll end up paying for this house on a three bedroom house up the street that wasn't in great shape—a place we hoped we could add a few rooms to with volunteer labor. Three months ago, we couldn't have imagined this place. Three months from now, we'll be moving in. "Unless the Lord builds the house," the psalmist says, "they that labor labor in vain." Indeed.
But somehow, by a grace we never entirely understand, God makes a way out of no way. The only words that make any sense are, "Thank you, thank you." And you know in your bones that this is the only way to live—by gratitude.
Peace and all good,
Jonathan
PS—While I'm giving thanks, some incredible folks from Atlanta and Oklahoma and Vietnam all collaborated with us over the past month to launch a new website for SFC that tells the stories of the surprising friendships that keep turning all of us, again and again. Hope you'll take a few minutes to have a look. And please share these stories with your friends.
As part of this new platform for sharing stories, be on the lookout for our "Surprising Friendships" series, a short monthly video that SFC will share once a month via our social media channels. Be sure to "follow" and "like" us from the new website!