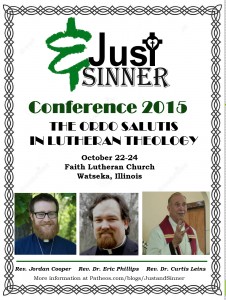 This upcoming Fall, we are hosting the first annual Just and Sinner conference! The conference takes place in October, from the 22-24 here at Faith Lutheran Church in Watseka, Illinois. You are also welcome to stay for our Reformation service on the 25.
The theme of this year's conference is the ordo salutis (the order of salvation), which is an often neglected topic in contemporary Lutheran theology. The conference will consist of six lectures from our three presenters, including:
Introduction: Why the ordo salutis is neglected today, and why it matters- Rev. Jordan Cooper
Conversion and election- Dr. Eric Phillips
Justification- Dr.  Curtis Leins
Mystical union- Rev. Jordan Cooper
Sanctification- Dr. Curtis Leins
Glorification- Dr. Eric Phillips
The conference will begin on the evening of the 22, and conclude at noon on the 24. There will be a time of fellowship on the 24 following lunch for those able to stay. We will also have a special Reformation service on the following Sunday. Lunch and dinner will be provided on the 23, and snacks and coffee will be provided throughout the conference.
We will reserve a block of rooms at the Super 8 in Watseka, and breakfast is provided at the hotel.
The two closest airports are Midway and O'hare in Chicago. We will try to arrange transportation for those traveling from the airport if necessary.
Information about pricing and registration will be available soon.