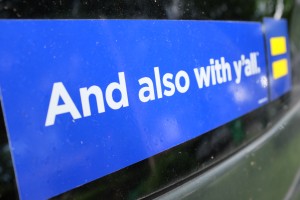 [I wrote this poem on a Friday afternoon, laying in my tent looking up at the trees through the screen door to the Smoky Mountains surrounding the campsite. I wrote it as I listened to my children playing with Legos beside me, as I remembered that through our ancestors, we learn how we belong to one another. I shared this poem in the OPEN Network tent on Saturday afternoon of the Wild Goose Festival.]
The God of our ancestors has spoken.
But not just the God–
the ancestors speak, too.
If we're willing to listen,
we might learn
a little more about everything,
a million tiny lessons in a day.
They might warn us not to
be so loud when we speak,
or to speak less and listen more.
Others may tell us that they
were silenced,
and it's our turn to break
that silence.
There is a reason
that we walk the earth
wondering who came before.
There is a reason we
dream dreams
and
speak history
intermingled
with
truth and metaphor.
Our ancestors,
whose stories still meet us
in the quiet–
our ancestors live in the spaces we make
for one another, today.
And in those spaces,
God speaks.
God moves, breathes, has being.
God is face
and story
and bones
and just as we cannot escape
our own histories and our own beginning,
we cannot escape the reality
that God is the constant good
that has always met us
through call and response,
question and answer
and more questions.
And if we do not deny where we're going
and who came before to pave the way,
we will surely find that
God is a generational God,
and we are a generational people,
and our ancestors,
their souls far above and around and beyond us,
call us to remember
how good it is that
we are dust to dust,
story to story,
breath of God in flesh
to
breath of God in spirit.
Amen.