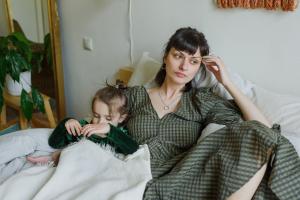 I used to feel so guilty.
When my kids were young.
I remember having a pastor's wife who led our bible study.
She would come in at 9:00 am.
The first words out of her mouth would be…
"I trust that you all have spent time in the word already this morning".
Ugh.
Are you kidding me?
It took everything in me not to roll my eyes out loud.
Do we get any points at all for getting ourselves out of bed and out of the house?
Packing up diaper bags.
Feeding kids breakfast.
Putting them in their carseats.
And driving to the dang study?
Nope.
Not good enough.
Quiet time with the Lord before anything else.
Your kid gets up at 6:30 am?
Then get your little self up at 6:00.
At least.
It would be better to give the God of the Universe an hour.
But maybe a half an hour will work?
Oh, you have a baby that gets up in the middle of the night?
Haven't you learned how to sleep train yet?
This shouldn't be a problem.
You have anxiety and depression and find it hard to get to sleep?
Well, that is simply because you don't spend enough time alone with God.
Yep.
That's it.
Why don't you keep adding to the guilt and shame.
Heap it on.
I don't feel enough the way it is.
Oh, and you know what?
She did.
She actually said one time that she "trusted" we had exercised before we came as well.
I kid you not.
She said it with a smile.
In her matching little sweatsuit and made up face.
She clearly had time to shower as well.
And we all tried not to shake our heads out loud.
C'mon.
No wonder I ended up on Prozac and in counseling.
This was many years ago.
I still am taking the drug and seeing a therapist.
And I am so thankful for both.
I actually do trust myself to take the medication every morning.
It helps me to see clearer.
Ok.
That isn't the point.
Here is the point…
As I have gotten older.
And a little bit wiser.
I have learned that spending time with God isn't what I thought it was.
It isn't what I was taught it was.
Sometimes?
When we are dripping with children?
There is another way to really see Jesus.
To spend time with God.
It is to actually look into the faces of our little ones.
Get down on our knees and look into their little eyes.
The God of the Universe is in there.
Right inside of them.
So hold them tighter.
Snuggle with them a little longer.
Rock them to sleep.
Rock yourself to sleep as you rock them.
Maybe you won't get the physical rest when they are young.
But there is soul rest that comes from God.
My love for God shines the brightest when I lay my burdens down.
Even the burdens of quiet times and bible studies.
More resting.
Less worrying.
Finding God in the moment.
In the right now.
Right where we are.
Wherever we are.
There is a peace that comes when we rest in this.