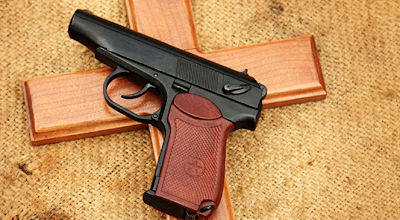 Well as far as I'm concerned Arkansas Gov. Mike Beebe just struck a blow for church attendance nationwide. Okay, well, maybe not nationwide, but certainly in Arkansas. Beebe, a Democrat, signed into law on Monday a bill that allows concealed-carry permit holders to take their weapons into churches.
The Church Protection Act allows individual places of worship to decide whether to allow concealed handguns and who could carry them. Churches that take no action will remain off-limits to guns.
For the record, I've got nothing against Arkansas. I've been to that lovely state many a time. They have some of the best billboards in the nation in Arkansas. My favorite is one some local pitched on their property after somebody done cheated on somebody else.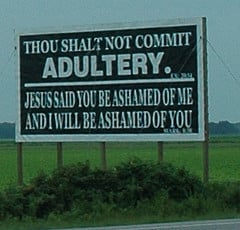 If you have never spent anytime in Hot Springs, Arkansas, you are missing a special sort of treat. Back in the day when Bill Clinton was running for president, I made a couple of trips to Arkansas. On one of those trips I actually indulged in a hot bath special spa. Having never been to a spa before, I had no idea what to expect. They assigned this woman to me who I think had also attended King Xerxes. She looked as though God had whittled her into a walking cane from a river birch. She was so thin I feared if she passed gas she would blow over. When she told me to get nekkid and lay face up on a table without benefit of a curtain to hide behind or a cover to crawl between, I did exactly what she told me. I'd never been to a spa before, I didn't know what the usual routine would be. Besides, the woman was old enough to be God's granny. I wasn't about to not obey her.
She took what appeared to be one of those plastic bottles they squirt barbecue sauce with down south and drizzled my entire sunnyside up with some golden nectar of the Arkansas sun. Keep in mind, this woman was built like a cane, so her head bent way over so that she was hovering over my egg yolks in what can only be called an immodest fashion. By the time she was finished with that massage there was only one small pyramid that ancient woman hadn't touched and I was terrified the entire time that she might.
Spas, however, aren't the only thing Arksansas has going for it. It's home to HellMart, which if you can't say anything nice about you can at least be thankful it employs people who used to work at the local bookstores and hardware and drug stores that have always been part of the backbone of every community until Hellmart replaced them all with a huge parking lot.
Well, there was one bookstore in Arkansas that survived Hellmart's plastic-on-plastic approach to marketing. If you ever get up Blytheville way you must stop into THAT BOOKSTORE. It is Mecca for authors all across this nation. That's because Mary Gay Shipley, former owner, built an empire that paid homage to readers. I had such a wonderful visit in Blytheville thanks to the hospitality of all those lovely church people and because of Mary Gay. A new fellow named Grant is running the place now. He's young and smart and cute as a new puppy. I told him recently that I was looking forward to coming back to THAT BOOKSTORE with the new novel.
Last time I was in Arkansas, I not only attended church I gave the sermon. I won't be volunteering to do that no more. Not since Governor Beebee gave gun-owners the right to carry their concealed weapons into church.
Lord, like we don't have enough places already where people can tote their dern guns, now they got to go and let them pack at church.
Listen, I don't care if people fill the cupboards of their homes with guns. I don't care if they stuff their glove boxes with pistols. I don't care if they want to spend their Saturdays shooting each other at the shooting range. But by golly, when it comes to Sunday morning, people, lay those weapons down.
Can't we pretend for just a couple of hours on Sunday morning that we all get along? Do we really have to resort to being suspect of everyone everywhere all the time?