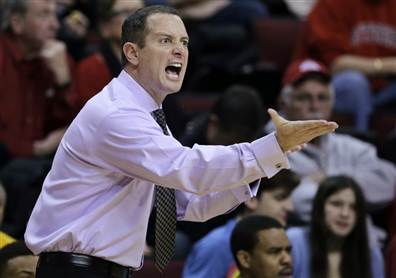 I just don't get it.
It isn't like technology is a new thing.
We've been on camera since 7-Eleven put in Slurpee machines.
Somebody is filming you most everywhere you go nowadays. Everybody has a smart phone. If you haven't figured it out by now, if you act up, chances are you will be an overnight sensation on You Tube.
For all the wrong reasons.
Which makes former Rutgers Coach Mike Rice's behavior all the more mind-boggling. How is it an educated man thinks he can get away with such wildly abusive behavior?
Rice was fired this morning, but here's where the real abuse comes in — Rutgers officials did not fire Rice until the video went viral. Prior to that they only suspended him for a few games, without comment about why the suspension.
It's these avoid & denial tactics by University officials that makes Rice's abuse all that more creepy. If you can't trust your university officials to act on behalf of abused kids, who can you expect help from?
And, let's be clear: Mr. Rice was abusing kids. Shoving. Slapping. Knocking them upside the head. Calling them fairies and fags. Berating them. Mr. Rice was participating in systematic abuse of another person.
And what was the university's response?
A slap on the hand. (Penn State anyone?)
A minor reprimand.
Certainly not full disclosure. Not a stand against child abuse.
Rutgers did not have to release the video. All they needed to do was the right thing — fire Coach Rice as soon as they saw the video that captured him abusing students. But they choose not to do the right thing. Bad publicity and all that, you know. It will hurt the program.
Mr. Rice was using 18 and 19-year old kids as his personal punching bag. One has to wonder, if Mr. Rice behaves like this in public, what does he behave like at home?
One of the questions I get asked most frequently about the issue of child abuse is why kids don't tell somebody about the abuse.
In this case, it's an obvious answer– those kids wanted to play ball so badly they were willing to accept the abuse as par for the course.
We have trained kids to think that way.
How many of you who played sports can recall coaches who berated you before God and everybody?
Kids don't speak up about the abuses, because, frankly, it is rare that adults speak up when they witness such abuses.
I can't help but wonder how many people who watch the video will make excuses for Mr. Rice? "Ahh, it's not that bad. My high school coach treated me worse."
Even the headlines refrain from calling Mr. Rice's behavior as what it is — child abuse. CNN reports: "Rutgers coach fired after abusive video broadcast."
The video is telling. It is revealing. But the video was not abusive. Mr. Rice was.
NBC chose to make this a gay issue: Rutgers Coach fired after violence, gay slurs.
Violence? Gay Slurs?
Yes, it was all that but more importantly, it was child abuse.
As long as child abuse remains an acceptable practice in this nation, children will be abused — in their homes, on the ball field, and at university campuses across this nation.
The question isn't why more children don't speak up about it. The question is why don't we?
Karen Spears Zacharias is the author of A Silence of Mockingbirds, the true crime story behind Oregon's Karly's Law. April is National Child Abuse Prevention month.
http://youtu.be/IVoOtpDuZwA