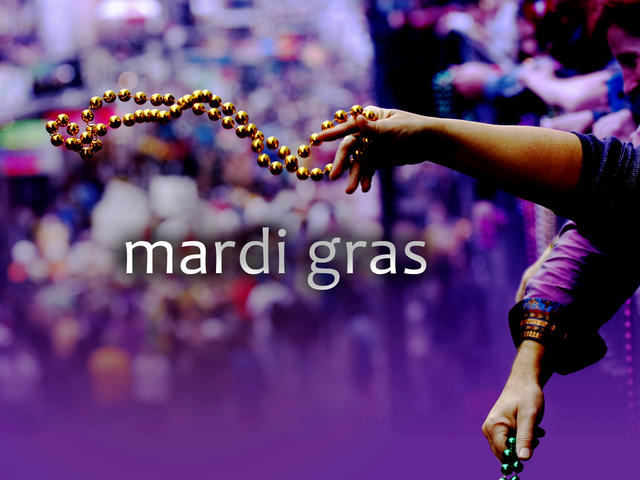 The first rule of thumb is to get your facts straight first. You can distort them later as you please, said the beloved Mark Twain.
Mardi Gras didn't start in New Orleans.
In 1703 the small French colony of Mobile observed the first Mardi Gras.
The first of the mystic societies were formed in the 1830s. It was until 1857, that the Mobile members of the Cowbellian de Rakin Society went to New Orleans, and helped that town form its Mystic Krewe of Comus, to this day New Orleans' most prestigious Mardi Gras society.
Mardi Gras is not one big parade, nor is it one big weekend celebration. It consists of many forms of festivities. There are parades up and down the Gulf Coast region. New Orleans just happens to be the place that gets that most media attention because lazy journalists have long been drawn to the headless chicken stories. Writing about people acting lewd takes no skill at all. Writing real stories with power takes effort. Lazy journalists would rather go into a community, spend 30 minutes writing about all the ways in which drunk people act stupid, then to spend time it takes to interview somebody who actually knows something.
If you really want to learn something about the history of and the people behind Mardi Gras, you ought to read the reporting of the people who actually live in these communities. People like my friend Roy Hoffman. Roy grew up in Mobile. He's authored some pretty wonderful books and he writes for the Mobile Press-Register. He wrote this story just a few days ago about Mary & The Mollies. Or read Hoffman's story on the Man who raised Cain. Or better yet, buy one of Hoffman's many books. Roy is Jewish, not Catholic, but he writes about the religious holiday with grace, as he does all things.
That's another fact that has been given over to lazy journalism. Mardi Gras stems from the Catholic traditions of the French. Mardi Gras literally means "Fat Tuesday."
"The name comes from the tradition of slaughtering and feasting upon a fattened calf on the last day of Carnival. The day is also known as Shrove Tuesday (from "to shrive," or hear confessions), Pancake Tuesday and fetter Dienstag. The custom of making pancakes comes from the need to use up fat, eggs and dairy before the fasting and abstinence of Lent begins," so says AmericanCatholic.org
All this celebrating is the last Hurrah leading into Lent, a time of sacrifice and remembrance of the death of Christ.
But seeing how we are now what is commonly referred to as a post-Christian society, the lazy media often fails in its job to educate and inform people about the history of celebrations such as Mardi Gras.
It's no secret to anyone who has read this blog for any length of time that I have a love affair with Mobile Bay — named by the Spanish as the Bay of the Holy Spirit. I love the area, its people and its traditions, not the least of which involves its food.
So it bothers me when I hear those who don't know any different bad-mouth Mardi Gras, which, for many is in itself a religious tradition. I understand how people who have never been to Mobile, or New Orleans during Mardi Gras are left with the notion that it is just one hedonistic tradition where all the lewdness of a society is showcased. Lazy journalism often takes the facts and manipulates them as they please.
I know from my years of reporting on the Pendleton Round-Up that when you find crowds of drunks you are going to find lewd behavior. It took real work, however, to go behind the scenes and capture the true stories of Round-Up. The sacrifices, the athleticism, the family traditions, and the honor such traditions can bring. I hated Round-Up until I became a reporter and met people like Clark McEntire (Reba's daddy) and the lovely Candice Meyers and a slew of athletes who ride bulls and rope cattle and bust their butts on wild horses.
We err on the side of wrong-headedness, however, when we believe that we ought to go into a community and revamp its traditions. There are countless books chronicling the ways in which evangelicals ruined a people trying to impose their values upon others in the name of Christ.
I am always a bit on the shy side of jumping in feet first when I hear, as I did this week, that evangelicals are going to be sending in a missions team to witness to the lost at New Orleans Mardi Gras. I've been to New Orleans. Despite what you may have learned via lazy journalism, New Orleans is not a godless, hedonistic community, any more than Pendleton, or Tri-Cities, or Bend, or any other community across this land. Most of those people acting the fool are out-of-towners.
So the next time you are tempted to pray away "the evil and violence of Mardi Gras", you might reconsider. You might even take sometime to educate yourself about the history of a community and its traditions beforehand.
And the next time you get a hankering to pray away the evils of a place, you might start in your own backyard.