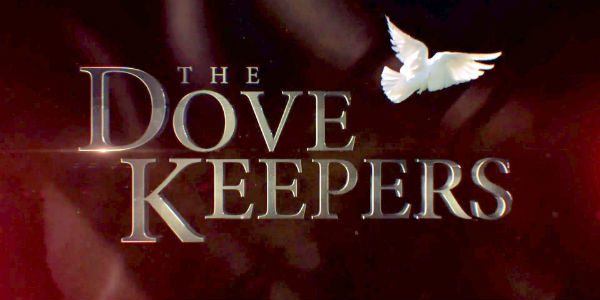 It's not right to call the story of the Roman siege of the plateau fortress Masada in Israel a Bible tale, since it took place in 70 A.D., and is obviously not recorded in the Old Testament, and doesn't involve the founding of the Christian faith related in the New.
But it an epic and tragic event that continues on with the struggle between the First Century Jews and their Roman overlords, which also plays out in the Passion narrative related at Mass throughout this Holy Week.
Starting tonight (March 31) on CBS and concluding on Wednesday, April 1, "The Dovekeepers" tells the story through the witness of two women: Shirah (Chile-born Cote de Pablo, in her second strong Jewish role, after Mossad operative Ziva David in CBS' "NCIS") and Yael (Rachel Brosnahan).
They reveal the fate of the Jews at Masada to Roman historian Josephus (Sam Neill), who is the major source of information about the months-long siege, which ended when … well, click here to find out what really happened (don't want to spoil the miniseries for you).
Shot in Malta, "The Dovekeepers" is based on the novel by Alice Hoffman, and Roma Downey ("The Bible," the upcoming "A.D.: The Bible Continues") is executive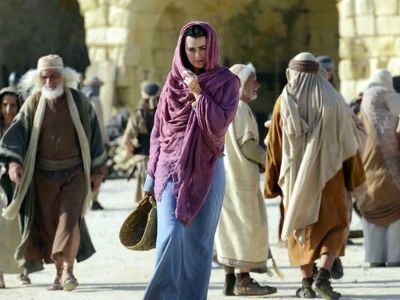 producer.
Here's some of what Downey had to say at a press event in January …
On how she came to do the story, and why it's at CBS:
A few years ago, I had the good fortune to read this amazing book by Alice Hoffman. I absolutely fell in love with the story. I had been to Masada a few years ago and had been so profoundly touched by the story of a persecuted people who, in the face of that persecution, had stood up for what they believed in, where courage was greater than fear and faith and love was greater than hate and that ‑‑ the power of sacrifice greater than war. And I was sure possibly that the rights had been taken, and I reached out to Alice, and I went to Boston, and I met with her. I thought this book needs to be made into a series. It's so incredible.

I took the book in to CBS. Coincidentally, when I met with [president of CBS Entertainment] Nina Tassler, Nina had just come back from Masada herself and loved this story. And it was so great to come back to CBS. It's 20 years ago now since I started here at this network with "Touched by an Angel." Made over 200 episodes, and it's lovely to be back. We teamed up with Stacy Mandelberg.  We got this incredible cast together.  And we went off to Malta at the end of last year to film it. The movie has turned out beautifully. Alice Hoffman, who was incredibly helpful throughout the whole experience, loved it. So we have her blessings on this the entire way.
On history vs. fiction:
The story of Masada has been told to us historically through the writings of Josephus. Alice Hoffman said when she went to Masada, and she learned through these writings that only two people and five children survived, she took that as the seed of a narrative, and she built this beautiful story around it. And so we have the license to create this beautiful fictional story and the grounding of the historic story. But what attracted me to the story was that it had these amazing courageous and powerful women. For many years, as an actress myself, I was always looking for the story or the scripts that could really put women out to the front and center. And this story certainly does that. It's profoundly moving, and it's incredibly inspiring.
On visiting Masada and what "dovekeepers" means:
Well, I had the good fortune a number of times to travel to Israel and the Holy Land. And Masada is breathtaking. Literally it has a [360-degree vista] that is just so incredibly beautiful. The power of the story is just so profoundly moving, I think. And we have a moment in our film ‑‑ you know, these women come together ‑‑ I'm sure everybody here knows the story of Masada, but briefly, Jerusalem fell when it was sacked by the Romans, and those that survived made their way to this hilltop retreat that had been built by Herod. And it was kind of unreachable. And they were assured that they would be safe there. There were about 900 of them, started a new community.

And our miniseries picks up the story with these women who start working in the dovecotes. And the excrement of the doves is used to fertilize the soil. So it's a very necessary part of their life there. They have a self‑sustaining life. They have water. They have food. And they believe that they're going to be safe to start their new lives, their new loves, their new hopes.

And then one day, out exercising the doves ‑‑ and they know that doves always mate for life ‑‑ exercising the doves one‑half of the pair at a time — because the lure of freedom is never enough to take the dove away; it will always fly back to its mate — and Yael, played by Rachel, is out there on the edge of the fortress, and she sees in the distance a plume of smoke. And, at first, uncertain what it is, and then the awful realization that it's the Roman army that has come for them.These 900 people, thousands and thousands of men have come for them.

And I think it's very hard to be at Masada and to see ‑‑ you know, to look out, to imagine what they must have felt up there. But I think that they had to have felt that no one was ever going to be able to reach them. And so at first, you know, you'll see in our film how it's incredibly dangerous and scary, but they feel at first that they're going to be okay. And then, of course, it just turns into a nightmare.
On what it means to bring a story of faith to network television (which is also happening with "A.D.," which launches Sunday on NBC):
At the time of "Touched by an Angel," we were the little train that could. We had our very first season where we didn't know what would happen. And at its height, there were 20 million people that watched "Touched by an Angel" every week for a very core message of faith and love. And I think that we're seeing the desire for that is back. I think that with the ratings that we received on our "Bible" series of 100 million people tuning in, I think it shows that people are interested in these themes and that they're hungry for product that inspires and elevates and is provocative in these ways. And so I'm very encouraged by that hunger, and I'm personally excited because it's the kind of material that I'm interested in making, and delighted to be back on CBS.
Since Hoffman is known also for writing books that include magic and fantasy, expect a bit of that in "The Dovekeepers," with a feminist spin (which is not particularly Jewish, according to this review). But, with due caution taken, it is an opportunity for Americans to learn more about a period in the history of the Holy Land that has often been overshadowed by the events of a few decades earlier.
Here's a peek:
Images: Courtesy CBS