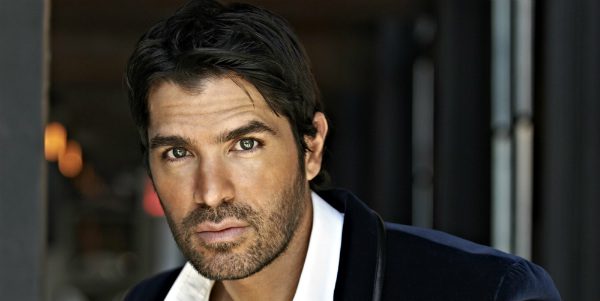 On April 24, Open Road Films releases "Little Boy" in theaters nationwide (trailer embedded at the bottom).
Executive-produced by Mark Burnett and Roma Downey ("The Bible," "Son of God," the upcoming "A.D.: The Bible Continues"), the feature film stars newcomer Jakob Salvati as Pepper, a k a "Little Boy," a diminutive 7-year-old who follows his priest's (Tom Wilkinson) advice and, armed only with "faith the size of a mustard seed," goes on an odyssey to fulfill the "ancient list" — which Catholics know as the corporal works of mercy — in hopes of bringing his beloved POW father (Michael Rapaport) home from World War II.
Set in a small California seaside town, "Little Boy" was actually filmed in Mexico, in a town specially constructed for the production.
Also starring are Emily Watson, Ben Chaplin, Cary-Hiroyuki Tagawa, Ted Levine, David Henrie and "Bella" star Eduardo Verastegui, who's also a producer. A former model, singer and telenovela star in Mexico, Verastegui had a reawakening in the Faith and now focuses on roles and projects that allow him to honor his Catholic values.
"Little Boy" has won praise from some big Hollywood names. Here's a sampling:
"[The] 'Little Boy' performance is so authentic, natural, moving and inspiring it will make you a better person." — Eva Longoria, actress/producer

"'Little Boy' is such a winner.  It really moves everyone when they see it." — Tony Bennett, singer

"An instant family classic that is utterly unique but reminiscent of films like 'E.T.,' 'Sound of Music' and 'Life Is Beautiful.'" — Mark Burnett.

"'Little Boy' is one of those movies that will touch your heart forever.  It is one of the most emotional truly beautiful stories, that little boy is magical." –Paulina Rubio, singer/actress

"Deeply, moving, utterly amazing." –– Jewel, singer
Verastegui is the co-founder of "Little Boy" and "Bella" production company Metanoia Films, with "Little Boy" director and co-writer Alejandro Monteverde, and Leo Severino.
The film has been screening for selected audiences, including a recent event in Los Angeles for military veterans. Verastegui and others participated in an audience Q&A after the screening, but he also took time for a chat the day before. Here are some excerpts:
On being an independent filmmaker in a major-studio world:
You know what, as you know, when you're an independent filmmaker, we do everything outside of the system, which that gives you advantages and disadvantages. The advantage is that you have the control and power to do the movie that you want, that you like; you don't compromise the story, you don't compromise the message, you don't compromise anything because it's independent.

The disadvantage is you don't have [guaranteed distribution or a] big budget. Many independent movies never see the light; so it's always that fear that how many great movies out there are amazing, and sometimes even better than any other movie out in the theaters, but they never see the light because they don't have distribution. So, I'm so very grateful that, after five years of my life that we're filming this movie, it's coming out. Like I said before that I'm just grateful to Mark and Roma, I'm grateful to Open Road, and everyone that is helping "Little Boy: to come out on April 24th.
On telling a story with faith elements that still has a broad appeal:
It's an American story with a universal message. … When you see the movie. the town looks like it's a little town in California. We built that town in Mexico so that town is in Mexico even though it looks like California and it takes place in California. It's made by Mexicans, a universal story … it's for everyone.
On doing a story about the powerful love between a father and son:
Fatherhood is very important. I have younger sisters, but I'm the oldest brother, I'm the only man, and my father is my best friend, my hero, role model. I realized the importance of parents, extended family relations, especially fathers with their sons. I have a friend of mine who after seeing the movie, he's a very wealthy guy, and he said, "I have three children and I give them everything, everything but not my time; and after seeing 'Little Boy' and seeing that he loved his father so much that he was willing to do that every day to save his dad; the only reason he was doing that was because he loved him so much because why? Because his father spent time with him, and I need to change that because I give them everything but not my time, and this movie is somehow helping him to understand that and to change that."

When I heard that from this guy it was candy to my ears like, "OK, this is my whole story, this is why I did this." I believe that with media, with art, you can heal, you can bring people together, you can talk about the importance of loving more.

In a very subtle way through art, through stories, you can touch the heart. Everyone has in their heart written a love story, and that's why when you show beauty, and you show goodness, and you show compassion, and you show all the good things in this format of the movie, my hope as a filmmaker is I can just touch and shake and resurrect and wake up all that goodness that we all have but then we just let become corrupt.
On taking his movie to the persecuted Christian children of Iraq:
It's trying to inspire kids to raise their hands just like Little Boy raised his hand and he moved that mountain. In a symbolic way we all have mountains in front of us we need to move. Whatever it is your mountain that you are facing right now, if we have faith, we can move this mountain. I'm going to Iraq to show this movie to all those students in Iraq, and hopefully all those thousands of kids that are suffering as the Little Boy in the movie is suffering, because his dad is World War II, but he never gives up.

I'm hoping that after we show the movie to all of those thousands of kids in Iraq, I will invite all them to raise their hand and move that mountain they have in front of them.