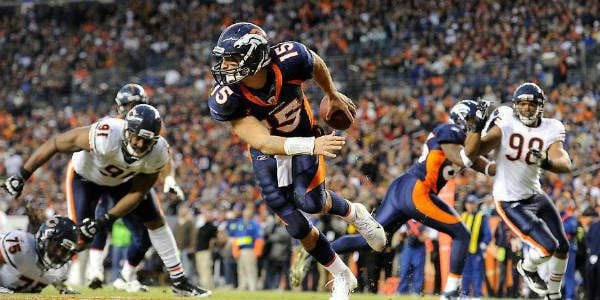 In a world where people are told to follow their bliss, climb e'vry mountain, keep on keepin' on, etc., there are legions of naysayers who would love nothing better than for former Broncos (and Jets and Patriots) QB Tim Tebow to abandon his lifelong dream to be an NFL quarterback.
Others wish he just would give in and agree to play another position — like "hybrid halfback" — but the Heisman Trophy-winner stubbornly refuses to accommodate them and take a different on-field job, or play in Canada.
Tebow has been annoying people for many years now, starting with his 2010 Focus on the Family Super Bowl ad. The words "pro-life" or "abortion" are never mentioned, but it still ruffled the feathers of the pro-choice crowd — to the point of NOW accusing Tebow of glorifying violence against women, because he pretends to tackle his mom.
Judge for yourself:
Anyway, Tebow went on to lead the Denver Broncos to the playoffs in January 2012 in a dramatic overtime victory, became a hero to many for his winning ways — often in fourth-quarter nail-biters, called "Tebow Time" — and his effortlessly sincere public devotion to Christ. The Broncos then ditched him in favor of Peyton Manning, and a couple of unfortunate stints with other teams followed.
Tebow's been criticized for his throwing style, for his accuracy, and for not turning out to possess the feet of clay — like secretly dating porn stars or getting arrested — that many seemed to want desperately for him to have.
He's been working as a college-football commentator for ESPN on the side while continuing in his quest to improve his QB skills and get back into the game. Whether intentionally or not, Tebow may be seeking a little divine intervention to return to the gridiron.
Back when he was a Florida Gator, Tebow was known for putting Bible verses on his eyeblack, especially John 3: 16:
For God so loved the world that he gave his only Son, so that everyone who believes in him might not perish but might have eternal life.
He may even believe God has destined him to be an NFL thrower. In a 2013 piece for Forbes, Tommy Tomlinson wrote:
If he thinks it's God's will that he become a star, there's no reason to give up. But if he doesn't become a star, then it's possible he feels he has failed in his faith. I grew up Baptist, and still feel the pull of those washed-in-the-blood hymns, but I also remember the constant talk of falling short of the glory of God. Tim Tebow has done wonderful things on the football field. But I wonder if he thinks he has fallen short of the glory he is supposed to achieve — not as some golden child, but as an example of what a Christian can do.
The number 316 became nearly prophetic for Tebow during his hard-fought Broncos playoff win against the Pittsburgh Steelers, when he got John 3:16 trending on social media. In the game, he threw for a season-high 316 yards, and set an NFL record, with 31.6 yards per completion (there are a few more 3:16s in there as well).
But, it's been widely reported that Tebow has been working hard to refine his throwing technique and accuracy under the tutelage of California-based "quarterback guru" Tom House, who told Bleacher Report:
I honestly believe that everybody who was trying to help Tim, everybody who thought they "fixed" him, they probably did temporarily fix him. But Tim didn't have enough repetition for it to become autonomic. When he got into competition, with the stresses and anxieties that come with the competitive situation, he fell back to his old habits.

The difference now is that he has put in the reps. There have been 10,000-plus reps. If he gets a chance to play again and gets back to competition, it's hard-wired now. He doesn't have to think about it.
What we do know is that Tebow worked out on Monday for the Philadelphia Eagles, who didn't immediately want to sign him (but didn't say they never would). If perhaps the Eagles did eventually take Tebow, he would be the backup to Mark Sanchez, the same QB he was second-string for at the New York Jets.
At this point, it's uncertain whether Tebow will ever suit up again for the NFL, but he might have sought a little bit of that Gospel mojo with the Eagles.
And what was the date on Monday?
Why, 3/16, of course.
P.S.: As you're watching "Finding Jesus" on CNN, you might like this article by David Gibson — the Catholic convert whose book of the same name inspired the documentary series — that links Tebow and St. Francis.
Image: John Leyda, The Denver Post, via Tim Tebow's official Facebook page