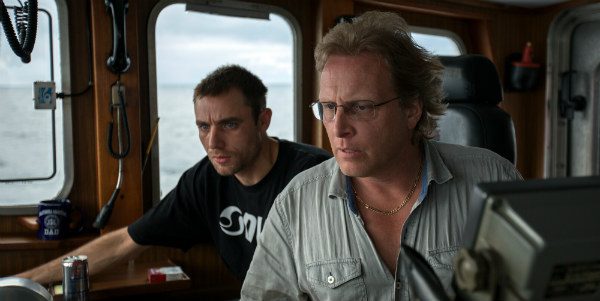 The band's back together on the F/V Northwestern on Discovery's reality hit "Deadliest Catch," currently airing its 11th season on Tuesdays at 9 p.m. ET. After an ultimately unsuccessful sojourn on the F/V Kiska Sea last year, deckhand Jake Anderson is back on the boat where he was a greenhorn, under his mentor, Capt. Sig Hansen.
Although the show is only a couple of weeks into the new season, the actual fishing season has been over for months, and now the Bering Sea crab fleet is deployed across the U.S., doing publicity for the show.
Tucked into a car in New York City, somewhere between Yahoo! and MSNBC, Hansen and Anderson hop on the speakerphone to talk about family, faith and the temptations of fame.
On May 12, 2012, Anderson married Jenna Patterson, with Hansen officiating. Although captains can perform weddings, Hansen went a step further.
"I'm an Internet minister," he said.
"The kind you get signed up for on the Internet," said Anderson. "We had to get him all legal-ed up."
"I actually married up a friend of his family, too," says Hansen.
"He was going to try to marry these fans," said Anderson. "I got all upset, and I told him, 'If I would've known you were going to go and just do this for anybody, I wouldn't have asked you to marry us,' so he had to decline."
Hansen is happily wed to wife June, with whom he has two daughters, Nina and Mandy (who's making her second appearance on the deck of the Northwestern this season). It's hard to keep a marriage together when half of the couple is out to sea for months at a time, but Hansen has managed it.
"I just watch what he does," said Anderson, "and I just do that. Whatever that is, that's that I do, that's what I take from it. Don't cheat on your wife, that's number one."
"That's the big one," said Hansen. "I've been pretty loyal, and we've had a lot of opportunities, you know what I mean? So, I feel pretty good about that. We did that tour for the fans, we'll do meet-and-greets at casinos and stuff, and there's always some tenacious person out there who'll say something crazy, but … it's flattering. My wife, she gets it.
"Honestly, I get that from my father. He was always known for always being faithful to my mother, so it's a pretty neat thing."
When I asked Hansen what advice he gave to his protege before the wedding, Anderson piped up and said, "Don't f**k this up, that's how it went."
Hansen also doesn't have much regard for young people who are afraid to get married and start a family, saying, "I call those people children. That's what a child does."
Anderson's still taking his cues from Hansen, saying, "I've become a responsible adult. I pay my taxes and seem to do everything right. I think a lot of it came from watching Sig and listening to my wife. The wife's always right, and Sig's always right, too, so I learned a lot from them."
When I spoke to him last May, Anderson said he and wife Jenna were trying for a baby, since the Yorkshire terrier puppy he bought her didn't put her off the idea of getting pregnant.
At the time, he said: "[I want] definitely a boy. A girl would be nice, too, but I definitely don't want to deal with a girl in her teenage years."
Apparently, Anderson got his wish.
"Jake made a baby," said Hansen.
"The puppy didn't work," said Anderson. "There's a new baby in town. It was a brand-new baby boy. His name is Aiden Benn Arthur Andersen. Beautiful 8-pound, 14-ounce boy.
"I prioritize better with him around. I know what comes first."
Last year, Anderson spoke to me about his faith, saying in part, "What people don't know is I was an avid skateboarder, and I made a living at it, and I got hurt and ended up on the street by choice, doing drugs and drinking a lot.
"Getting me out of that … I had to rely on that. But I don't like sharing it, because I don't want to be chastised for my beliefs. It's weird. I'm so afraid of it. That's how I've gotten to where I am, I believe, is my faith in God."
In Hansen's presence, the discussion of faith took a lighter tone.
"I'm talking to God 24/7," said Hansen.
"We're Lutheran," said Anderson.
"Being Lutheran rocks," said Hansen, "because you get to drink and smoke and still stay out of Hell."
"You can have sex before marriage," said Anderson, "still go drink wine, pillage, plunder. It's great. Being Lutheran is awesome. It's part of our Norwegian heritage. All is forgiven."
Asked if there's anything Lutherans can't do, Anderson said, "That's a good question, because I've been testing that for a long time."