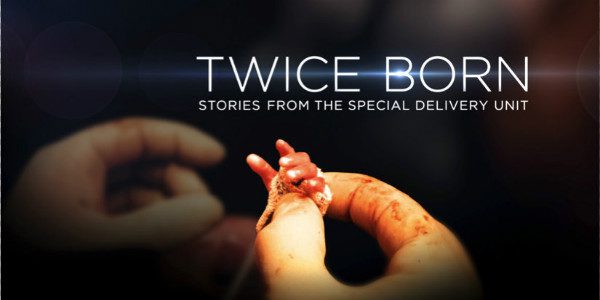 Sadly, some doctors end unborn children's lives, but it's heartening to know that there are many more doctors out there dedicated to saving children's lives even before they're born.
On Tuesday, March 31, PBS premiered the three-part documentary series "Twice Born: Stories from the Special Delivery Unit" — as outlined here in an earlier post from Pax Culturati — which profiles several sets of moms and dads dealing with the rollercoaster of emotions that happens when their unborn children must undergo life-saving in utero surgery.
It's filmed among the dedicated doctors and nurses of the fetal-surgery center at The Children's Hospital of Philadelphia (CHOP). Among the couples profiled are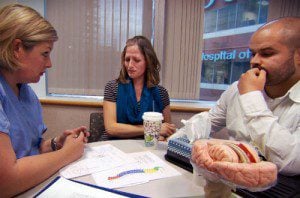 Shelly and Bobby Ross from Massachusetts (at right, with Dr. Julie Moldenhauer), whose daughter Luelle was diagnosed with spina bifida
(Click here to see a Today show story with the Ross family, which features photos of Luelle, who was born on March 7, 2014.)
Shelley Ross was kind enough to answer some questions about the experience, which is highlighted in episode two of "Born Twice," airing Tuesday, April 7 on PBS stations (check local listings).
How did you feel when you got the diagnosis for Luelle? What thoughts first went through your minds?
We were devastated and terrified when we were told that Luelle has myelomeningocele, the most severe form of spina bifida. No one expects that kind of news about their child. I will never forget the day we got her diagnosis and how overwhelming everything was. There were moments I felt like I couldn't breathe because I was so afraid.
What sustained you through the process leading up to the surgery?
After the initial shock, I had to learn how to turn my emotions off at times to research, call doctors and specialist, and process major medical decisions. We had to accept that our daughter had a very serious condition and instead of wallowing, focus our energy on understanding her condition and our options.
An important part of this for my husband Bobby and I was processing all we were thinking and feeling with each other. We tried to encourage one another to keep going one step at a time. We had to accept the fact that if we pursue this fetal surgery, there is a chance our daughter could die. Ignoring that as a possibility would have been naive.
We had to go to the place that if we lose her it doesn't mean we made the wrong decision. It would be devastating and terrible but we felt that we had to believe that no matter what happened, we would continue walking our journey trusting that our pain and challenges are shaping us and impacting those around us.
Would you recommend other parents of children with prenatal issues seek advice about having surgery?
I think a major part of understanding your options for your child is to connect with great doctors and programs. Our experience was so impacted by the incredible team at CHOP. We were so cared for by the staff. They spent so much time thoroughly explaining everything to us in a sensitive and genuine way. They were completely honest about our daughter's condition, the risks of the surgery, and the potential outcomes. They corrected false assumptions and made sure we completely understood what was ahead of us.
They walked with us every step of the way and many have become great friends. They cared about us as people, not just patients. If we had to navigate the research, questions, and decisions on our own it would have been much more difficult. Having the staff support you and want the best for you is so important.
When you look at Luelle now, what do you think and feel?
About once a day still I look at her and am in awe. I can't believe she is alive. I can't believe she is crawling, standing, and doing things we were told she may never do.
Before Lu was born we fought, prayed, and sacrificed so much for her. Before she was born all I knew about her were her vast amount of medical issues. She still has spina bifida and will need to be monitored her whole life but now I see her sweet smile, hear her precious laugh, watch her wave and blow kisses and realize she is so much more than spina bifida.
As now the parents of a special-needs child, what is your advice for other parents who receive a diagnosis that their child is going to have challenges?
Most people will never understand what you go through when you are a parent of a child with a chronic medical condition. It can feel very lonely. It has made a huge different to connect with other families locally and online who also have children with medical needs. Our community has grown exponentially, it's beautiful really to see how many incredible people we have met because of Luelle having spina bifida.
No one asks to suffer, but suffering produces scars and behind every scar is a beautiful story. These stories allow us to connect with others who are suffering. We are changed by the stories we experience. We are so much more understanding of people going through hard times. We are learning to look for the good in every moment even in the midst of challenges. We are learning that if our pain can give hope and encouragement to others who are struggling it gives us endurance to keep going even when we want to give up.
We have learned to take the time to look people in the eye and ask about how they are doing because everyone has a story and each one is worth hearing.