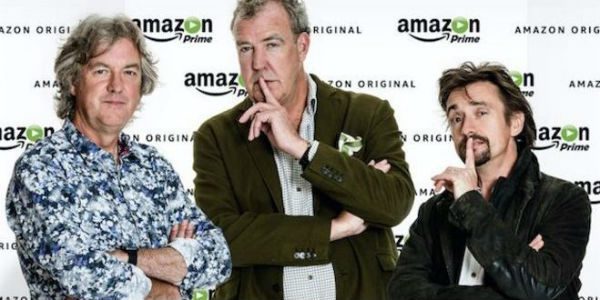 Under a tsunami of awful news on all fronts, I just had a tiny glimmer of joy.
Even though, as a longtime entertainment journalist, I have watched a bazillion hours of TV, I remain one of the worst comedy audiences ever. Very little TV comedy makes me laugh out loud, and the one thing guaranteed to do that at least once in every episode, is, of all things, a show about motoring.
Here's a taste of the BBC's "Top Gear":
While ostensibly about cars, "Top Gear" was actually a playground for hosts Jeremy Clarkson, James May and Richard Hammond, in which they got to do any silly, ridiculous or insanely risky thing (like turning cars into boats and crossing the English Channel, or building a space shuttle from a three-wheeled Robin Reliant) that the hosts or the show's producers dreamed up.
However, after being the chairman of the board at "Top Gear" since 2002, last spring, Clarkson, who's never exactly been a shrinking violet at the best of times, got into a fracas with a show producer that ended in fisticuffs. He was first suspended then axed from the show, which swore to go on without him. If it does, it'll also be without May and Hammond, who followed the leader out the door — along with producer Andy Wilman — leaving "Top Gear" fans bereft.
Today came the happy news that the trio has signed on with streaming service Amazon Prime Instant Video for a new show, produced by Wilman, that certainly won't be called "Top Gear."
But, in all the ways that matter, it will be "Top Gear" — and maybe better (even though the show will apparently have to do without it's "tame racing driver," The Stig).
From a statement (posted in full at Amazon's UK site):
London – 30 July 2015 – Amazon today announced that Jeremy Clarkson, Richard Hammond and James May will reunite to make a new car show available exclusively to Amazon Prime members. The show will be produced by the trio's longtime executive producer Andy Wilman.

The award-winning team have committed to three seasons as part of this landmark global TV deal. The first season will go into production soon and is scheduled to premiere for Prime members in 2016.

On working with Amazon, Jeremy Clarkson said: "I feel like I've climbed out of a bi-plane and into a spaceship."

Richard Hammond added: "Amazon? Oh yes. I have already been there. I got bitten by a bullet ant."

James May said: "We have become part of the new age of smart TV. Ironic, isn't it?"

"Customers told us they wanted to see the team back on screen, and we are excited to make that happen," said Jay Marine, Vice President of Amazon Prime Video EU. "Millions of Prime members are already enjoying our ground-breaking original shows. We can't wait to see what Jeremy, Richard, James and the team will create in what is sure to be one of the most globally anticipated shows of 2016."

Customers can sign up to receive the latest news on this new show by visiting www.amazon.co.uk/GuessWhosBack.

Clarkson, Hammond and May will join top talent making Amazon Original Series that will premiere on Prime Video in 2015 and early 2016. These include Hand of God starring Ron Perlman (Sons of Anarchy) and Dana Delany (Body of Proof), Red Oaks, starring Craig Roberts (Submarine) and Paul Reiser (Mad About You), The Man in the High Castle from Executive Producer of The X-Files Frank Spotnitz and Executive Producer Ridley Scott (Blade Runner), the company's first docu-series, The New Yorker Presents, as well as second seasons of the multi-Golden Globe-winning comedy Transparent, Mozart in the Jungle, starring Gael Garcia Bernal (Rosewater) and Bernadette Peters (Smash), and Bosch, from Michael Connelly and starring Titus Welliver (Lost).

Amazon also resurrected hit British drama Ripper Street, starring Matthew Macfadyen (Spooks), Jerome Flynn (Game of Thrones), Adam Rothenberg (The Divide) and MyAnna Buring (The Twilight Saga). Amazon produced third series of the Victorian crime drama launched in November 2014 to critical and customer acclaim; a fourth season of the show is now in production.

"This is a golden age of television, a great time for TV makers and storytellers," added Jay Marine. "Our approach is to give programmme makers creative freedom to be innovative and make the shows they want to make. This is just the start, you should expect to see more world-leading talent and the biggest shows on Prime Video."

Prime members can enjoy Amazon Original Series and other Prime Video movies and TV shows using the Amazon Video app. The Amazon Video app is available on hundreds of devices including Amazon Fire TV, Fire TV Stick, Roku, smart TVs and Blu-ray players from Samsung, Sony, LG, and Panasonic, the Xbox, PlayStation, and Wii game consoles, as well as on mobile devices like Fire tablets, Fire phone, iPhone, iPad, and Android tablets and phones. Customers can also watch online at www.amazon.com/Prime-Instant-Video/ (edited so the link takes you to the U.S. address).
Jeremy Clarkson's Twitter bio now reads:
I am a presenter on an Amazon motoring show.
And the world is just a wee bit brighter.
Image: Courtesy Amazon Prime Instant Video
Don't miss a thing: head over to my other home at CatholicVote and like my Facebook page.