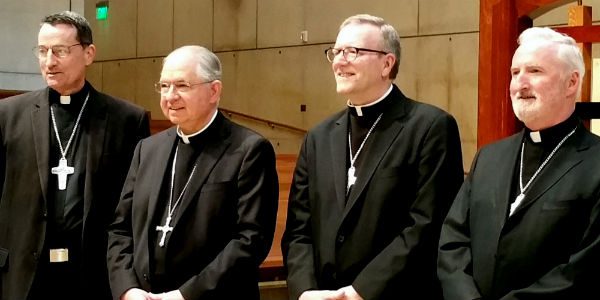 In the secular world, people usually lobby for promotions, or, at least, the subject is brought up with them at some point.
Not so, in the Catholic Church.
Not long ago, Robert Barron, Catholic media star, priest of the Archdiocese of Chicago and rector of its Mundelein Seminary, got a call.
"I was in my room on a lazy Sunday afternoon," he said. "I had finished Mass, and I was back in my room, watching golf. This phone call comes from the apostolic nuncio, [Archbishop Carlo Maria] Viagano.
"I knew exactly what it meant — that's the only reason he calls people. I knew it what it meant but I was really surprised by Los Angeles. That was nowhere even vaguely on my radar screen, because the whole bishop thing wasn't on my radar.
"If someone becomes an auxiliary bishop, first, it's almost always in your hometown. If someone had mentioned Chicago, that would make more immediate sense. So, I never dreamed of being a bishop in Los Angeles.
On Sept. 8, Barron will be ordained as an auxiliary bishop for the Archdiocese of Los Angeles — click here and here for my previous reporting on the story — along with two long-time priests from the local area, at the behest of Archbishop Jose Gomez.
Barron is well known for his New Evangelization work with the Word on Fire media apostolate, and especially for its landmark 10-part documentary series, "Catholicism." He's a fixture on YouTube and in other social media, and is a frequent lecturer and TV commentator. Some even call him this generation's Fulton Sheen.
Even with these credentials, he's not sure why Gomez — whom he's met and talked with, but doesn't know well — tapped him.
"Honestly," he said when asked about the rationale for the move, "it'd be totally speculative. No one ever tells you anything. The nuncio didn't, so it's purely speculative; I have to be clear.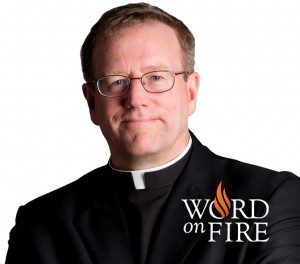 "Given my interest in media and evangelization and use of social media and all that, it would make a certain sense to send me to a cultural center, and certainly an entertainment and media center — I get that. Maybe people are thinking that. I don't know.
"[Archbishop Gomez] seemed very happy I was there, very encouraging, very helpful. But he didn't say, 'Here's why you're here,' or, 'I want you to reach out to the media.' That wasn't on his agenda."
Barron would like to make contacts in the entertainment industry, perhaps give public lectures, but mostly he'd like to continue his brand of evangelizing.
"What most people know of the Catholic Church," he said, "are the moral positions, especially on sexual issues, and the trouble with that is, it gives you an extremely narrow take on what it means to be a Catholic Christian.
"I found, over the yeas, that most people don't know about God, about the Trinity, about Revelation, about the Incarnation, about salvation, about sin, eternal life, etc., all these great teachings — and the moral teachings are all consequent upon that.
"That's the conviction that I've had for a long time, that one of our problems is, we just launch the moral teachings without the proper context and background. So, the establishment of the context and background has been a large part of the work I've tried to do."
Like Pope Francis has suggested, Barron doesn't downplay the moral issues but doesn't put them out in front.
"You probably noticed," he said, "in my work, I don't lead with the hot-button issues, like sexual-morality issues. I will touch on them from time to time, but my general approach is to re-establish a sense of the Catholic culture. And I do think that's what's called for.
"My task is to point out, 'That's something that's deeply Catholic,' or, 'That's something that's resonant with Catholic doctrine.'"
Click here to go to my other home, CatholicVote, to hear what Barron has to say about the future of Mundelein Seminary and how he plans to bring lapsed Catholics back to the Faith.
Image: Kate O'Hare; courtesy Word on Fire
Don't miss a thing: head over to my other home at CatholicVote and like my Facebook page.