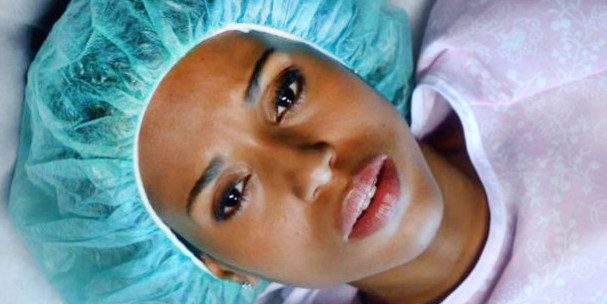 I'm not here to debate abortion (my opinion is not a secret; you're entitled to yours) or whether TV characters should have them (especially since they're not real people, and I have enough trouble these days worrying about the problems of actual human beings).
But I am here to call BS on Hollywood.
Over the last few months, I've been doing a series of interviews on the role spirituality plays in scripted television, for an upcoming book. One of the questions I've asked is the place of stories about faith in the current storytelling landscape. Over and over again, I've been told that TV shies away from telling faith (read: mostly Christian) stories because, A, that might offend non-Christians (and what percentage of the total TV audience is that, exactly?); B, that it's too personal a topic for storytelling; or, C, that Hollywood would screw it up, since the percentage of faithful Christian writers in Hollywood is relatively low in proportion to the general population.
At times, I've countered the first assertion with the observation that Hollywood frequently tackles hot-button topics, such as gay marriage (along with a laundry list of other subjects related to all things LGBT), the morality of war, gun control, and, of particular interest to us, repeated movies and TV shows referencing the Catholic sex-abuse crisis.
(BTW, the scandals are a legitimate topic, but unless the script also talks about the multiplicity of other places and institutions where children are regularly abused today — such as public schools, sports teams, Penn State, etc. — instead of focusing just on the Catholic cases, almost all of which are decades old, I tend to think the story is more about beating up the Church than talking about pedophilia. Or they just like the visual of a man in a collar being creepy. And, I'm a believer in artistic freedom, so Hollywood can tell whatever stories it darn well pleases, and let the audience decide.)
At the same time, Hollywood corporations and performers are quite outspoken in their support of any number of controversial political and social issues, which no doubt offends vast swaths of people.
So, is Hollywood really worried about offending religious people? I'm no mind-reader, so, maybe. Or maybe it's more about not being able to bring itself to (or simply not having the expertise to) tell a story from a POV that treats Christianity in a positive way.
But the next time somebody tells me that Hollywood seeks not to offend, I'll mention the most recent episode of Shonda Rhimes' ABC drama "Scandal."
The main character, Washington, D.C.-based crisis manager Olivia Pope, laid down to have an abortion while "Silent Night" played in the background, then settled in front of her Christmas tree, secure in the knowledge her child would never have a Christmas. Apparently fans barely learned Pope was pregnant before she wasn't anymore, so it's not a theme that's been woven into the show over many episodes. A cynic might even think that the whole thing was cooked up just to do a storyline involving abortion.
Olivia Pope is hardly a model of chastity, as she's not married to the baby's father (the recently divorced president), with whom she's been having a longstanding adulterous affair. She's a thoroughly modernist woman, so her choice to kill her child is not surprising (even though she easily had the financial means to support one). There are any number of ways this could have been depicted.
Rhimes & Co. chose to play A BELOVED CHRISTMAS HYMN ABOUT THE BIRTH OF THE CHILD JESUS as Pope's baby dies.
Maybe this was meant to be poignant. Maybe it was meant to somehow link the suffering of Pope to the suffering of the Virgin Mary. Maybe it was a deliberate provocation of Christians.
Only Rhimes — a former Catholic-school student who's developing a show about nuns — and her writers know for sure.
Also, just as the cherry on the top of the sundae, the episode also featured a defense of Planned Parenthood funding that even pleased "abortion Barbie" herself, Texas Senator Wendy Davis.
Ilyse Hogue, president of NARAL Pro-Choice America, hailed the episode as groundbreaking. "I think what is so important of what 'Scandal' has done is two-fold: One is showing that there are ordinary women in every walk of life, like Kerry Washington's character, who make decisions for very different reasons, and that they are just part of life," Hogue told Variety. "And I think the second thing that is significant is about what 'Scandal' did was show how not scary an abortion procedure is.

"Like any groundbreaker, what Shonda Rhimes has done with this episode is make it OK for others to have these ordinary conversations in popular culture, and I think the impact of popular culture on public opinion and on taking what are thought of as 'taboo' issues and putting them front-and-center and giving permission to talk about them, that is a very significant impact and can't be overstated."
Of course, Rhimes and her creation, Pope, are seen as very brave — not brave enough to bring an innocent new life into the world, but hey, that's Hollywood, which never wants to offend anyone.
Except when it does.
PS: I'll be on Relevant Radio's "The Drew Mariani Show" on Monday, Nov. 23, at 5:30 p.m. Eastern to discuss this and a few other TV-related topics.
Images: Courtesy ABC
Don't miss a thing: head over to my other home at CatholicVote and like my Facebook page.