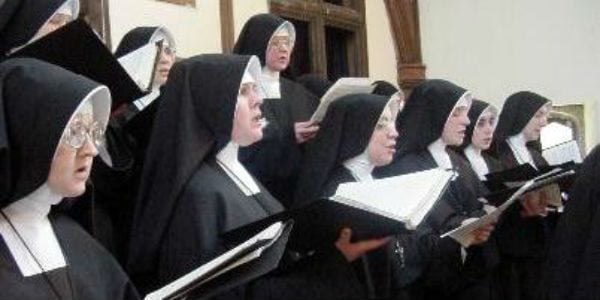 ABC sure seems to love Catholics these days, but not in a good way.
The network, part of the Walt Disney Company, already has announced plans to put the Catholic-themed sitcom "The Real O'Neals," based on the life of gay sex columnist and very lapsed Catholic Dan Savage, on ABC's air at midseason.
Click here to see what the trailer showed; I've seen the whole pilot, and it's just … sad. But it's not on the air yet, and the pilot released was not for review purposes, so it could be less of a dated, unoriginal satire of a Catholic family than it is right now — highlighted by the disturbing fantasy image of an adult male model flirting with an underage boy — but I'm not holding my breath.
Anyway, ABC is forging forward with an untitled drama that ABC Studios is developing with ShondaLand, the company founded by Shonda Rhimes ("Grey's Anatomy," "Scandal," "How to Commit Murder") and producing partner Betsy Beers.
Variety describes the show, written by Alison Schapker ("Brothers and Sisters," "Fringe," "Alias") as revolving …
… around a group of Catholic nuns fighting the closure of their Bronx-based convent who must suddenly deal with three young novices whose arrival unearths long-buried secrets. The ensemble drama will throw into question everything you think you know about the "Brides of Christ."
Cosmopolitan added:
The show is still in development, but ​Variety ​notes that it "will throw into question everything you think you know about the 'Brides of Christ.'" That sounds extremely promising! Here's hoping it gets picked up for a full season and there's a crossover episode with ​How to Get Away With Murder ​where Annalise has to drop by to give a shady nun some under-the-table legal advice. Who wouldn't watch that? (No one.)
As a writer at The A.V. Club helpfully noted:
So yeah, even if this wasn't coming from The House That How To Get Away With Murder Built, it's a pretty safe bet that a show delving into the secrets underpinning a Catholic church is going to get pretty dark before it reaches its end.
I couldn't find where any of the people mentioned had worked on a faith-based project before — and I'm also not sure whether we're talking about cloistered nuns or religious sisters (or if Rhimes & Co. knows the difference) — but Rhimes did attend Marian Catholic High School in Chicago Heights, Illinois, a co-ed prep school in the
Dominican tradition
.
Maybe she was reading when I wrote this post back in March, reacting to her speech about "normalizing TV" at the Human Rights Campaign's gala. She said:
When a viewer complained last fall that the "gay scenes" on "Scandal" and "How to Get Away With Murder" were "too much," creator Shonda Rhimes shot back, "There are no GAY scenes. There are scenes with people in them."

On Saturday, Rhimes was among the honorees at the Human Rights Campaign's Los Angeles Gala, and she explained her approach to TV as simply trying to be normal.

"I really hate the word 'diversity,'" she told the crowd. "It is just something other. Something special, like it's rare. 'It's diversity!' As if there is something unusual about telling stories about women or people of color or LGBT characters on TV. I have a different word. I call it 'normalizing.' I make TV look like the world looks."
I said:
If Rhimes or anyone else in Hollywood truly wants TV to depict the world as it is, we're going to have to see a whole lot more overtly Christian people that we do right now. That means people who pray at meals, go to church weekly, talk about how their faith affects their lives, consult their pastor or priest (or are pastors and priests), and try to walk every day in the grace of God.
I have very little to no hope that this drama will turn out to be what I was looking for, rather than something misinformed and salacious.
But, you never know. One thing's for sure, the good sisters out there doing God's work will probably be too busy saving lives and souls, caring for the sick and dying, feeding the hungry, clothing the naked and educating children to watch it.
Image: Wikimedia Commons
Don't miss a thing: head over to my other home at CatholicVote and like my Facebook page.