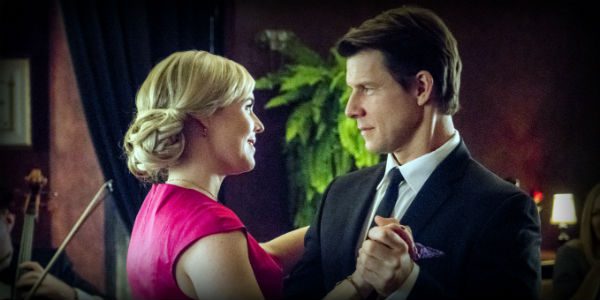 According to a book called "Attached: The New Science of Adult Attachment," about half of people have a secure attachment style, when it comes to relationships. The rest are split between those who have insecure and avoidant attachment styles.
The secure people get paired off much earlier, so at any given time, the dating pool is dominated by insecure and avoidant people. And the avoidants, being avoidant, are in and out of relationships more quickly and are generally more available (at least temporarily). So, unfortunately, they're the folks that the insecure people meet most often.
So, it's not hard to figure out why, after a certain age, dating is nightmarish.
But Martha Williamson, creator of "Touched by an Angel" and the current film franchise "Signed, Sealed and Delivered," thinks that having the guts to take the direct approach (and including faith in the mix) could help.
In "Signed, Sealed and Delivered: From the Heart," airing Sunday, Feb. 21 at 9 p.m. ET/PT on Hallmark Movies & Mysteries, the POstables — Post Office employees who investigate undelivered mail — find a 200-year-old Valentine that could change the course of history, while also investigating a damaged letter that has the potential of taking down a public figure.
Meanwhile, in the wake of Valentine's Day, POstables Oliver (Eric Mabius), Shane (Kristin Booth), Rita (Crystal Lowe) and Norman (Geoff Gustafson) have romantic troubles of their own.
"I knew this was going to air after Valentine's," Williamson said in a phone interview, "so I wanted to explore some other issues, and I put them in the context of a post-Valentine's world. I used to have the most miserable Valentine's Days. Single women can attest, they've all had their stories. I had a guy who took me out on the 15th, and I discovered it wasn't because he was working on the 14th; it was because everything was cheaper on the 15th. That didn't last long.
"The nights you spend alone on Valentine's, or just the fact that you put so much weight on what Valentine's means and does not mean … We set ourselves up to be hurt, and it's just unnecessary.
"My whole intention of this [third season] of four movies has been about the exploration of love. What are the obstacles to true love — and I put true in quotes — genuine, honest, unselfish love."
Williamson is also not just talking about romantic love.
"I think of it as an opportunity," she said, "to sit and celebrate the many facets of love: agape, storge, philia and eros. What do those mean? Over the course of this year, I've been looking at, what are the things that bring people together? What are the things that can break a relationship apart?
"So often it's politics and money and faith and family. Those are all the things that can either bring you closer together or can become the stumbling blocks to a healthy, grounded relationship. I've been exploring each one, and I really was looking at the politics of romance here and really exploring some of the things we take for granted about romance in a relationship, and how people don't really communicate."
As mentioned at the top, people who are secure in relationships form them more easily and form ones that are lasting. They aren't plagued by insecurities or by conflicting needs for closeness and distance. Insecurity is a major theme of "From the Heart."
"How often," says Williamson, "do we miss each other because we just weren't honest with each other, or we were playing games? The most successful relationship I ever had was the one that ended in marriage, because I don't remember a single day where I said, 'I'm not calling him until he calls me …'
"When you start playing games, then there are three things: You don't have confidence in yourself; you don't have confidence in the other person; and you don't have faith that God knows what He's doing. That's huge. At the end, I always talk about being unequally yoked, or that the cord of three strands is not easily broken.
"Without beating people over the head with it, you have to show how those cords can unravel when there is no faith between them, or it can be strengthened when there is faith, and the confidence that you are where you should be."
In "From the Heart," misunderstandings and insecurities come between Oliver and Shane, and between Rita and Norman. Standing in contrast to all modern angst is the Valentine from the past.
"To see the straightforwardness of the letter from 200 years ago," Williamson said, "and the juxtaposition of, here's a woman who's dying and has nothing to lose, and she's putting it out there, how I feel and what I hope for you in the future, knowing that they have so little time. Of course, none of us knows how much time we have.
"Without saying that, to be able to say, 'This is what we keep forgetting, that tomorrow is not promised to us. Don't lose time by playing games, and don't cheapen your relationship by putting it out there and slapping a hashtag on it for everybody to dissect.'"
Williamson also shows that, despite the number of body parts on display in movies and TV, the sexiest human organ is between the ears.
"I'm very interested in this," she said, "watching how the social media has responded to this show, because people don't even hold hands, and it's still incredibly romantic. It opens up the possibility of deeper conversation, of truly getting to know someone."
Perhaps, that is the one way that the insecures and the avoidants out there have their best chance of finding out what it means to be finally secure in love — and in themselves.
Take a look:
Image: Courtesy Hallmark Movies & Mysteries
Don't miss a thing: head over to my other home at CatholicVote and like my Facebook page; also like the Patheos Catholic FB page to see what my colleagues have to say.