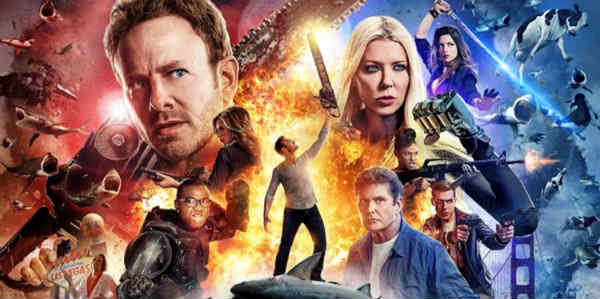 There's a human heart inside many action and disaster movies — actually, there are usually two, and they are, or were, or will be again, in love.
In "Independence Day" one couple (Will Smith and Vivica A. Fox) marries, and a divorced couple (Jeff Goldblum and Margaret Colin) reunites; in "Twister," a not-quite-divorced couple (Helen Hunt and Bill Paxon) reunites; in "Die Hard," a separated Catholic couple (Bonnie Bedelia and Bruce Willis) reunites.
The trend continues to this day. In 2015's "San Andreas," a divorced couple (Dwayne "The Rock" Johnson and Carla Gugino) reunites.
And in between, there's often the rescuing of children, especially teenagers.
While it's not in the same league as the movies above, Syfy's "Sharknado" franchise is no different. On Sunday, July 31, at 8 p.m. ET/PT,  "Sharknado: The 4th Awakens" continues the story of top surfer Fin Shepard (Ian Ziering), who has battled monster storms and monster sharks to reunite with his estranged wife, April (Tara Reid), and rebuild, and add to, their family.
Along with Fin and April, the Shepard clan now includes eldest son Matt (Cody Linley), grandpa Gil (David Hasselhoff), grandma Raye (Cheryl Tiegs), father-in-law Willie Wexler (Gary Busey), cousin Gemini (Masiela Lusha), and youngest son "Little" Gil (Christopher and Nicholas Shone).
As before, this intentionally cheesy saga of flying, head-chomping sharks whipped up in towering tornadoes (joined, in this installment, by boulders, a whale, assorted vehicles and crude oil) is stuffed with celebrity cameos — but I won't spoil your fun there.
Is it family-suitable? Well, it's gory, but it's Syfy, so it's not feature-film-horror gory. There are curvy women in sexy outfits, but nothing you wouldn't see at the mall. There are Chippendale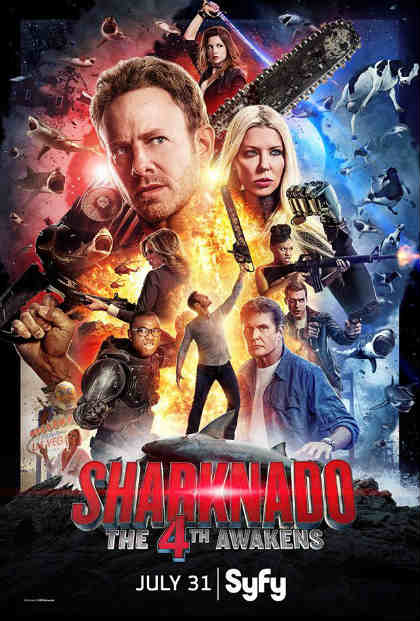 dancers, but they keep their pants on. No real profanity; no sex; only mild suggestiveness; and, hey, there's a wedding! (Wait until you see who plays the pastor.)
Is it good? Well, I wasn't bored; I laughed a few times; and I was entertained. We'll just leave the question of "good" for another day, and another movie.
Thunder Levin, writer of all the "Sharknado" movies — which are directed by Anthony C. Ferrante, who has a "Twister"-themed cameo (who is, in the interests of full disclosure, a buddy and former journalistic colleague) — answered some email questions for me on the third "Sharknado" film. A few days ago, Levin did me the same favor again.
Previously, we explored how Fin rehabilitated himself as a man and a father. This time around, I wanted to know about the phenomena of using disaster films to restore families (questions in bold; Levin's answers in regular type):
What was the concept behind "The 4th Awakens"?

The concept behind The 4th Awakens was to make the biggest, craziest "Sharknado" of them all! There were questions from the third film to resolve, like the fate of April and the Colonel (Hasselhoff). We also wanted to bring back Fin's eldest son, Matt. We haven't seen him since the first film, and it was time to see how he's grown and matured as a military pilot.

But above all, we had to see the sharknado threat grow and change. There is no stasis in nature. Everything is constantly changing. How does humanity adapt to this biometeorological threat?  How does the threat adapt and change to humanity's defense? Pretty soon (if the movies continue), we'll have to deal with what causes sharknadoes (it might not be what you think!), But before we can get to those questions, the sharknadoes have a few tricks up their sleeves. As we'll see when the fourth awakens.

So much of the "Sharknado" franchise — indeed, many disaster/action films, from "Die Hard" to "Twister" to "Independence Day" to "San Andreas" — are about putting fractured couples or families back together. Why is that?

I think it's pretty obvious that all these other tentpole films have just been copying "Sharknado."

Stories about families are common, especially for big action or disaster films, because they're easy. In a giant action spectacle, a huge part of the screen time has to be filled with spectacle. That's what the audience is paying or tuning in for. You don't have a lot of time to develop complex, intricate character storylines.

A two-hour Meryl Streep drama is going to spend two hours introducing, developing, and paying off their characters' storylines. But in a big 90-minute action film, the producers are going to insist that virtually every moment have something big happening. There isn't a lot of time to stop and talk. So something like a broken family is an easy set-up that everyone understands. "Husband still loves his wife despite years of divorce". That's easy to set up and everyone can relate to it. Just about everyone's had a broken heart at some point. Everyone can understand the desire to reunite with someone you love.

Also, it's important to have a human story at the core of these big inhuman disasters. That's how we relate to things. That's why "This time it's personal" has become such a cliché — because it's true. Even the biggest disaster has to have a human core or the audience really won't care about it. And what's more human than family?  You can't feel the pain of 6 billion people dying when their planet is destroyed, but you can feel the pain of a young man seeing the aunt and uncle who raised him burned to death.

Most people have no frame of reference for what it's like to be swallowed by a great white shark, but we do know the dread that something bad might be happening to someone we love and we have to get to them to keep them safe (or at least face the danger together). So it's a quick easy way to connect with the audience, that doesn't require us to stop the action too much.

What has been the process of developing the Fin/April arc?

I've told this story before, but when I wrote the first "Sharknado," I was in the midst of an ongoing, long-term breakup with my wife. The movie was supposed to be a kind of love letter to her, that these two characters who'd obviously had such problems in their past, when they were finally forced back together, they discovered that they still worked together. They still knew each other's unspoken language.

And it was a way of saying to my wife, "I'd fight flying sharks for you!." Anthony Ferrante (our director) and Tara Reid ended up playing the part of April a bit more harshly in the first movie than I'd originally intended, so some of that "love letter" might not have come across the way I'd planned. But that human core remained. So when, against all odds and expectations, our crazy little film garnered a sequel, it seemed essential that these two people who've just come back into each other's lives, have that relationship solidified.

At the beginning of the first film, Fin is a man who's lost not just his wife, but his whole family. Basically because he realized too late that family is the most important thing in the world. By the end of the first film he's earned a chance, but only a chance, to rebuild his family. The Second One is about him fulfilling that opportunity. April had lost all trust in him, and so the Second One was about her learning to trust him and love him again. The third movie is about him coming full circle, to where he's not only repaired the relationship with his wife and daughter, but also with his estranged father. And by the end of the third film, he's succeeded in restoring his family and getting a chance at a "do over", a whole new life – as symbolized by the birth of his new son.

What does it mean to have a hero and heroine who are defending, not just the nation and world, but their own families?

This time it's personal!

"Sharknado" is a lot of fun, but it does have an emotional core. How do you maintain that in the midst of all the chaos?

To be honest, it's a struggle. There's a perception that people only watch these movies for the crazy shark stuff and the celebrity cameos. So, as the franchise has grown, I've had to very jealously defend every little bit of that human core. And it's an uphill struggle. But the key is just to remember why our characters are doing what they do. It's never, ever about saving the world. It's about family. As long as Fin's main motivation is his love of April and their family, we're on the right track and that emotional core will remain. Even if it's buried under tons of sharks … and cameos.

You've stated before that "Sharknado" could save us all — could it save the American family?

That's an interesting question. Obviously "Sharknado" has great sociological and psychological ramifications. The course of human society and really, the world itself, is changed every time a "Sharknado" movie is released. I think we all take that responsibility very seriously. We know that the work we do on these films will echo down through the ages, and we feel the weight of unborn future generations with every choice we make. The struggle of the Shepard family to become and remain whole amidst the chaos of rampant biometeorology mirrors the struggle of every family to remain whole amidst the onslaught of the internet, video games, and divisive politics.

The Shepards have succeeded by learning to adapt. On top of all their upheaval, remember that by the end of the third film, the character of Nova has essentially been integrated into this family, despite initially representing a very potent threat to it. But they've turned that threat into a strength. Just as they've turned April's injury into a strength. Just as the way they've responded to these disasters has made them stronger. Adapt or die. That's not just biological evolution; it applies to societal structures like "family" too.

One of the best things about the whole "Sharknado" experience for me has been hearing from the fans. One of the most surprising and gratifying things I hear is that it's brought families closer together; that viewing our crazy little movies has become a family event. I also hear about viewing parties thrown by groups of friends, essentially large extended families. And the way it brings our human family together across social media on premiere night is another example of the same dynamic.

Could "Sharknado: save the American family?  Oh hell no, I'd say it's saved the entire Human family!
Images: Courtesy Syfy
Don't miss a thing: head over to my other home at CatholicVote and like my Facebook page; also like the Patheos Catholic FB page to see what my colleagues have to say.