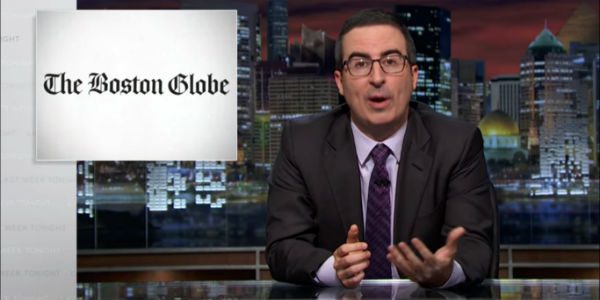 As much as Hillary Clinton, Donald Trump is running against the mainstream media, which he claims is biased and corrupt. Whatever you think about Trump, he's not entirely wrong.
Even if the media blames Trump for its own bias, no one who's paid attention to the mainstream media in the last 20 or 30 years could deny that it favors causes and political positions that are popular with reporters and editors, who come from an increasingly narrow, left-leaning slice of society.
At the same time, more coverage is focused on celebrity news and gotcha headlines than on substantive reporting. You can't really blame news outlets, since the bottom is falling out of the entire industry due to digital disruption. Bills still need to be paid, but the ad revenue is just no longer there.
From NiemanLab, a project of Harvard University:
In this morning's annual census release, the American Society of News Editors found its first double-digit decline in newsroom count since the Great Recession of seven years ago. Newsroom jobs dropped 10.4 percent — down to 32,900 full-time journalists at nearly 1,400 U.S. dailies, 2014 over 2013. That's the loss of 3,800 jobs in just one year. (Detailed table at bottom of this column.)

How do we put this loss in perspective? This is only the third double-digit percentage decrease since ASNE began tracking newsroom staffing in 1978. And this year's loss happened in the best U.S. economy in close than a decade. Daily newspapers have bled people in good times and bad.
Fulltime journalists are becoming an increasingly endangered species, even in stalwarts like sports and entertainment coverage.
Reporting is suffering as a result, as hot stories with major social-media upside don't get enough vetting. So, we wind up with outlets like Rolling Stone, which should probably stick to music, utterly botching a huge story about campus rape, and taking a very long time to admit it.
On the other hand, the function of the media is to be a watchdog on those in power, and a counterweight to official propaganda. If it doesn't, or can't, perform that function, we all lose.
There are plenty of times I don't see eye-to-eye with British commentator, comedian and TV presenter John Oliver, host of HBO's
"Last Week Tonight With John Oliver." 
In the clip below, he nails it, beginning with:
"The media is a food chain that would fall apart without local newspapers."
With humor and horror, he recounts the fall of, especially, local news, and the incomprehensible gobbledygook that now passes for editorial judgment.
Ironically, it ends with a parody of "Spotlight," which — as painful as it was to the Church — demonstrated the need for hard-hitting investigative journalism (and the Boston Globe has recently also uncovered sex abuse in tony private schools).
So, what's to be done? I wish I knew. In all honesty, I couldn't recommend that a young person enter fulltime journalism unless they are independently wealthy, or don't mind paying back their college loans when they're 70.
But I do know that, as much as we revile journalists, they perform an essential and irreplaceable function. The stories they don't want to, or aren't around to, tell are stories you never hear — and some of them are vital to the decisions you make every day.
Nothing is free. Even a journalist needs a living wage.
In news, as in everything else, you get what you pay for.
Or not, as the case may be.
Image: YouTube screenshot
Don't miss a thing: head over to my other home at CatholicVote and like my Facebook page; also like the Patheos Catholic FB page to see what my colleagues have to say.