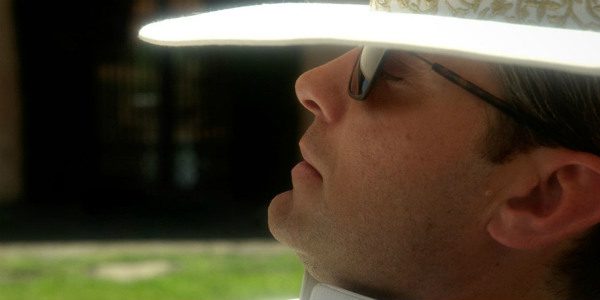 Back in June, HBO released the first trailer for its upcoming eight-episode series "The Young Pope," which airs this fall in Europe (American premiere date TBA).
I did a blog post at the time. Click here for the whole thing, but here's a taste:
It marks filmmaker Paolo Sorrentino's first TV project; he previously won a foreign-language Academy Award for the 2013 film "The Great Beauty."

In a December 2015 interview with Variety, he said:

"How can you reconcile your personal pain with the fact that religion, Catholic religion in this case, says you have to accept that pain; that it's part of a grand design? But if this person happens to a pope — the man who is designated to believe, more than anyone else — then you have a pretty big dilemma."

HBO's official site for the series says this:

From Paolo Sorrentino, director of the Academy Award®-winning film 'The Great Beauty,' 'The Young Pope' tells the controversial story of the beginning of Pius XIII's pontificate. Born Lenny Belardo, he is a complex and conflicted character, so conservative in his choices as to border on obscurantism, yet full of compassion towards the weak and poor. The first American pope, Pius XIII is a man of great power who is stubbornly resistant to the Vatican courtiers, unconcerned with the implications to his authority.

The eight-episode series stars two-time Academy Award® nominee Jude Law as Pius XIII, and Academy Award® winner Diane Keaton as Sister Mary, a nun from the U.S. now living in Vatican City.

Sorrentino, who also directed of the upcoming 'Youth,' says the series is about "the clear signs of God's existence. The clear signs of God's absence. How faith can be searched for and lost. The greatness of holiness, so great as to be unbearable when you are fighting temptations and when all you can do is to yield to them. The inner struggle between the huge responsibility of the Head of the Catholic Church and the miseries of the simple man that fate (or the Holy Spirit) chose as Pontiff. Finally, how to handle and manipulate power in a state whose dogma and moral imperative is the renunciation of power and selfless love towards one's neighbor."

Shot mostly in Rome — near, but not inside, the Vatican — and other Italian locations, the film airs in October on Sky Atlantic Channel, which can be seen in Italy, the United Kingdom, Germany, Ireland and Austria.

Based on the trailer — and that's sometimes not much to go on — "The Young Pope" looks fanciful, overwrought and melodramatic, positing a pontiff whose taste for crowns and robes rivals the sartorial splendor of Cardinal Burke.
Take a look:
This past weekend, during the summer edition of the biannual Television Critics Association Press Tour in Beverly Hills, I got a chance to ask HBO programming chief Casey Bloys about "The Young Pope."
Here's the exchange in its entirety:
QUESTION: Hi.  I have a question on "The Young Pope." Movies and TV, in general, don't have a great track record of getting the factual details right about the Catholic Church, let alone a lot of other things. So what sort of research are you doing on this?  How close to reality are you going to stick, or is this sort of a fanciful impression of what goes on?

CASEY BLOYS: I will tell you, in terms of the level of research that Paolo did, I know he did research. I am guessing there is some creative license, but it's not wildly ‑‑ it's not wildly inaccurate, but I'm sure ‑‑ fanciful is a good ‑‑ a good word.  There is some creative license there.
So, there you have it. As I said in the original post …
In all likelihood, "The Young Pope" has about as much to do with the lives of real popes and ordinary Catholics as "The Bachelor" has  to do with true love, or "The Da Vinci Code" has to do with real Church history, or any other sort of history.

But, as deathbed Catholic convert Oscar Wilde was wont to say, "The only thing worse than being talked about is not being talked about."
More when we have it.
Image: Sky/HBO/Canal Plus
Don't miss a thing: head over to my other home at CatholicVote and like my Facebook page; also like the Patheos Catholic FB page to see what my colleagues have to say.