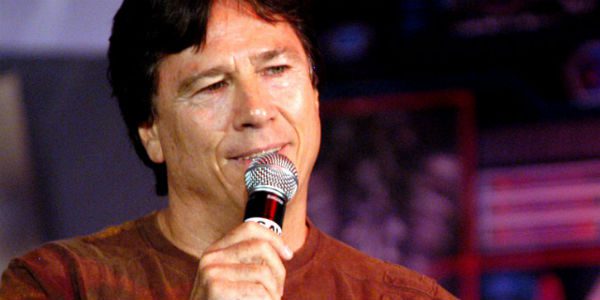 Today, actor Richard Hatch passed away at the age of 71. He was in hospice care after a long battle with pancreatic cancer.
Hatch first gained fame playing the dashing Captain Apollo in the original 1970s science-fiction series "Battlestar Galactica." He returned in a very different role in the mid-2000s reboot of the show on Syfy Channel.
From The Hollywood Reporter:
"Richard Hatch was a good man, a gracious man, and a consummate professional. His passing is a heavy blow to the entire BSG family," tweeted Ronald D. Moore, creator of the Battlestar Galactica reboot.
On the new "Battlestar," Hatch played Tom Zarek, a charismatic populist political leader who had been jailed for terrorist activities. He initially led a revolt aboard a prison ship included in the wandering space fleet and later insinuated himself into government. Ultimately, he's executed for leading a mutiny.
Said Hatch of Zarek:
First, having played Zarek for the past four years I would like to say that never did I play this character as a villain nor did I think he was one and I still feel that way. After paying the price of 25 years in prison for standing up for human rights and seeing both his family, friends and cohorts killed by a supressive government on his home planet he had every right to distrust the powers that be on Galactica that seemed to think that only they had the right to make decisions for the people.
Like many people, Hatch struggled with personal issues, and his work on those led him to become a motivational speaker. While he doesn't appear to have had a conventional faith, he did say:
I've been through every form of therapy—Gestalt, Freudian, you name it. I grew up with abusive stepfathers who hated me, so I was basically medicating myself with food and carbohydrates. I was never into drugs and, though I like an occasional shot of Tequila, I never could drink very much. I would feel a deep sadness and disconnection, feeling rejected and not belonging and through studying philosophy and religions, reading the Bible, studying Buddhism and reading Tony Robbins or Marianne Williamson, I learned that there's a deeper truth—that each one of us is supposed to connect with life. For me, acting is like a religion.

…

Yes. The biggest problem in the world is that most of us are trying to deal with a fractured self. What a child needs is the sense that he's worth something—that he's valuable. You have to really love yourself and people who are egotistical don't really love themselves. Real self-worth comes from loving yourself.
Of course, we'd also add realizing that we are all loved children of God. Here's hoping that Hatch has now found some of the answers he sought.
In his own words …
Don't miss a thing: head over to my other home, as Social Media Manager at Family Theater Productions; also like the Patheos Catholic FB page to see what my colleagues have to say.