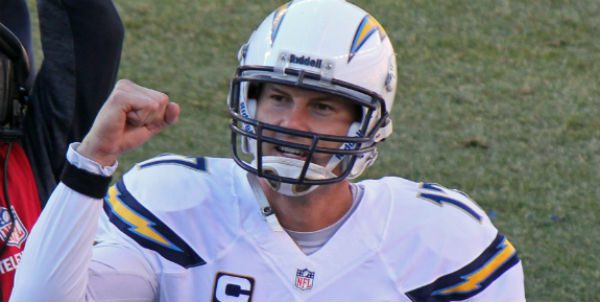 On a Sunday this August, I have tickets to a preseason football game between the Seattle Seahawks and the Los Angeles (formerly San Diego) Chargers. It not only marks my first in-person NFL game, but also presents a bit of a dilemma. The Seahawks are my team, and I love our powerful Christian QB Russell Wilson, but Chargers QB Philip Rivers is one of the league's more public Catholics.
So, if the Seahawks win, I'll be extremely glad (and, no disrespect to Chargers fans, but they'd better!), but in the battle of the QBs, I also be happy for any success that Rivers has.
It's an irony that he's often teased for having eight kids, but in truth, lots of NFL players have several kids — it's just that Rivers has them all with the same wife.
Rivers met his wife, Tiffany, in middle school. They remained chaste during their courtship, and married when Rivers was 19 — way before he had any football success. They even lived in his parents' basement for a while as newlyweds. Now, 16 years later, they have six girls and two boys.
In this entertaining video — shot on Trinity Sunday, June 11, 2017 — Rivers visits The Rock Christian community in San Diego and talks to Miles McPherson, a former Charger, who has turned to evangelical ministry.
Over the course of almost an hour, former altar boy Rivers talks about the centrality of the Faith to his life, how it's helped keep his marriage together and alive — and quotes from his personal devotional.
Said Rivers:
"I think that the center of our marriage and the foundation of our relationship was on Jesus. That is why it's worked to this point."
There are many vocal Christians in the NFL, but as often happens, the Catholics among them tend to be quieter and more private about their faith. I'm hoping this appearance encourages more of them — whether it's the Seahawks' Luke Willson, the Ravens' Justin Tucker or the Panthers' Luke Kuechly — to share their witness and inspire others.
Image: Wikimedia Commons
Don't miss a thing: head over to my other home, as Social Media Manager at Family Theater Productions; and check out FTP's Faith & Family Media Blog.